Center for Global Management launches new supports for global business
The CSUSB Center for Global Management at the Jack H. Brown College of Business and Public Administration has expanded and launched several virtual components for its 7th Annual Global Access Program (GAP) to continue support for global business exploration or expansion.
The components include complimentary consultation, student market research, and an all new GAP Virtual Business Matchmaking & Education Series of monthly Zoom gatherings to network and learn more about international franchising, trade and investment opportunities in Singapore, South Korea and the Philippines.
All efforts aim to share advice and resources from industry experts, global leaders and government officials, create platforms for successful and unique business connections, and provide an opportunity to see or showcase products.
This month's event, part of the 2020-21 Virtual Business Matchmaking & Education Series, will be held Thursday, Nov. 19, 5:30-7 p.m. PST. The program will focus on agriculture and food product/service sectors, and features:
Business development expert and advocate Bandhana Katoch, director of sustainability practice for the Larta Institute, which empowers innovators to bring cutting-edge ideas to market; 
The Chocolate Queen Raquel Choa, who is among the Filipina Women's Network's 100 Most Influential Filipina Women in the World. Despite the pandemic, she has found innovative ways to run her business, The Chocolate Chamber, and continue advocating for the Philippine cacao industry and farming community; and
Sungsoo Son, who serves as a Korean Consul and Customs Attaché in Los Angeles. He oversees trade and economic issues, Korean business community assistance and international corporation consultations for doing business in Korea as well as the U.S.
Businesses are also welcome to join and take advantage of CGM's new PartnerConnect initiative, where California-based U.S. firms can tap into CGM's global government, academic and industry networks in Singapore, South Korea or the Philippines.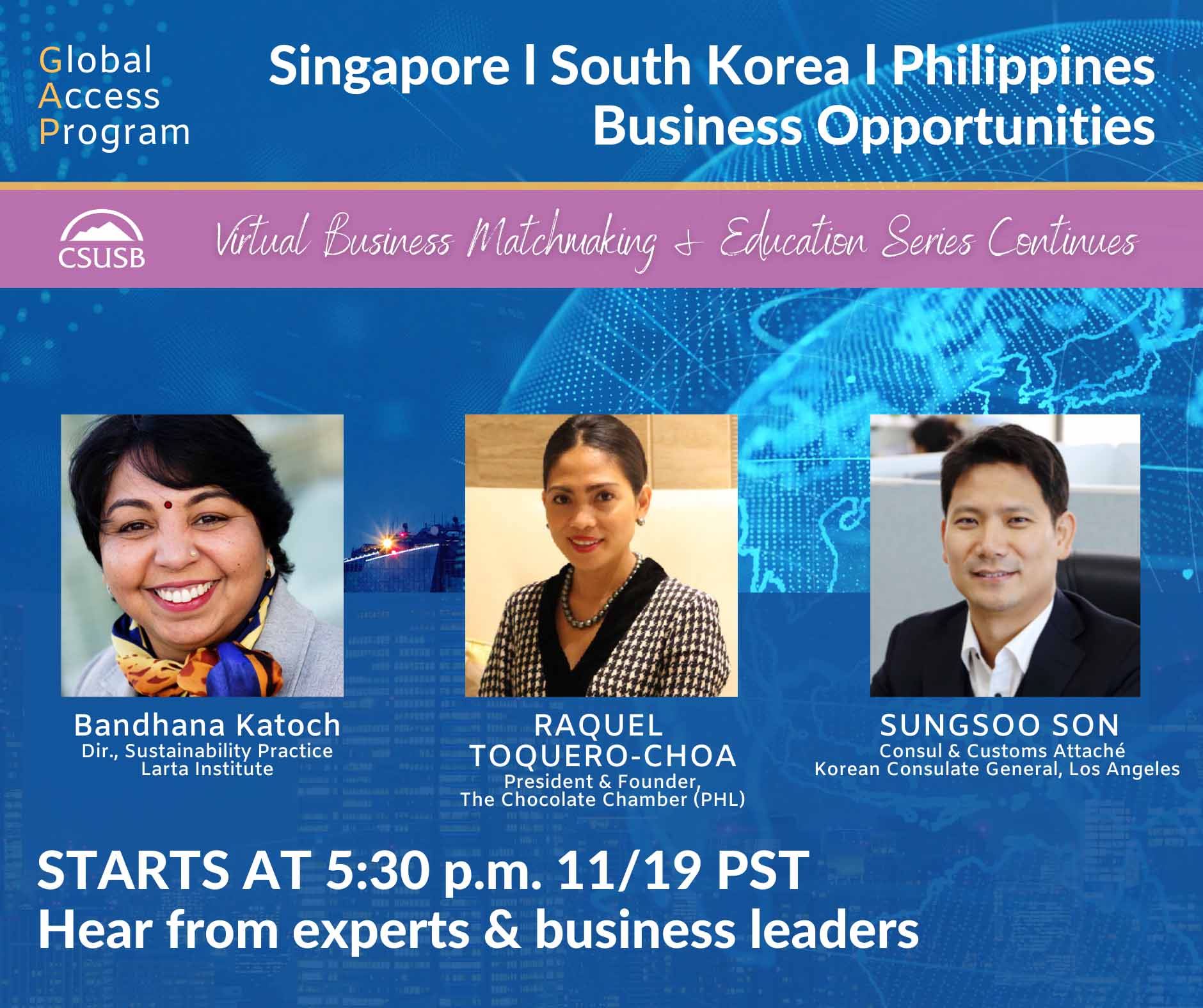 This year's GAP is made possible thanks to the collaboration of the following partners: The Jack H. Brown College of Business and Public Administration, U.S Small Business Administration Orange County/Inland Empire District Office, Global Research Institute of International Trade (GRIIT), BrandwoodCKC, Planet63, Morrison Express, Korean American Chamber of Commerce of Orange County, and Philippine Consulate General in Los Angeles.
For more details on the Global Access Program, visit the GAP website.