Pi Sigma Alpha names CSUSB chapter as best national chapter for 8th consecutive year
The bar of excellence that was already high just got higher. For the eighth consecutive year, Cal State San Bernardino's Theta Iota Chapter has been given a National Best Chapter Award by the national political science honor society, Pi Sigma Alpha.
The award is the highest given by Pi Sigma Alpha to campus chapters.
Sean Twombly, executive director of Pi Sigma Alpha, acknowledged CSUSB's tradition of hard work and excellence in his letter announcing the award to Christina Villegas, chapter faculty advisor and associate professor of political science.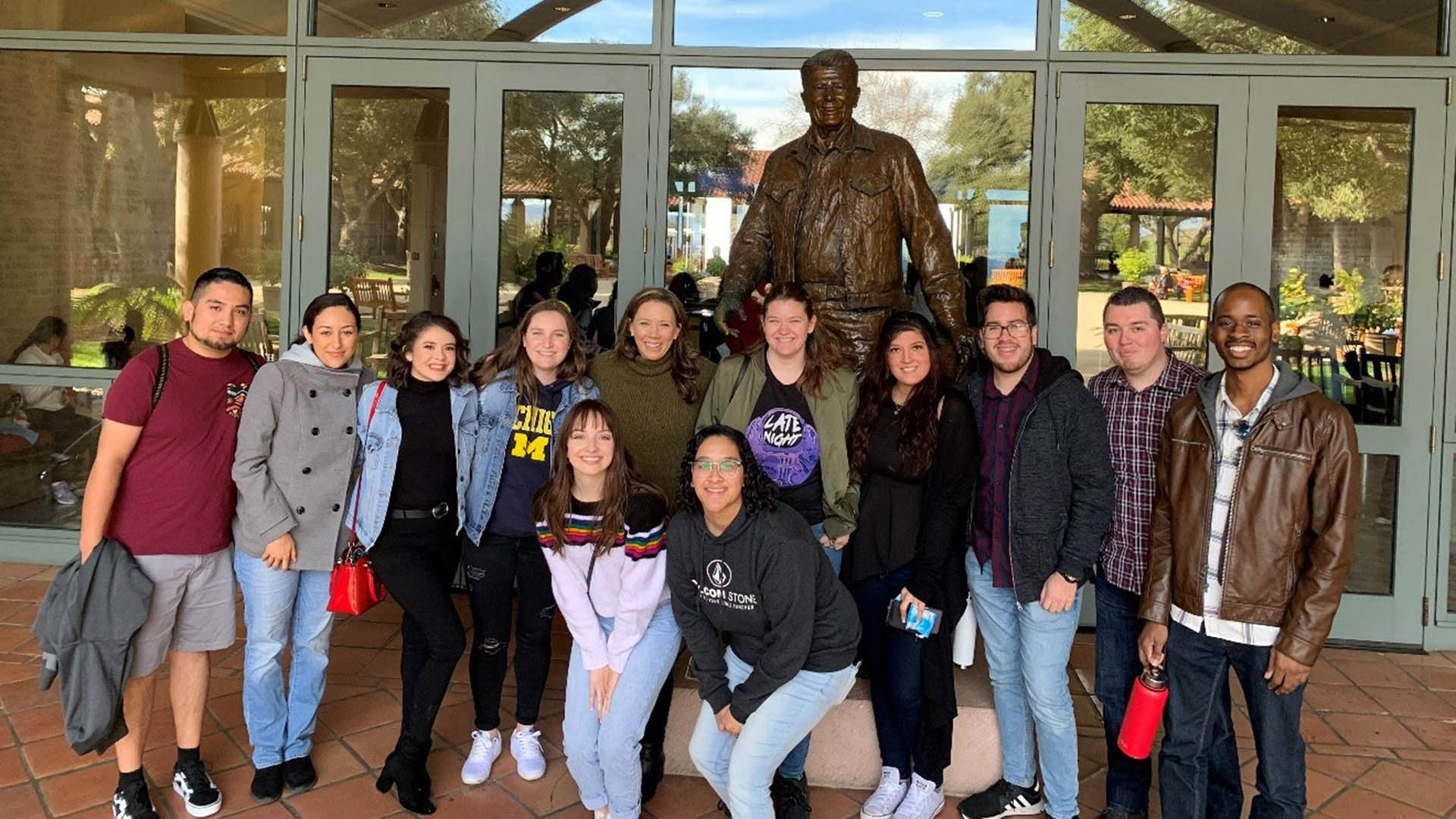 "I am thrilled to make this award to the Theta Iota chapter for the fourth year in a row under your leadership, eighth time in a row combined with Brian (Janiskee, department chair), and 12th time in the history of the chapter," Twombly wrote. "It is clear that you, Maria Esqueda as president, and the rest of chapter officers and members worked hard to sustain an active and vibrant chapter. I am excited to see what Alexandra (Janiskee, last year's vice president and current chapter president) and the new officers for 2020-21 have in store.
"These awards are intended to recognize local chapters that are particularly active in their departments and universities and exhibit high levels of energy and creativity in furthering the goals of the honor society," Twombly continued. "Your chapter was selected to receive one of six Best Chapter awards for chapters in schools with undergraduate enrollment between 15,000 and 25,000 students."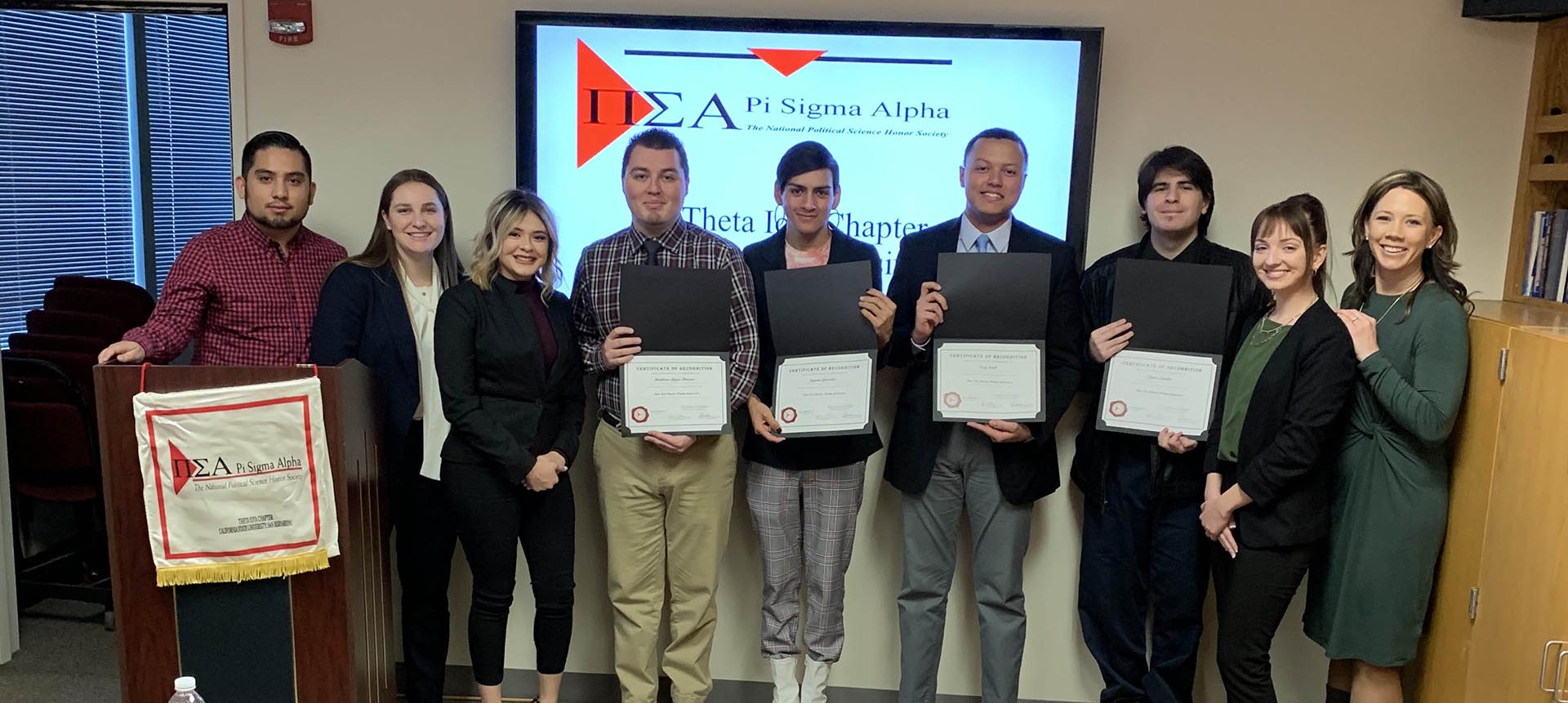 Villegas credited the hard work of the students. "Serving as faculty advisor to such bright, hard-working students has been one of the most rewarding aspects of my career," she said. "In spite of the challenges posed by COVID-19 this past year, we were able to end the year strong. I am looking forward to another innovative year ahead."
Added department chair Janiskee, "Kudos to Dr. Villegas, the officers, and members of our CSUSB Chapter of Pi Sigma Alpha. Through their hard work, dedication, and innovation they have not only maintained our chapter's reputation for success, they have taken our chapter to the next level. I could not be more proud of the work they have done. Outstanding!" 
The Theta Iota Chapter, established in 1976, won national best chapter awards in 2000, 2001, 2008, 2009. Its current streak began in 2013, followed by honors in 2014, 2015, 2016, 2017, 2018 and 2019. The chapter received a national best chapter adviser award in 2002.
Officers serving the chapter in 2019-20 with Esqueda and Alexandra Janiskee were Ciera Hammond, treasurer, and Kristan Polanco, assistant program coordinator/secretary.
Also this year, Villegas was appointed to the National Executive Council of Pi Sigma Alpha to serve a four-year term. The 12-member National Executive Council is the governing body for the honor society.
Founded in 1920 and celebrating its centennial milestone, Pi Sigma Alpha is the only national honor society for college students of political science and government in the United States. The honor society has more than 800 chapters on college and university campuses in every state of the United States and one in Canada.
For more information on the national political science honor society, visit the Pi Sigma Alpha website and follow the society on Facebook (search @PiSigmaAlphaNational), LinkedIn at Pi Sigma Alpha, The National Political Science Honor Society and Twitter at @PSANational.