Joe Gutierrez Office of Strategic Communication (909) 537-5007 joeg@csusb.edu
Women's Leadership Conference brings awareness and empowerment to CSUSB community
Update: Videos from the conference have been uploaded and are available for viewing:
---
A day filled with inspirational keynote speakers, engaging breakout sessions and a panel of empowering women made up the Women's Leadership Conference at Cal State San Bernardino on Feb. 2.
CSUSB President Tomás D. Morales opened the event with a speech addressing the value of gender equity and how diversity should be supported at all levels of leadership. With the recent appointment of the new San Diego State University president, Morales said, 12 out of the 23 California State University presidents are now women — the audience erupted in applause.
"Research indicates that diverse groups make better decisions. Bringing different life experiences and viewpoints together allows for a clearer perspective that leads to superior outcomes," Morales said. "This is especially true in higher education. As someone who believes in the importance of strong, progressive teamwork, I know women have unique abilities and skillsets that need to be recognized, utilized and valued."
The two keynote speakers were Marianne Cooper, sociologist at the Clayman Institute for Gender Research at Stanford University, and Diane Guerrero, actress, activist and author, who is most known for her roles in the shows "Orange is the New Black" and "Jane the Virgin."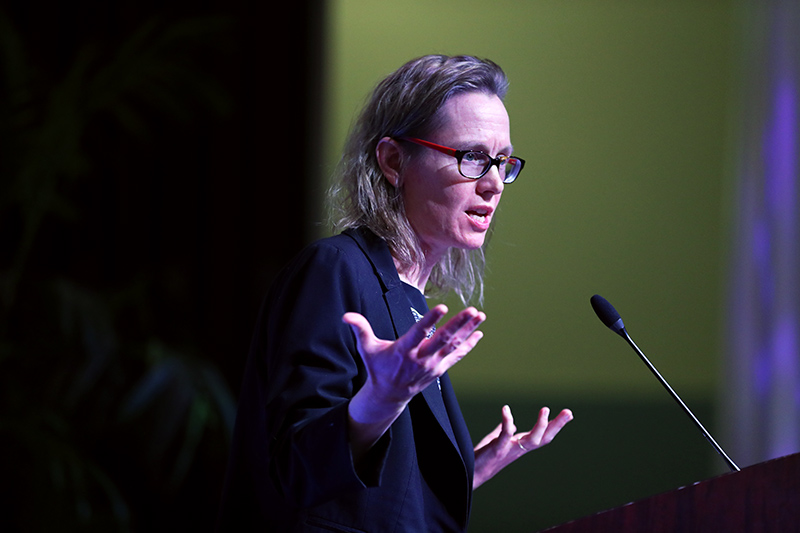 Marianne Cooper, sociologist at the Clayman Institute for Gender Research at Stanford University, shared her expertise on gender, women's leadership, diversity and inclusion, and economic inequality. Photo: Robert A. Whitehead/CSUSB
Cooper shared her expertise on gender, women's leadership, diversity and inclusion, and economic inequality. "I want to inspire you to make a more equal world," she said when beginning her speech.
"Lack of women at the top is a socially produced phenomenon," Cooper said, giving various reasons as to why this is the reality of today's culture. She gave statistics and anecdotes that many of the women in the audience related to, as they nodded in agreement with her stories.
Cooper, who was the lead researcher for the book "Lean In: Women, Work, and the Will to Lead" by Sheryl Sandberg, offered ways society could help close the gap, and said if we all do our part, we can create social change. "A massive social shift is exactly what we need," Cooper concluded.  
In a question-and-answer session, Guerrero, who is author of "In the Country We Love: My Family Divided," touched on a variety of topics including immigration, women's issues, intersectional feminism and mental health. Angie Otiniano Verissimo, CSUSB assistant professor of health sciences and human ecology, served as the moderator.
During Guerrero's emotional session, some audience members were moved to tears as they took the mic and shared their own struggles with immigration and mental health.
Guerrero offered encouraging words and acknowledged that she wants to use her platform for change. "We need to take it upon ourselves to write our own stories," she said.
The event also offered a panelist of successful women, including Manijeh Badiee, CSUSB assistant professor of psychology and faculty member representing women in the professoriate; Qiana Charles, CSUSB alumna representing women in the private sector; Soraya M. Coley, Cal Poly Pomona president representing women in higher education; Claudia Davis, an associate professor of nursing and nurse representing women in STEM; and Eloise Gómez Reyes, state assemblymember representing women in politics. CSUSB provost Shari G. McMahan and student leader Asia Pham served as moderators.
"My favorite part of the conference was hearing the panel speak about their personal experiences and what they had to do to break social barriers and get to where they are today," said Jessica Orozco, human resources assistant. "I love hearing success stories from other women in today's society."
Attendees also had the option to attend breakout sessions that focused on various topics for women, such as "Finding and Owning Your Voice" and "Self-care as a Feminist Act." Some sessions were designed for students and others targeted professionals.
At the end of the day, Assemblymember Reyes presented a certificate of recognition to the Women's Leadership Committee, acknowledging their important and hard work that benefitted the women of CSUSB.
"(The conference) was wonderful. It was very inspiring to be around so many powerful women and allies," said Crystal A. Wymer-Lucero, director of the Office of Alumni Relations. "I appreciated the variety of sessions, from the morning keynote to the breakouts to the afternoon keynotes and panel. There was something for everyone."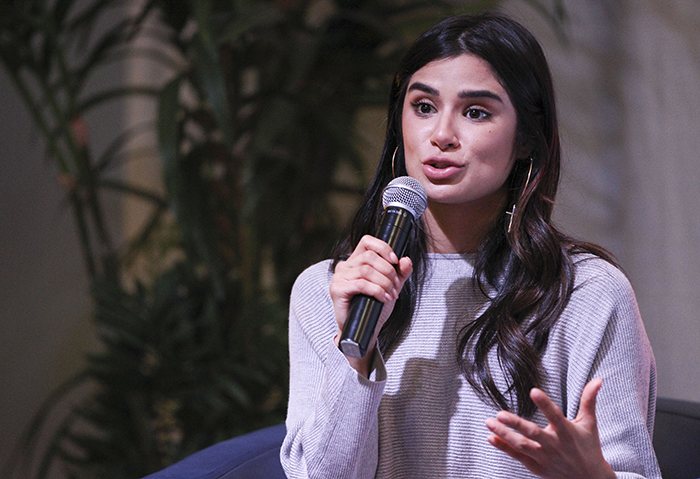 Diane Guerrero, actor and author of "In the Country We Love: My Family Divided," touched on a variety of topics including immigration, women's issues, intersectional feminism and mental health. Photo: Peter Acosta/CSUSB