Adventure Welcome Experience - San Jacinto Backpack - SBC
October 13, 2023 - October 15, 2023
1:00pm - 2:00pm
San Jacinto Wilderness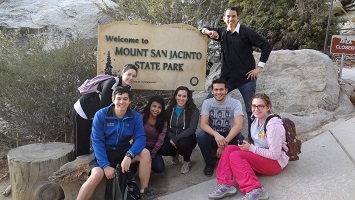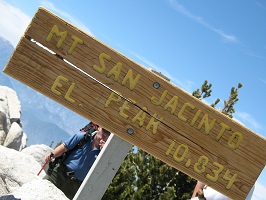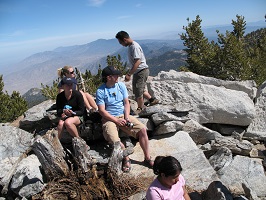 Mount San Jacinto is the second highest most prominent mountain in Southern California. It is home to magnificent granite rock faces, alpine forests, and wildflower covered meadows. Our journey begins with a ride on the Palm Springs Aerial Tramway. After a short 2.5 mile hike we will set up camp and enjoy the wilderness. After spending the night in the wilderness will pack up, attempt to summit Mt San Jacinto and then return to CSUSB.
Trip Cost
First-year and New Transfer Students: $80

Pre-Trip Meeting / Sign Up Deadline
October 10, 2023 @ 6pm

Activity Level
4 - Epic

Trip Departs From
CSUSB Student Recreation and Wellness Center

Itinerary
Day 1: We meet at the San Bernardino Campus to load the van and travel to the Palm Springs Aerial Tram to begin our adventure. Once to the top of the tram at 8,516 feet it's an easy 2.5 mile backpack to Round Valley to set up camp, relax, prepare for dinner and a night under the stars.

Day 2: After a well earned rest we will wake and make breakfast and fill our water bottles we will attempt to summit 10,834 ft. Mount San Jacinto which will be 6.4 miles round trip. We will have lunch along the way before returning to camp for dinner and star gazzing.
Day 3: After breakfast we will pack and camp and return to the Tram to head down. We will stop for lunch on our way back to CSUSB around 2pm to unpack and clean up.

Packing List

Weather

Food
5 meals are included, starting with dinner on day 1 (2 breakfast, 1 lunches, and 2 dinner)
1 meal not included (1 lunch on day 3)

Hygiene and Comfort
We will be carrying our all our food, shelter, clothing, water and equipment in pack weighting up to 40 lbs. We will be staying in reserved campsites. The campsites are within close proximity to vault toilets and there are NO showers. We will treat water from a nearby spring or bring enough water from CSUSB. You will have the option to share a tent with one or two people or sleep out under the cover of the stars. Light weight tents, warm synthetic sleeping bags, foam pads and ground tarps will be provided to ensure a comfortable night's sleep. The ground consists of soft soil.

Risk / Hazards / Safety

Cancellation Policy

How to Register
Registration Opens August 22, 2023 at 8:00am