Kings River Whitewater Raft and Camp - SBC
June 3, 2023 - June 4, 2023
9:00am - 10:00pm
Kings River, CA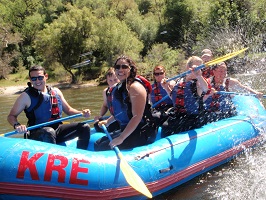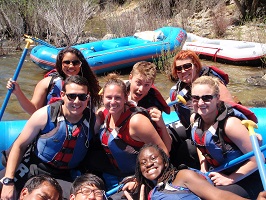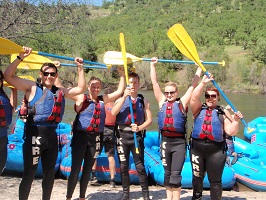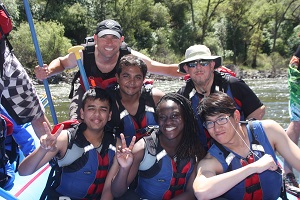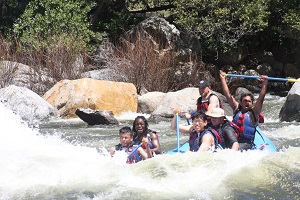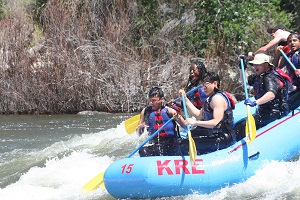 Originating high in the Southern Sierra, the mighty Kings River is a beautiful Class 3 river, perfect for both beginning and intermediate rafters. We meet at the SRWC at 7:00am to load our van and have breakfast at the Coyote Commons. We will be volunteering for 2-3 hour as part of Coyote Cares Day on our way to Kings River Expedition Base Camp to spend the night camping under the stars. After a hearty riverside breakfast we will gear up and head down 8-10 miles of Class 3 whitewater awesomeness. No experience is required, as instruction will be provided.

Trip Cost
SRWC Member: $130
Faculty, Staff, Non Enrolled CSUSB Student, and Alumni Association: $160
Affiliate: $175
Sponsored Guest: $190

Pre-Trip Meeting / Sign Up Deadline
April 18, 2023 @ 6pm
Activity Level
3 - Adventurous

Trip Departs From
CSUSB Student Recreation and Wellness Center
Itinerary
Day 1: We meet at the SRWC at 9:00AM to load the van and travel north to the Kings River. We will stop and volunteer along the way to clean up the river. We will set up camp along the river and prepare dinner before bed.

Day 2: Today we raft! After sleeping in, eating breakfast and packing up camp we will travel up river and launch our boats. After a thrilling adventure we will dry off and head back to CSUSB.

Packing List

Weather

Food
3 meals are included, starting with dinner on day 1 (1 breakfast, 1 lunch, and 1 dinner)
2 meals are not provided (1 lunch and 1 dinner). We will stop at restaurants. Bring money.
Hygiene and Comfort
We will be staying at a riverside campsites. The campsites are within close proximity to toilets and there are NO showers. You will have the option to share a tent with one or two people or sleep out under the cover of the stars. Tents, warm synthetic sleeping bags, foam pads and ground tarps will be provided to ensure a comfortable night's sleep.

Risk / Hazards / Safety

Cancellation Policy

How to Register
Registration Opens 2/22/23 @ 9:00am