Big Bear Kayak - Honors Program Only - SBC
September 9, 2023
8:00am - 6:00pm
Big Bear Lake, CA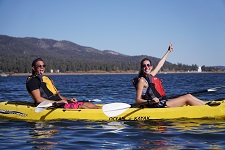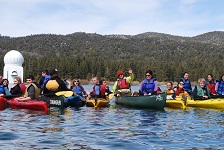 Join us for an adventure to Big Bear Lake! we will driver to Big Bear Lake and after a lesson spend the morning paddling on the lake. After lunch we will go on on easy hike and enjoy the sunshine and fresh air. After the hike have we will head over to Big Bear Village where we will explore the town before returning to CSUSB.

Trip Cost
CSUSB Honors Program Student: $50.00
Financial assistance is available. Please email honors@csusb.edu for more information.

No Pre-Trip Meeting

Sign Up Deadline
September 6, 2023 @ 12pm

Activity Level
1 - Active

Trip Departs From
CSUSB Student Recreation and Wellness Center

Packing List

Weather

Food
1 lunch is included.

Hygiene and Comfort
We will have access to restrooms with flush toilets at the boat launch and landing area.
Risk / Hazards / Safety

Cancellation Policy

How to Register

Registration opens August 1, 2023 at 8:00am

Limited Registration
In order to serve more members, each person is limited to registering for a maximum of 3 trips between August 21, 2023 – January 3, 2024.