In Conversation with Dr. Craig Futterman (University of Chicago)
April 18, 2023
1:00pm - 2:15pm
Zoom link: https://csusb.zoom.us/j/97960458784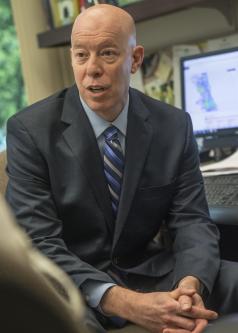 Join us for a conversation with Dr. Craig Futterman. Find more information about him at this link.
Zoom link: https://csusb.zoom.us/j/97960458784
From Dr. Futterman's profile: "Craig B. Futterman is a Clinical Professor of Law at the University of Chicago Law School and a Resident Dean in the College. He founded and has served as the Director of the Civil Rights and Police Accountability Project of the Mandel Legal Aid Clinic since 2000. He was elected to a Simon Visiting Professorship in the School of Law at the University of Manchester, UK, in 2018/2019. Before his appointment to the Law Faculty, Professor Futterman was a Lecturer in Law and Director of Public Interest Programs at Stanford Law School. He previously joined Futterman & Howard, Chtd., a boutique law firm concentrating in complex federal litigation. There, Futterman specialized in civil rights and constitutional matters, with a special focus on racial discrimination, education, and police brutality. Before that, he served as a trial attorney in the Juvenile Division of the Cook County Public Defender's Office. Professor Futterman received his JD from Stanford Law School in 1991 and graduated with the highest distinction from Northwestern University with a Bachelor of Arts in Sociology and Economics."
Thank you to the College of Social and Behavioral Sciences for sponsoring this event along with Pfau Library.
Series organizers: Dr. Mary Texeira (Sociology), Robie Madrigal (Pfau Library), Stan Futch (President, Westside Action Group), Dr. Jeremy Murray (History), Cecelia Smith (CSUSB, BA/MA Graduate), Matt Patino (CSUSB MA Candidate). Click here to view previous panels in the Conversations on Race and Policing series (link).