Financial Sanctions, Race, and Reform: Viewpoints from the Academy and from Lived Experience
May 11, 2022
12:00pm - 1:15pm
Recording https://www.youtube.com/watch?v=dlda88TFMCU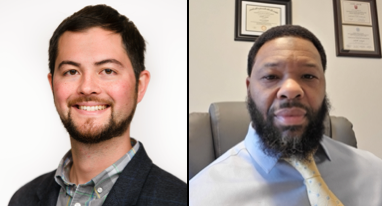 Nathan Link is a criminologist and Assistant Professor at Rutgers University. He researches health and financial issues among people in contact with the criminal system.
Stephon Whitley works at Industrial Areas Foundation in North Carolina. He graduated summa cum laude from Rutgers University, where he completed his degree while finishing a two-decade-long incarceration sentence. He has recently published articles in the Federal Sentencing Reporter and the Journal of Prisoners on Prisons.
Find a recent article by Mr. Whitley on this subject at this link: "Revenue Generation Through Financial Sanctions in the Prison Industrial Complex: Reflections from My Experiences in New Jersey," Federal Sentencing Reporter (2022) 34 (2-3): 200–202.
The full double issue of the Federal Sentencing Reporter on the topic of financial sanctions that Dr. Link co-edited is at this link: https://online.ucpress.edu/fsr/issue/34/2-3
Series organizers: Dr. Mary Texeira (Sociology), Robie Madrigal (Pfau Library), Dr. Jeremy Murray (History), Stan Futch (President, WAG), and CSUSB students. Click here to view previous panels in the Conversations on Race and Policing series.