Smart Technology, Business Resilience & Opportunities
October 21, 2021
5:30pm - 7:00pm
Zoom Session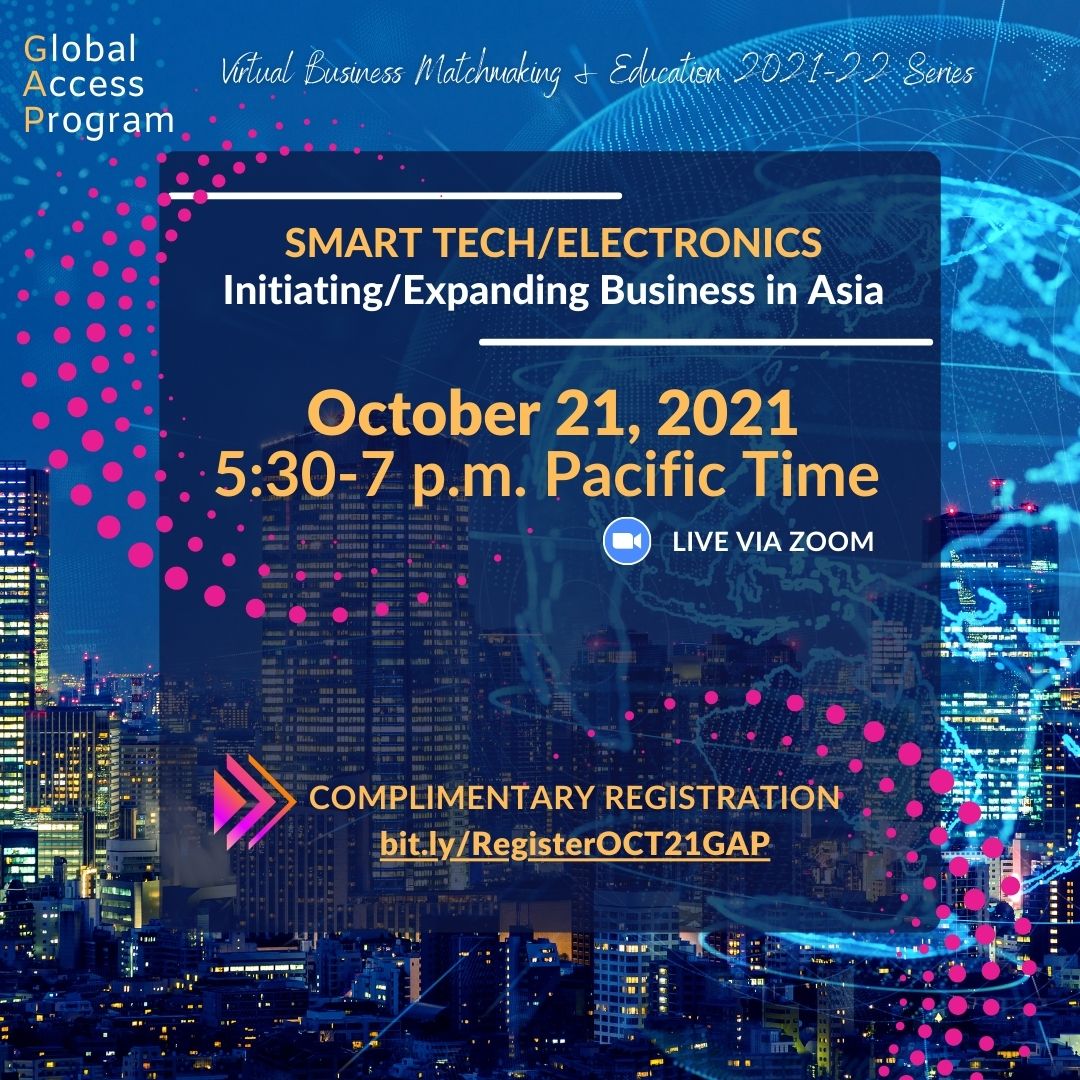 Join CSUSB's Jack H. Brown College of Business, the Center for Global Management and our global partners 10/21 as we kick off our first session of our annual CSUSB Global Access Program (GAP) Virtual Business Matchmaking & Education 2021-2022 Series!
Initiating/Expanding Business in Asia
FOCUS ON Smart Technology, Business Resilience & Opportunities
This is a great opportunity for entrepreneurs, small- to medium-sized enterprises offering products in smart technology, electronics, virtual work technology or semiconductor & those interested in business opportunities in Asian markets to . . . .
Get EXPERT ADVICE on world trade, business resilience in a pandemic & opportunities in Asian markets
SHOWCASE their products
CONNECT to resources, potential partners, investors, industry associations, government business advocates, sponsors & student talent for start-up research
TENTATIVE AGENDA:
5:30 p.m. Welcome & Opening Remarks given by Dr. Shanthi Srinivas, Jack H. Brown College's Interim Dean and CSUSB Professors & Center for Global Management Co-Directors Dr. Frank Lin & Dr. Vipin Gupta
5:40 p.m. Keynote address on the"Roadmap to Resilient Supply Chain" delivered by Jessica Lin, Director, Taiwan Trade Center, Los Angeles + Q&A with Paul Smith, Economic Development Specialist, District International Trade Office, U.S. SBA OC/IE District Office
6:05 p.m. Conversation on Disruptive Supply Chain & New Demand
6:30 p.m. Smart Technology Applications & Operational Resilience
6:45 p.m. Student Research Showcase
6:50 p.m. Business Showcase
6:55 p.m. Wrap-Up

ABOUT CSUSB'S GLOBAL ACCESS PROGRAM:
CSUSB's Jack H. Brown College of Business and Public Administration and the Center for Global Management team up with business leaders, government officials and others annually to hold a Global Access Program (GAP), an opportunity to accelerate the entry of export-ready businesses to global markets. Now in its eighth year, we are continuing to offer our Virtual Business Matchmaking & Education series of monthly Zoom sessions focused on specific sectors and opportunities in Asian markets starting October 2021. Our goal is for participants interested in initiating or expanding their business to get connected with key resources/information, business partners/sponsors and potential student intern assistance with valuable preliminary research for their business venture.

LEARN MORE: http://bit.ly/GlobalAccessProgram