4th Annual ShEconomy: 659 Days With COVID
October 21, 2021
6:00pm - 8:00pm
Zoom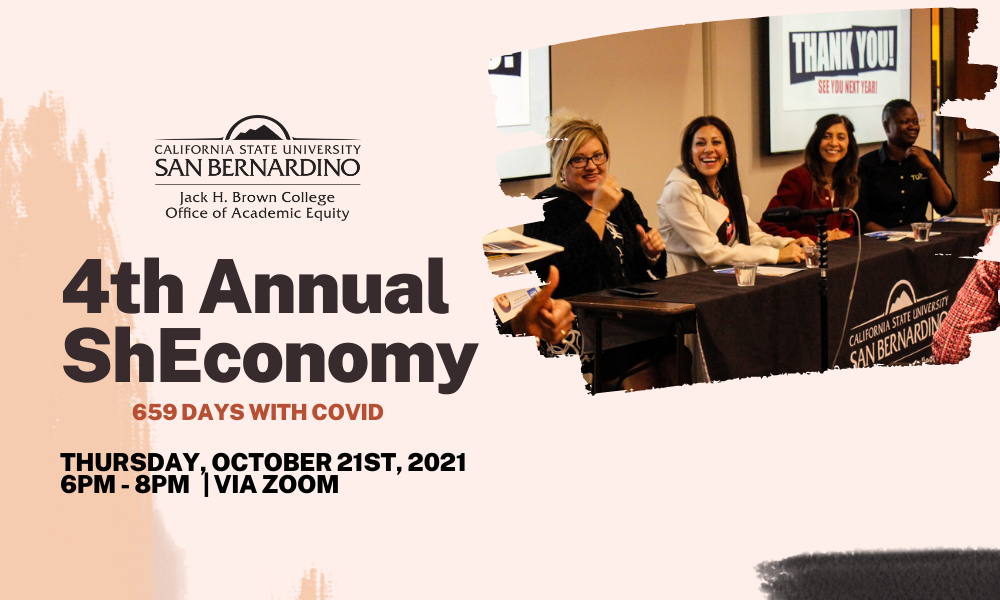 The JHBC Office of Academic Equity's ShEconomy is taking place during the Women's Entrepreneurship Week.
The JHBC Office of Academic Equity invites you to virtually attend the 4th Annual ShEconomy to celebrate women entrepreneurs. The event titled, "659 days with COVID" will include a presentation of the State of the ShEconomy and a discussion with a panel of entrepreneurs who will present key strategies that kept them afloat during 659 days of the COVID-19 pandemic. The event will include tips that entrepreneurs might find helpful in the maintenance of their business, along with inspiration toempower budding and existing entrepreneurs.
INFORMATION:
4th Annual ShEconomy: 659 Days with COVID
October 21st, 2021
6:00PM – 8:00PM
Virtual – ZOOM
This event is in collaboration with the JHBC Department of Marketing as well as the Inland Empire Women's Business Center!
A ZOOM link will be emailed prior to the event date to all who are registered. This is a free virtual event that is open to everyone!