An Art for Both My Peoples: Visual Cultures of Black/Brown Unity, A Conversation with Dr. Daniel Widener
October 5, 2021
1:00pm - 2:15pm
Zoom link: https://csusb.zoom.us/j/97960458784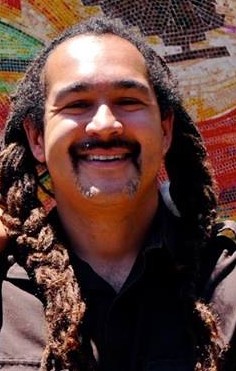 Amidst the continued demographic transition of the United States to a "majority-minority" nation, this talk examines efforts to harness visual culture as part of a broader effort to respond to the notion of a crisis between African American and Mexican and Mexican- American people. In particular, it explores the circulation and exhibition of allegorical images meant to demonstrate historic commonalities, interpersonal linkages, and political possibilities, including in the work of Los Angeles-based muralists, African American exile artist Elizabeth Catlett, and between artists affiliated with the Black Panther Party and the Zapatistas.
Danny Widener teaches history at UC San Diego. He is the author of Black Arts West: Culture and Struggle in Postwar Los Angeles (Duke University Press, 2010), and the co-editor of Another University is Possible. His past and current political affiliations include the Venceremos Brigade, Community in Support of the Gang Truce, the National Congress for Puerto Rican Rights, the Labor Community Strategy Center/Bus Riders Union, and Pillars of the Community.
Series organizers: Dr. Mary Texeira (Sociology), Robie Madrigal (Pfau Library), Dr. Jeremy Murray (History), Stan Futch (President, WAG), and CSUSB students Marlo Brooks, Zoralynn Oglesby, Jade McDonald, Jaime Castro, Connie Cornejo, and Evelyn Jimenez. Click here to view previous panels in the Conversations on Race and Policing series.
For questions or more information, contact Robie Madrigal (rmadriga@csusb.edu) or Jeremy Murray (jmurray@csusb.edu).