Big Bear Pedal and Paddle Overnight
September 25, 2021 - September 26, 2021
10:00am - 4:00pm
Big Bear, CA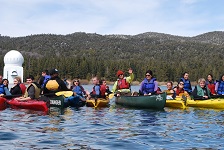 Escape the heat at 7000 feet near Big Bear Lake! We will set up camp at Serrano Campground and go for a bike ride on the Alpine Pedal Path. At night we will relax by the campfire and check out the stars. The next morning, we will canoe on the lake before breaking camp. We will stop by the village for lunch and exploration to end the trip.
Trip Cost
SRWC Member: $60
Faculty, Staff: $80
Affiliate and Sponsored Guest are not able to register for this trip at this time.
Pre-Trip Meeting / Sign-Up Deadline
September 22, 2021 @ 6pm

Activity Level
2 – Active

Trip Departs From
CSUSB Student Recreation and Wellness Center

Itinerary
Day 1: We will meet at the CSUSB SRWC to load our van and head up the hill to Big Bear to Serrano Campground to set up camp. After lunch we will rent some bikes and go for a ride on the paved Alpine Pedal Path. After are ride we will relax at camp or go for a hike before cooking dinner and warming by the campfire.

Day 2: After breakfast we will head to the lake for some canoeing. After our paddle we will head back to camp to pack up and drive to the Big Bear Village to check out the shops before returning to CSUSB.
Packing List

Weather

Food
4 meals are included, starting with lunch on day 1 (1 breakfast, 2 lunches, and 1 dinner)
1 meal are not included (1 lunch)

Hygiene and Comfort
We will be staying in reserved campsites. The campsites are within close proximity to flush toilets, drinking water, and there are NO showers. You will have the option to share a tent with one or two people or sleep out under the cover of the stars. Light weight tents, warm synthetic sleeping bags, foam pads and ground tarps will be provided to ensure a comfortable night's sleep.