A three-part modern china film series
May 14, 2015 - May 28, 2015
12:00pm - 2:30pm
John M. Pfau Library PL-5005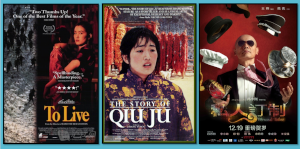 The CSUSB History Club and Phi Alpha Theta chapter welcomes you to join us for one or all of
the films in an upcoming three-part modern China film series. On three consecutive Thursdays
in May, join us in CSUSB's Pfau Library fifth floor multimedia center for screening of three
important Chinese films. On May 14 th we'll watch "To Live," Zhang Yimou's epic drama set in the
1940s, 50s, and 60s. Banned in China, the film is a vivid and powerful depiction of life in
revolutionary China and the early People's Republic. On May 21 st we'll watch another of Zhang's
films, "The Story of Qiu Ju," the story of one woman's frustrating attempts to find justice while
navigating the bureaucracy of the PRC government, and set in the early post-Mao years. On
May 28 th we'll watch Feng Xiaogang's recent film, "Personal Tailor," a big-budget satirical
comedy that follows a group of lifestyle consultants who turn the dreams of their wealthy
clientele into simulated and ephemeral realities. Each film will be briefly introduced and followed
by a discussion, hosted by Professor Jeremy Murray. We hope to see you there!