Kids Discover Egypt Workshop
July 12, 2021 - July 15, 2021
10:00am - 1:00pm
Online - Zoom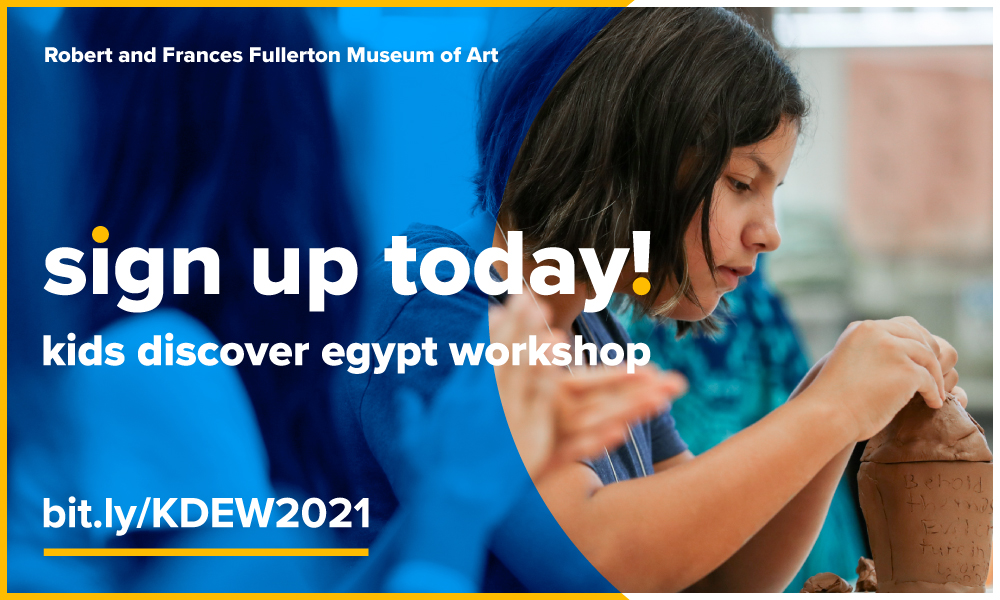 Kid's Discover Egypt Workshop: Virtual Edition
July 12-15, 2021 - 10 a.m. to 1 p.m. (PDT)
Great for ages 6-13 years old
LIVE lessons and activities
The Robert and Frances Fullerton Museum of Art (RAFFMA) presents the annual Kid's Discover Egypt workshop July 12-15, 2021. Due to the COVID-19 pandemic, the program adapted and transitioned to a virtual format. Once a 2-day workshop will now be 4 days of children's activities and Ancient Egyptian lessons. These lessons and activities will give your child(ren) a virtual Egyptian art experience with specialized at-home crafts and exclusive Egyptian lessons by RAFFMA Staff and Egyptologists.
The workshop is appropriate for children ages 6-13 and will allow participants to explore the rich history of ancient Egypt with kid-friendly activities. Each workshop day will be hosted LIVE with activities to follow along, as well as fun interactive lessons to enjoy.
The workshop is available to all.