Climbing Movie of the Month Trivia Contest - Free Solo
January 29, 2021
6:00pm - 6:30pm
Zoom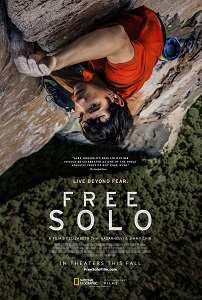 Each month the CSUSB Climbing Program features a climbing related movie that we hope you will watch and then join us at the end of the month for a trivia contest for prizes based on the movie. Check out this month's movie and register below to get the Zoom Link for the trivia contest.
January – Free Solo (WATCH TRAILER)
Available to watch on: Hulu, Disney+, Amazon Prime (3.99 to rent)
Kahoot! Contest: January 29 @ 6pm
FREE SOLO is a National Geographic award winning film that documents free soloist climber, Alex Honnold as he prepares to achieve his lifelong dream: climbing the face of the world's most famous rock, the 3,000ft El Capitan in Yosemite National Park, without a rope. FREE SOLO is both an edge-of-your seat thriller and an inspiring portrait of an athlete who exceeded our current understanding of human physical and mental potential. The result is a triumph of the human spirit.
Register for Jan 29th Kahoot! Trivia Zoom
Next Month: An American Ascent