Yosemite Winter Camp And Explore - SBC and PDC
February 17, 2023 - February 20, 2023
11:00am - 10:00pm
Yosemite National Park - SBC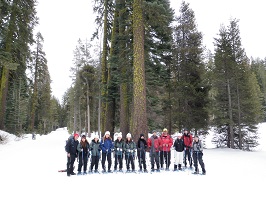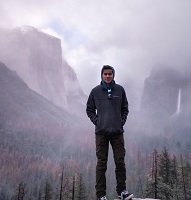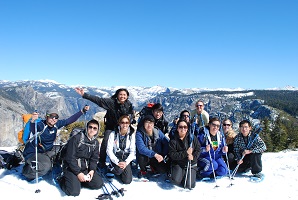 This is an excellent chance to visit California's most popular national park in its winter glory, and the perfect time to visit the park without the crowds. We will set up base camp at the Yosemite Bug's HEATED tent cabins and take side trips to visit waterfalls, explore the valley and take in some great vistas. At night you can choose to ice-skate under the stars or attend a ranger-led presentation. We will also have the opportunity to snowshoe among Giant Sequoias. Yosemite is a winter wonderland!

Trip Cost
SRWC Member: $160
Faculty, Staff, Non-Enrolled CSUSB Student, and Alumni Association: $190
Affiliate: $205
Sponsored Guest: $220

Pre-Trip Meeting / Sign-Up Deadline
February 14, 2023 @ 6pm

Activity Level
3 - Adventurous

Trip Departs From
CSUSB Student Recreation and Wellness Center @ 12:00pm
CSUSB Palm Desert Campus Indian Wells Theater @ 11:00am

Itinerary
Day 1: Participants meet at the SRWC at the Palm Desert Campus at 11:00am or at the San Bernardino campus at 12:00pm and help the leaders pack up the gear. Once the gear is packed up, there will be a short introduction/ice breaker before hitting the road for a 366 mile, 6.5 hour drive to the Yosemite Bug Rustic Resort. When we arrive we will get settled in for a big day tomorrow. Then we chill for the rest of the night, play games, maybe a hot tub soak (not included) and hit the hay for the night.

Day 2: Saturday starts off with breakfast at 7:00am. We will then make our lunch before heading off to Mist trail via the John Muir Trail (on snowshoes if conditions warrant) you will experience two of Yosemite's famous waterfalls, Vernal Falls and Nevada Falls . Once we reach the peak we will stop and have our lunch on the trail. We return back to the van around 3:00pm and check out the visitor center and Yosemite falls. After exploring some of what Yosemite has to offer, we will eat dinner at Yosemite Lodge before heading back to The Bug and relax.
Day 3: Sunday will explore more of the park by foot.
Day 4: Monday, we will have breakfast at 7:00am. We will pack up the van and then snowshoe to a Giant Sequoia grove. On the way out of the park we will stop at Bridalveil Falls and tunnel view then head back to campus. We will arrive at the SRWC by 1000pm. (Dinner is not provided, please bring money).

Packing List

Weather

Food
8 meals are included, starting with dinner on day 1 (3 breakfasts, 3 lunches, and 2 Dinners)
3 meals are not included (1 lunch and 2 dinners). Bring money.

Accommodations
We will be staying in reserved heated tent cabins with beds. The cabins are within close proximity to flush toilets and there are showers. We have access to drinking water.

Risk / Hazards / Safety

Cancellation Policy

How to Register

Registration Opens 12/17/22 @ 12pm