Yosemite Camp and Explore - Honors Program Only
October 27, 2023 - October 29, 2023
12:00pm - 10:00pm
Yosemite National Park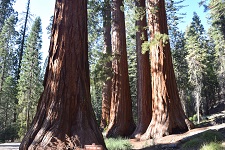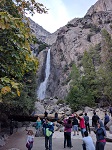 Yosemite National Park is one of the first wilderness parks and the most popular in the United States. Yosemite is best known for its waterfalls, but within its 1,200 square miles of wildlands you will find deep valleys, grand meadows, ancient giant sequoias, and much more. While there, we will be camping in the valley and taking side trips to view the thousand foot granite walls, some of which include the famous El Capitan, exploring the valley and taking in the scenery.
Trip Cost
CSUSB Honors Program Student: $130.00
Financial assistance is available. Please email honors@csusb.edu for more information.
Pre-Trip Meeting / Sign-Up Deadline
October 24, 2023 @ 6pm
Activity Level
3 - Adventurous
Trip Departs From
CSUSB Student Recreation and Wellness Center
Itinerary
Day 1:
We will meet at the Rec Center on Friday at noon to pack the van up, making sure we have the necessary gear for a successful trip. Our drive is roughly 330 miles / 531 km (6-7 hours) with stops for dinner and gas. We will stop for dinner around Oakhurst. We will spend the rest of night setting up a campfire at the camp and getting ready for some sleep.
Day 2:
Saturday will begin early for a quick breakfast, for it will be a lengthy day. Our adventure will start on the Mist Trail where we will hike towards Vernal Falls (~1 mile) and continue to Nevada Falls (~1.5 miles), which adds to about 7 miles round trip. The elevation gain is roughly 3000 feet, which means the trail is steep. Be prepared for some hiking. After our day hike, we will return to the campsite and catch a shuttle to Yosemite Falls. Upon returning at the valley, we will check the visitor center, Ansel Adams gallery, and the gift shops out before having dinner at the Yosemite Lodge. From there, we will head back for some smores and rest.
Day 3:
Sunday will begin with breakfast at 8am. We will pack up, check out of the camp by 9am, and visit the Mariposa Grove of Giant Sequoias. After having lunch, we will make our way back to the van and be on the road by 2pm so we can make it back at the campus by 10PM. We will stop for gas and dinner (not provided) somewhere around Bakersfield.
Packing List
Weather
Food
5 meals are included, starting with breakfast on day 1 (2 breakfasts, 2 lunches, and 1 dinner)
2 dinners are not included. Bring money.
Hygiene and Comfort
We will be staying in reserved campsites. The campsites are within close proximity to flush toilets, potable water, and there are NO showers. You will have the option to share a tent with one or two people or sleep out under the cover of the stars. Light weight tents, warm synthetic sleeping bags, foam pads and ground tarps will be provided to ensure a comfortable night's sleep. The ground consists of soft soil.
Risk / Hazards / Safety
Cancellation Policy
How to Register
Registration Opens August 1, 2023 at 8:00am
Limited Registration
In order to serve more members, each person is limited to registering for a maximum of 3 trips between August 21, 2023 – January 3, 2024.