American River Raft and Camp - SBC
July 7, 2023 - July 9, 2023
8:00am - 10:00pm
Auburn, CA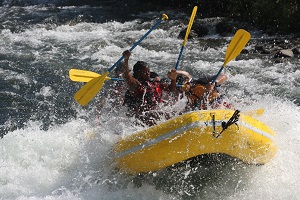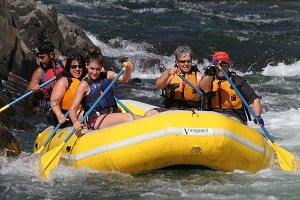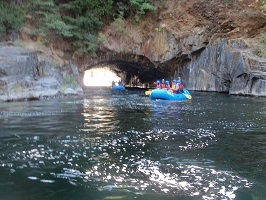 The Middle Fork of the American is the perfect mix of thrills and amazing scenery. This Class IV river is ideal for the thrill-seekers, experienced rafters or athletic beginners. With 18 miles of whitewater this adventure is sure to thrill. Experience the unique tunnel chute rapid; a tunnel blasted through the mountain back in the gold mining era. We will camp 2 nights right on the South Fork American River in Lotus, CA and visit the Marshall Gold Discovery State Park where the California Gold Rush began. On the way home we will make a stop in Old Town Sacramento before returning to CSUSB.
Trip Cost
SRWC Member: $200
Faculty, Staff, Non Enrolled CSUSB Student, and Alumni Association: $230
Affiliate: $245
Sponsored Guest: $260
Pre-Trip Meeting / Sign-Up Deadline
July 3, 2023 @ 6pm
Activity Level
4 – Epic
Trip Departs From
CSUSB Student Recreation and Wellness Center
Itinerary
Day 1
: We depart CSUSB for our riverside campsite where we will set up camp for 2 nights. We will make stops along the way and may even have time for a short hike before dinner.
Day 2:
Today is the day we experience the mighty Middle Fork of the American River. A full day or 18 miles of class IV rapids and beautiful scenery. After our epic adventure we will check out the pictures and celebrate with a well-deserved dinner in town.
Day 3
: We pack up camp and depart for Old Town Sacramento for lunch. After lunch we will return to CSUSB.
Packing List
Weather
Food
5 meals are included, starting with dinner on day 1 (2 breakfasts, 1 lunches, and 1 dinner)
4 meals are not included (2 lunches and 2 dinners). Bring money.
Hygiene and Comfort
We will be staying in
reserved campsite
. The campsite is within close proximity to flush toilets, potable water and there are NO showers. You will have the option to share a tent with one or two people or sleep out under the cover of the stars. Light weight tents, warm synthetic sleeping bags, foam pads and ground tarps will be provided to ensure a comfortable night's sleep. The ground consists of soft and hard soil.
Risk / Hazards / Safety
Cancellation Policy
How to Register
Summer Registration Information
Spring 2023 Students not taking summer school must first purchase a Summer Membership for $46 or sign up for free "Inactive Member Price" Membership to register online for Adventure trips. Inactive Members pay a higher fee. Summer Members pay the member rate.