Who can attend SI?
SI is free and open to all students enrolled in the corresponding content course.  SI sessions are limited to 20 students to maintain a small group environment.  Seats are filled on a first-come basis.
Biology
BIOL 100
BIOL 202
BIOL 220
BIOL 224
Chemistry
CHEM 216
CHEM 222A
CHEM 223A
History
HIST 140
HIST 146
HIST 200
HIST 201
Mathematics
MATH 110
MATH 211
MATH 212
Philosophy
PHIL 200
Sections 1-3 - SI Session: (coming soon)
Psychology
PSYC 100
PSYC 105
All Sections - SI Session: Tues/Thurs 9:00a-9:50a - SI Leader: Nazaret Montejano (contact)
PSYC 210
Who are the SI Leaders?
SI Leaders are fellow students who have previously been successful in the corresponding course or an equivalent course in the subject area. SI Leaders provide study tools, lead group exercises and discussions around challenging concepts, and guide students toward mastery of course content.
What happens at SI sessions?
SI sessions address both "what" and "how" to learn.  All students in the SI session participate in teaching, learning, and study— not just the SI Leader.  Typically SI students: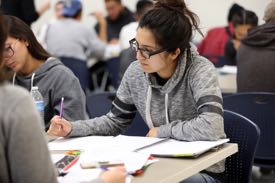 Review lecture notes and text material
Discuss and apply important concepts
Prepare for an upcoming quiz or exam
Ask and answer questions
Learn effective study and test taking techniques
Discover strategies for doing well in the course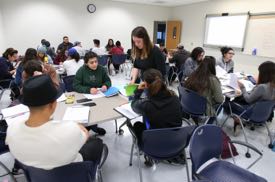 How do I sign-up for an SI session?
Before the quarter begins, students enrolled in a course with SI support will receive an email with information about the associated SI session(s). Students may sign-up with the SI Leader before or after lecture. Please note that being added to the interest list does not automatically guarantee your place in the session. Seats are filled on a first-come basis (up to 20 students per session).
More questions?
Email si@csusb.edu or call 909.537.7320 to learn more about SI.
How do I become an SI Leader?
SI Leaders are undergraduate (sometimes graduate) students in good standing with a GPA of at least 3.0, have earned an A in the corresponding course and/or in relevant advanced coursework in the subject area, and are recommended or referred by faculty or the academic department. Interested students should submit an online application (link below) and send a resume and letter of inquiry to si@csusb.edu.