Welcome
Thank you for your interest in the Academic Support and Undergraduate Advising Supplemental Instruction program at CSUSB.  These resources are designed to provide you with an overview of SI and the many ways your students may benefit from this nationally recognized, research-based form of peer led, small group academic support.  If you have any questions or would like more detailed information about the SI program, please do not hesitate to contact us.  We look forward to partnering with you for student success!
Partnership for Student Success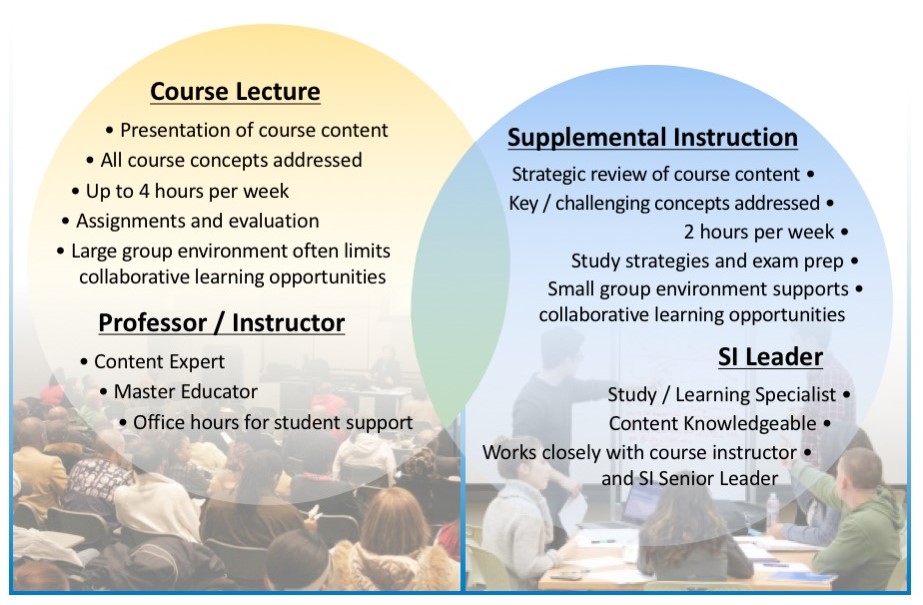 The SI Model for Academic Support
SI sessions are led by undergraduate (or sometimes graduate) students who have previously been successful in the corresponding content course.  SI Leaders design and conduct 50 minute small group study sessions twice each week. In SI sessions, leaders provide study tools, lead group exercises and discussions around challenging concepts, and guide students toward a better understanding of course content.  SI sessions address both "what" and "how" to learn.  All students in the SI session participate in teaching, learning, and study— not just the SI Leader.  Typically SI Students:
Review lecture notes and text material
Discuss and apply important concepts
Prepare for an upcoming quiz or exam
Ask and answer questions
Learn effective study and test taking techniques
Discover strategies for doing well in the course
Download this brief information packet to learn how courses are identified as potentially benefitting from SI support, who can attend SI, notable trends among students who participate in SI, current Institutional Research data on the effectiveness of SI at CSUSB, information regarding the selection and training of SI Leaders, and more.