What is SI?
Supplemental Instruction (SI) is a research-based, locally-proven method for helping students succeed in challenging courses by providing additional subject-matter discussion, support, and guidance for the strengthening of critical college skills. 
SI is free and open to all students enrolled in the corresponding course
SI sessions meet twice a week for 50 minutes each
Each session is limited to 20 students to create and maintain a small group learning environment
SI sessions are designed to help you...
Strengthen your understanding of the material presented in course lectures and texts
Develop both general and content specific learning strategies and study skills
Review for exams and develop effective test taking strategies
 
Does my course have SI?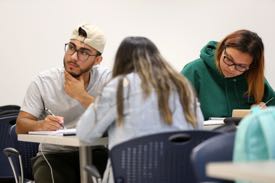 Administration
ADMN 2100
All Sections - SI Session: Tues 5:30p-6:20p/Fri 3:00p-3:50p (Online) - SI Leader: Michelle Pham (contact)
Biology
BIOL 2010
Section 1 - SI Session: (Coming Soon)
BIOL 2220
Section 1 - SI Session: (Coming Soon)
BIOL 2230
Chemistry
CHEM 2100
Section 1 - SI Session: Tues/Fri 1:00p-1:50p (In-Person: PL-249) - SI Leader: Serena Salas (contact)
Section 6 - SI Session: Tues/Thurs 4:00p-4:50p (In-Person: PS-133) - SI Leader: Gabriela Rojas-Norris (contact)
Section 11 - SI Session: (Coming Soon)
CHEM 2200
CHEM 2400
Section 2 - SI Session: Tues/Thurs 4:00p-4:50p (In-Person: PL-293) - SI Leader: Jeel Faldu (contact)
Section 2 - SI Session: Tues/Thurs 11:00a-11:50a (In-Person: PL-256) - SI Leader: Emmanuel Javed (contact)
CHEM 2500
Section 1 - SI Session: (Coming Soon)
Computer Science
CSE 2010
All Sections - SI Session: Mon/Wed 4:00p-4:50p (In-Person: CE-209) - SI Leader: Kevin Evans (contact)
History
HIST 1400
HIST 1460
Section 1 & 5 - SI Session: Mon/Wed 10:30a-11:20a (In-Person: UH-347) - SI Leader: Jasmine Colorado (contact)
Section 60 - SI Session: Tues/Thurs 3:00p-3:50p (Online: Zoom) - SI Leader: Rossandra Martinez (contact)
Mathematics
MATH 1101
MATH 1201
MATH 1401
MATH 2210
Physics
PHYS 2500
All Sections - SI Session: (Coming Soon)
Political Science
[No Political Science support for Spring 2023]
Psychology
PSYC 1100
All Sections - SI Session: (Coming Soon)
PSYC 2210