Finding the Tools
The tools are all found by logging into myCoyote with your campus ID and password. On the left, underneath the QuickLaunch icons, is the myCoyote Self Service list. Look for Q2S Advising Tools. Click on the link to access the Advising Tools. (The exact contents of your list may vary, depending on the modules you have access to. For example, department chairs and ASCs may have different things in their lists.)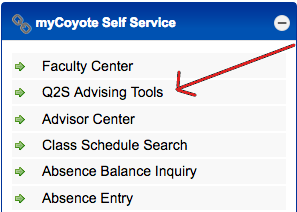 ---
Marking Students who have been advised for Q2S
For a Faculty or Professional Advisor in the 'Q& S Student Information':
To check off a student as 'Advised for Quarter to Semester' box, please make sure:
At least one term of courses have been entered into myCAP (by student);
Reasonable certainty about Q2S Projected Grad Term; and
Reasonable certainty about Quarter or Semester Completer status.
To change a students from a Q (quarter completer) to an S (semester completer), click the small logo.

A Quarter Completer is someone who intends to complete all of their coursework and graduate prior to Fall 2020.
A Semester Completer is someone who will complete their coursework and graduate in Fall 2020 or later.

The History link will allow you to see any changes made to the student's status (Q or S) and/or major and minor.
Be sure to click Save.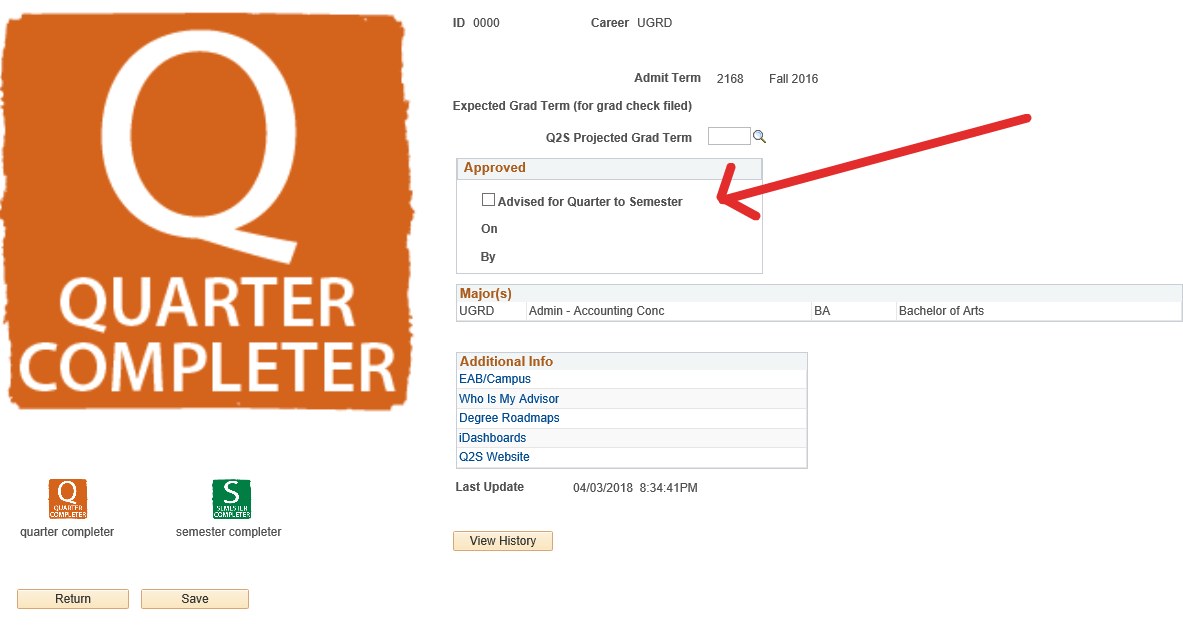 ---
Using EAB to keep notes on Advising
It's helpful to update EAB by using the Notes in order to keep everyone up-to-date, using Notes. There are special areas now for "Q& S" and "myCAP" notes.