CSUSB student recognized as one of the outstanding student veterans in the nation
"Is this real?" Ralph Figueroa asked when he opened the email.
Figueroa, a graduate student in the rehabilitation counseling master's program at Cal State San Bernardino, was informed in an email from GI Jobs Magazine that he had been recognized as one of the 32 outstanding student veterans in the nation. 
After some inquiring around the CSUSB Veterans Success Center (VSC), it hit him – he was, in fact, selected as a 2023 Student Veteran Leadership Award honoree.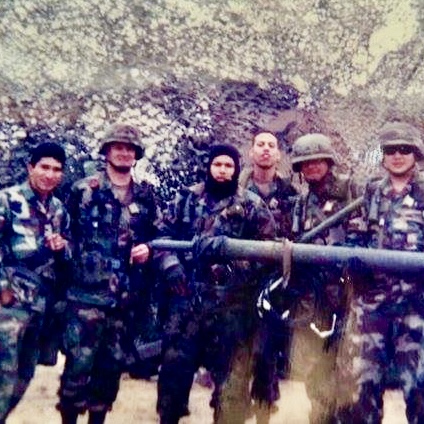 "Ralph is a tremendous addition to the VSC and to the campus in general," said VSC director Agustin Ramirez, who nominated Figueroa for the honor. "I haven't worked with a student of Ralph's caliber ever. That's exactly why we nominated Ralph for Outstanding Student Employee this year. And that's exactly why GI Jobs has recognized him for being a top veteran working with the community."
"I'm flattered and I'm super honored that I would even be mentioned amongst some other veterans that are doing some really big things in their communities," said Figueroa, a VSC paraprofessional, who served 12 years the Army, including deployments during OIF and OEF. "To be recognized is very humbling."
Everything Figueroa does for the VSC, he says, comes from his desire to do the greater good for everyone. 
Since starting at CSUSB in fall 2022, Figueroa, who is on track to graduate in 2025, has secured thousands of dollars in equipment from donors for students, such as laptops and computers, and thousands of dollars from donors in food supplies to stock the VSC's pantry.  
"One of the biggest things I preach to a lot of the student vets that come into our center is networking and the importance of why you network. I've been fortunate to have crossed paths with different people in the veteran community or just in our community in general that are part of nonprofit organizations – their goal is to help others," explained Figueroa, who is affectionately known to the other student veterans as the "VSC dad."
Figueroa partnered with the Disabled American Veterans (DAV) Chapter 12 in San Bernardino, which has a contract with NASA; when NASA has turnaround with their equipment, they are donated to the DAV. Figueroa was able to secure six full workstations, complete with laptops, monitors, docking stations, keyboards and mouses through the DAV.
He also approached a few organizations for food donations for the VSC's pantry.
"A lot of them are nontraditional students, so they have families, and a lot of times, even eating is not something they can do right away," said Figueroa, who ensures the donations are also shared with the CSUSB Palm Desert Campus. 
"We have so many great people in our community, in San Bernardino County, that want to help our student veterans," Figueroa said. 
In addition to helping meet the needs of student veterans, he also resurrected the once dormant Student Veterans Organization on campus, which he says, started by accident. 
"I was going through the drawers (in the VSC) and saw a tablecloth with the name SVO and asked what it is," explained Figueroa, who discovered that it was a club that had formed in 2012, but it had been inactive for the last few years.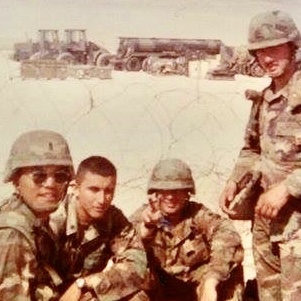 "I immediately thought, 'Wow, this is a way for us to have representation and have a voice on our own campus,'" he said. "And not only that, but we can create a peer support group for student veterans."
After discovering he only needed five members to officially start an on-campus club, Figueroa immediately jumped into action and within literal minutes, he had gathered five of his peers to join. 
With enough members to start, Figueroa approached the Office of Student Leadership and Engagement to recharter the club. In fall 2022, the Student Veterans Organization was reborn. Figueroa even spearheaded its affiliation into the national Student Veterans of America, a nonprofit organization focused on addressing the needs and concerns of American military veterans in higher education. 
The club has quickly grown to over 40 members, with more and more joining. 
The Student Veterans Organization, Figueroa says, stands for three things: 1) They engage with each other to create a support system, 2) They educate each other, and 3) They inspire each other.
"That was my vision and it's been that and then some," Figueroa said. "I've been so elated." 
"On top of being part of the rehabilitation counseling program, being part of the Veterans Success Center here is what really opened my eyes – this community is awesome," he continued. "I've met some amazing students and I'm very fortunate to be helping shape lives too, just like they are changing my life."
To view the list of all 32 Student Veteran Leadership Awardees, visit the GI Jobs online magazine.