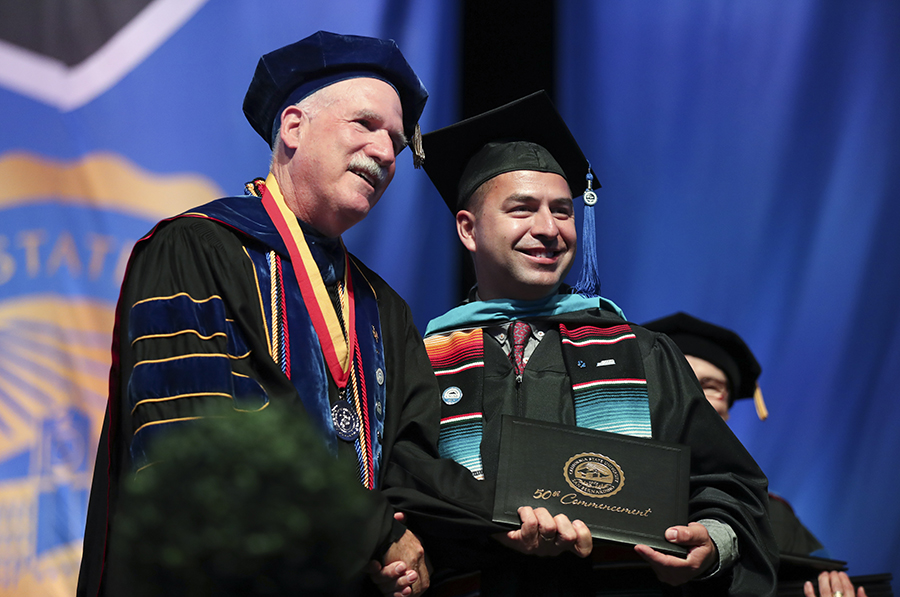 Dear Friends of the College,
Alumni and others who support our mission: Community involvement with our programs on the San Bernardino and Palm Desert campuses results in internships and many service learning opportunities for our students. In turn, you may rely on our graduates to become your employees, and eventually your management team. We want to work with you in the development of a workforce and an economy that enables our region to attract and keep quality jobs. Maybe you've wondered what you can do. Here are ten things you can do now to support our mission as a student-centered learning community:
Contribute to the College Excellence Fund
Host a JHBC Alumni Networking event in your home or business
Join Business Alliance for ongoing links to the College, its students and faculty
Come on campus to speak with a small group of students in a weekly career advising session
Contribute to the Student Scholarship Fund
Volunteer to share your expertise by speaking in a class as 'Prof for a Day'
Mentor a student in a 10-week internship at your organization, consisting of 150-200 hours for 4 units of academic credit
Nominate a deserving 'Arrowhead Distinguished Executive' or 'Spirit of Entrepreneurship' contender
Ask for faculty to bring in a student team for a class project to tackle a practical challenge you face
Serve on an advisory board in the College, or help to advise and mentor a student organization in your field
Prospective students: The Jack H. Brown College of Business and Public Administration at Cal State San Bernardino has produced over 16,000 graduates, over 65% of whom live in the Inland Empire, growing this booming economy of Southern California. The population is increasing rapidly, thereby giving our graduates ample opportunity to apply their entrepreneurial spirit in areas such as small business, distribution, MNCs and public service. WE GRADUATE COMMUNITY LEADERS!
In the last survey of business and public administration alumni, over 95% responded 'Yes!' that they would recommend us to a friend or relative considering a program offered at CSUSB. Any organization would be proud of such a high approval rating. Prospective students, I invite you to visit our campus. It's beautiful! Take some time to hear about your opportunities to work closely with faculty and to polish your leadership skills through the many active student organizations. Your goals and our vision may well be the same match that it is for our current 2700 undergraduate and 500 graduate students.
Quality is the word to describe our 17 undergraduate concentrations, MBA programs and MPA offerings, evidenced by dual accreditations: AACSB (The Association to Advance Collegiate Schools of Business) and NASPAA (National Association of Schools of Public Affairs and Administration). 
Please email me directly if I may assist in getting you 'connected' to our programs, our faculty or our students.
With thanks to every stakeholder for your important role in the educational process,
Lawrence C. Rose, Ph.D.
Dean, Jack H. Brown College
Here is an executive summary of some of our recent continuous improvement initiatives at the Jack H. Brown College :
Executive Summary
Centers of Excellence: The JHBC has a number of Centers for Excellence that enhances our educational mission, including the Cyber Security Center, Inland Empire Center for Entrepreneurship (IECE), the Institute of Applied Research and Policy Analysis, the Leonard Transportation Center, and the Center for Global Management.
Decentralized Decision Making: Through the use of the Senior Leadership Team (STL), the wider College Leadership Team (CLT), the strategic planning process, and empowering departments and programs, the College has shifted to a more decentralized decision making model.
Strategic Planning: The JHBC annually reviews and assesses its strategic direction through consultation with faculty, staff, students and other key stakeholders. This process ensures that the JHBC is aware of, and considers, changes to its environment and how these changes are impacting all parties involved in achieving the objectives of the college.
Student Service Center (SSC): The Center integrated the existing Internship Office and Academic Advising functions, while offering Career Services that are tailored to our particular student needs.
PRIME: The JHBC became a signatory to the United Nations Global Compact's Initiative of Principles for Responsible Management Education (PRME) in 2012.
The JHBC made a revision to the prior academic qualifications (AQ) standard for faculty, and incorporated a quality standard for intellectual contributions.
The JHBC lowered the percentage of professional qualifications (PQ) faculty permitted to teach at the graduate level to no more than 25% faculty teaching at the graduate level may be PQ.
The Assurance of Learning (AoL): process has shifted from an administrative led process to a faculty driven process, including a broader range of stakeholders and champions. This shift has provided a more mature, engaged process in terms of goal definitions, data collection, analysis, and resulting program improvement activities. Program changes include:

Limiting the number Bachelor of Science (BS) Concentrations
Creating a Human Resource Management Concentration
Requiring MGMT 306: Expository Writing in Administration as a perquisite course
Conducting a comprehensive MBA Program Review
Initiating an MBA Online deliver format
Implementing an Accounting Homework System
Including Ethics Modules in PA 315: Government-Business Relations