Entrepreneurial Resource Center officially opens in downtown San Bernardino
Five floors above downtown San Bernardino, a celebration took place.
Nearly 100 people filled the Studio D business hub on the top floor of the Chase Building in the early evening of Nov. 2 to officially mark the grand opening of the Entrepreneurial Resource Center (ERC), a partnership between the city of San Bernardino and Cal State San Bernardino's Inland Empire Center for Entrepreneurship (IECE).
And during the formal portion of the celebration, the words "partnership" and "collaboration" peppered the speeches of the dignitaries in their remarks, for, indeed, the ERC is a place where partnerships will form and collaborative efforts will take place to help aspiring business entrepreneurs launch their dreams and existing small business owners not only thrive, but grow.
"This is a community resource," said Mike Stull, a professor of entrepreneurship and director of the IECE and the CSUSB School of Entrepreneurship. "We're, for lack of a better term, we're an anchor. But we are baked into the project as we're bringing in other community organizations to be our affiliate partners, to bring in resources and services that either we don't always provide, or that they're filling a niche, or they have great relationships in the community that can be leveraged and grown so that we can impact more small businesses. So it's not just us, it's a team effort."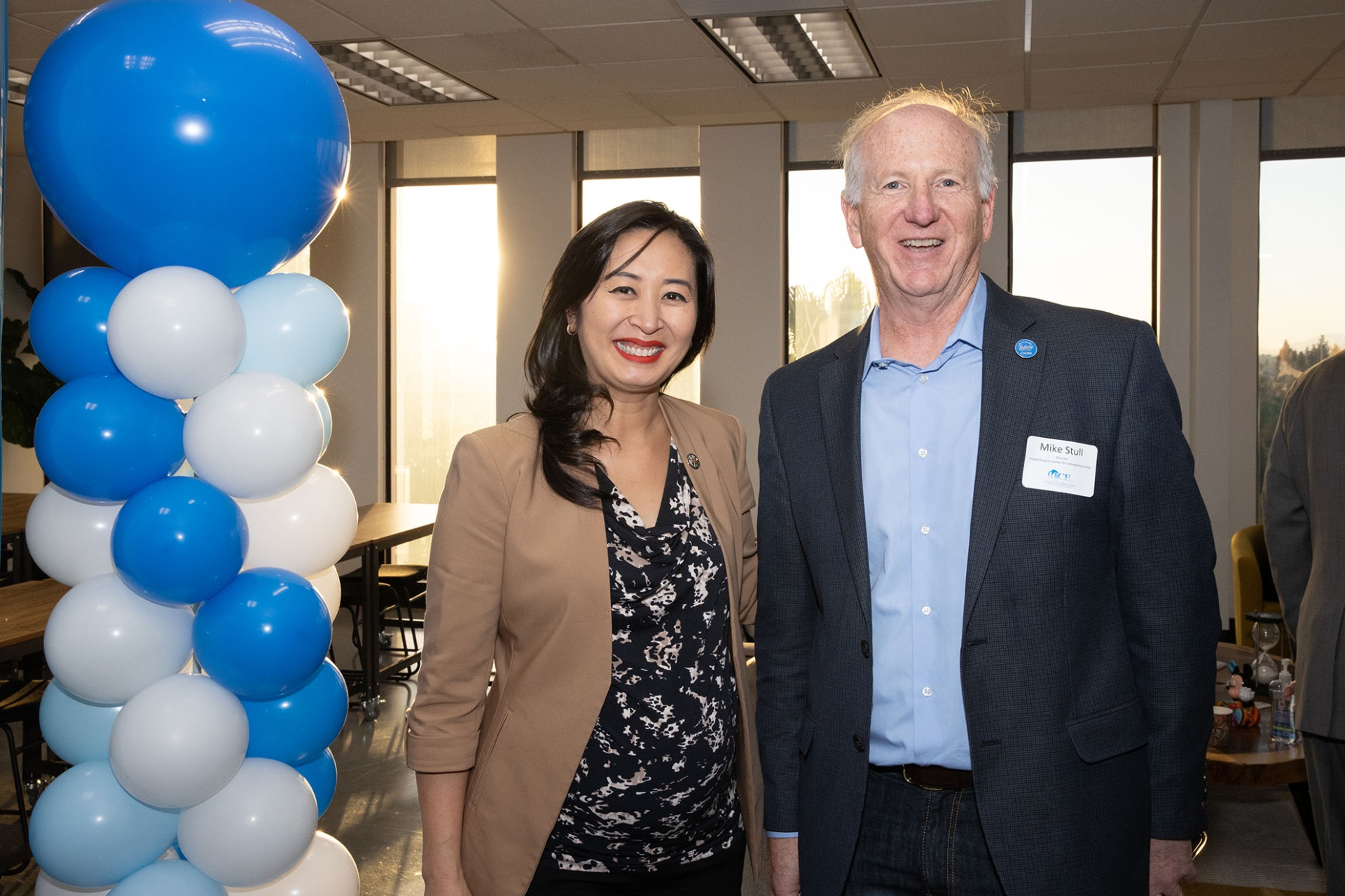 The ERC is designed to be an easily accessible hub for small business services, centrally located in downtown San Bernardino at Studio D, 330 N. D Street. Studio D is a newly established co-working and business hub designed for entrepreneurs at every stage that is committed to building a dynamic and diverse entrepreneurial ecosystem in the city. The ERC will bring together a wide range of entrepreneurial support programs and organizations to provide a complete set of training, business counseling, and access to resources for small business owners and entrepreneurs in the city.
Each partner is making a significant commitment to ensure the success of the ERC, including the city of San Bernardino investing of $1.87 million over three years, and the IECE investing $1.9 million of resources through its major business assistance programs including the Inland Empire Small Business Development Center (IESBDC) and Inland Empire Women's Business Center (IEWBC). 
The ERC grew out of the city and the university's participation in the Aspen Institute Latinos & Society Program's City Action Lab, a unique initiative that focuses on Latino majority cities and communities to strengthen local entrepreneurial ecosystems. San Bernardino was one of six cities nationally chosen to participate in the program, which focuses on generating long-term, inclusive economic growth through business ownership.
Out of the city-university partnership with the Aspen Institute, the ERC emerged as one of the ways CSUSB, as an anchor institution in the region, could strategically work with the city. 
"This has truly been a collaboration between CSUSB's Inland Empire Center for Entrepreneurship and the city by using their funding and programs to make the ERC a reality," said Tomás D. Morales, president of CSUSB. "This space, this organization is not only a new investment by the city, but it leverages the existing investment of federal, state and local grants in programs like IECE's Small Business Development Center and Women's Business Center to build economic and personal success for the people of San Bernardino."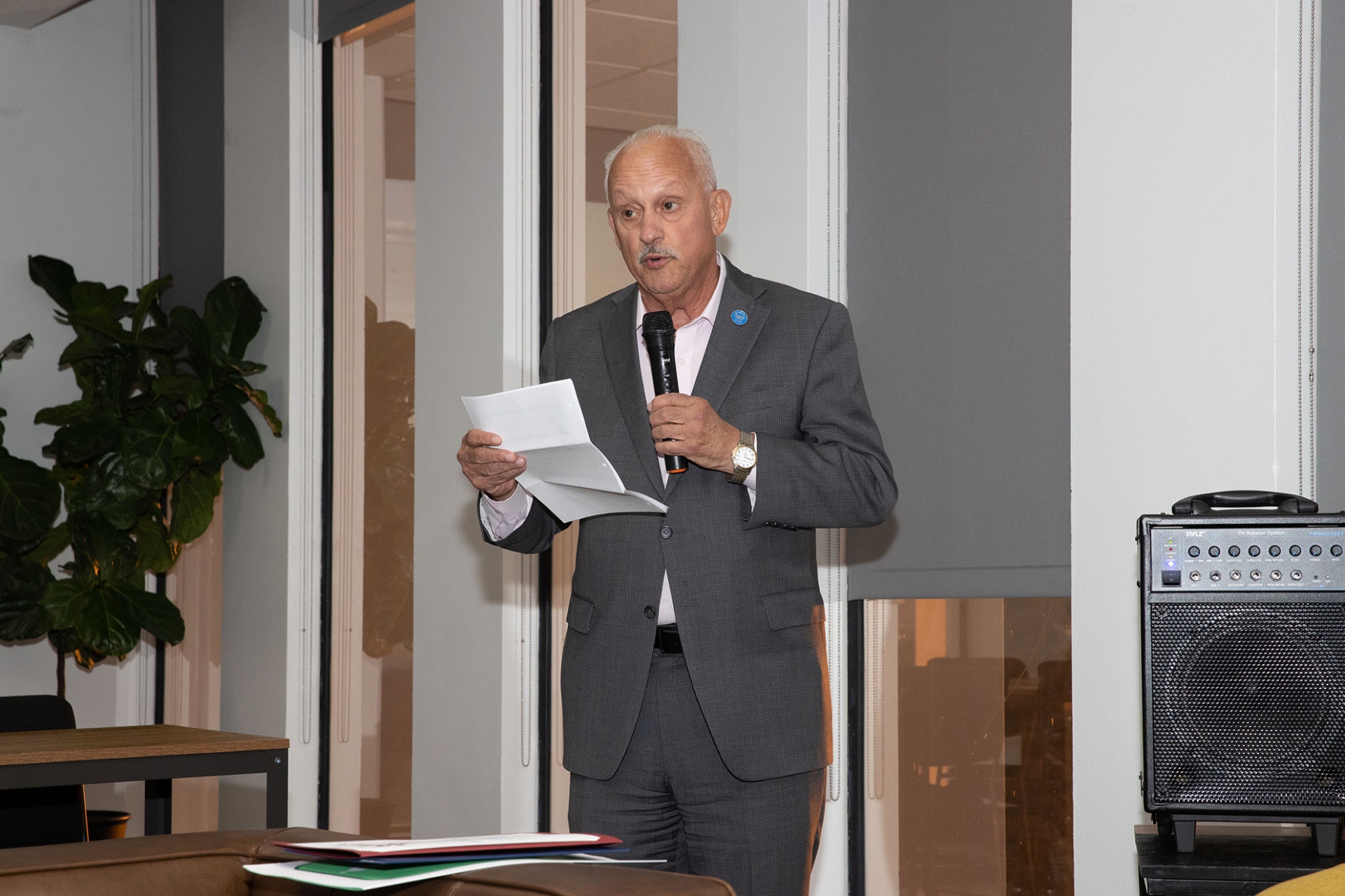 The ERC making its home in Studio D was a "full circle moment," said Silva Harapetian, the chief of marketing for the Prospect Group, which owns the Chase Building. "We started out with a vision as small business entrepreneurs, a little bit over a decade ago in a cubicle, and grew into a co-working space like this one. And then over time, two employees, three employees, four employees. And we know firsthand what it means to have challenges, language barriers, information barriers, financial access," she said. "We know all of the challenges an entrepreneur faces when they're in the process of growing and scaling."
In a sense, Studio D and the ERC was the company's way of paying it forward. When Prospect bought the building, they listened to community members, nonprofit organizations and city officials, she said. "And working together with all of the partners, including the university, we realized that we needed to really step forward and build something that we wish was available for us – a place where you can have an ecosystem of entrepreneurs where they can have access to support, they have access to each other, they have access to resources."
With the ERC, Harapetian said, "what we're hoping to see is folks going through the program and this being a natural progression of office space, growing, thriving and continuing the circle. So this is really an incredible moment for us."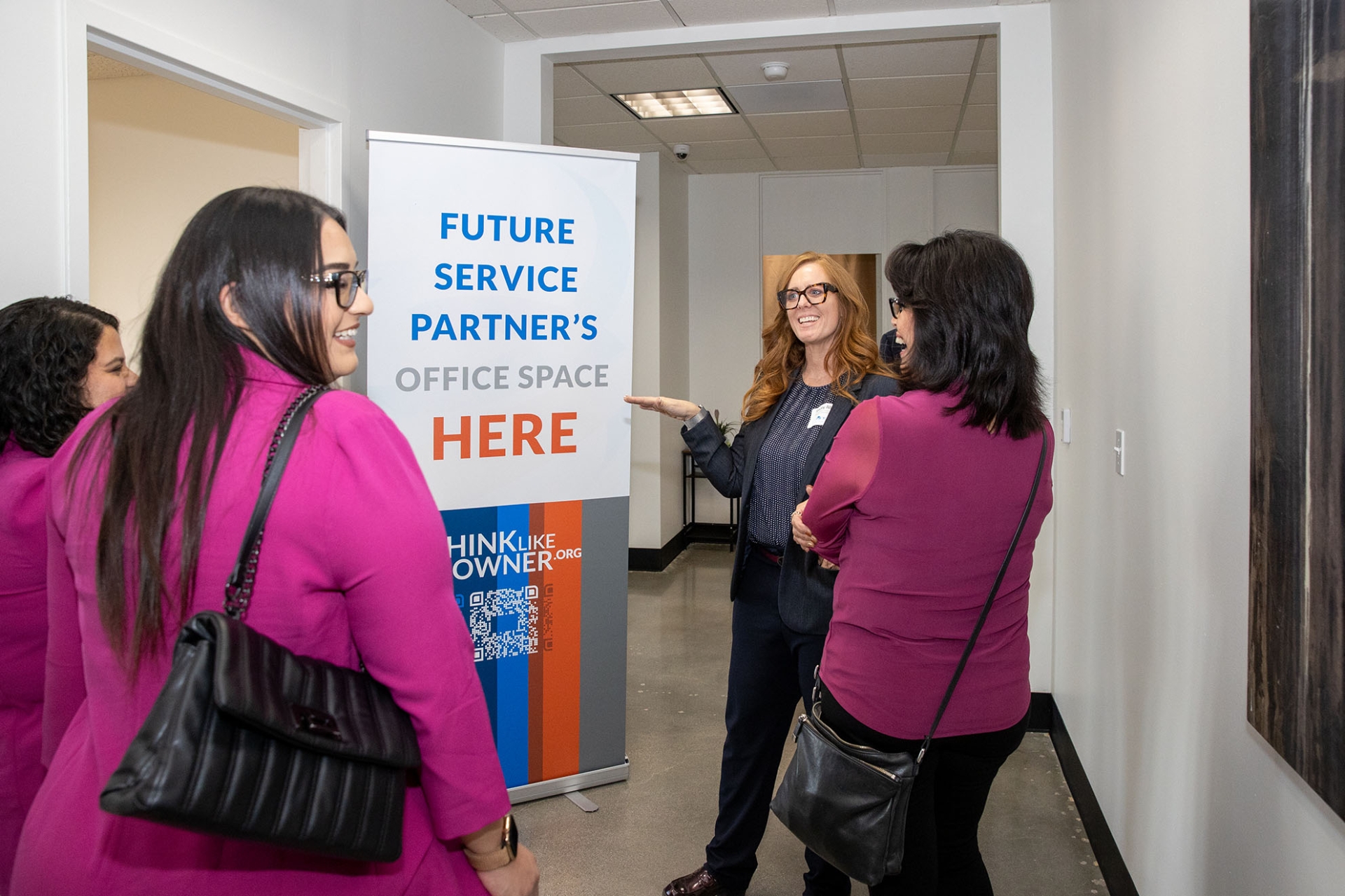 The grand opening marked the beginning of the journey towards "a brighter future," said San Bernardino Mayor Helen Tran. "A future that is shaped by the vibrant spheres of entrepreneurship, innovation and the unwavering determination to turn dreams into reality. And the Cal State San Bernardino Entrepreneur Resource Center is more than just a building. It is a testament to our shared commitment to nurturing innovation and providing a nurturing environment for the innovators, the dreamers and the doers of our city.
"This center represents our commitment to fostering innovation, supporting entrepreneurs and driving economic vitality in our community," she said. "It's a place where ideas will flourish, businesses will thrive, and partnerships will be forged. I believe that the Cal State San Bernardino Entrepreneurial Resource Center will not only be a catalyst for economic growth, but will also empower our local talent, encouraging them to reach new heights, and elevating our status as a dynamic, forward-thinking city. It will provide our marginalized communities with the opportunity and resources to become successful business owners, thus building generational wealth."
And the ERC also places the city in a leadership role in the region to help small businesses.
"San Bernardino is the only city that stepped forward that's doing this, that's taking the lead and creating an entrepreneurial resource center in San Bernardino County," Stull said. "And so that puts San Bernardino number one.
"And what that really demonstrates is a lot of people talk about the importance of small business. It's easy to talk about it. It's a lot harder to commit to it and put the resources to it and do the heavy lifting," he said. "And it was a slow process, but when it finally came together, it came together, and now we've got an incredible future ahead of us."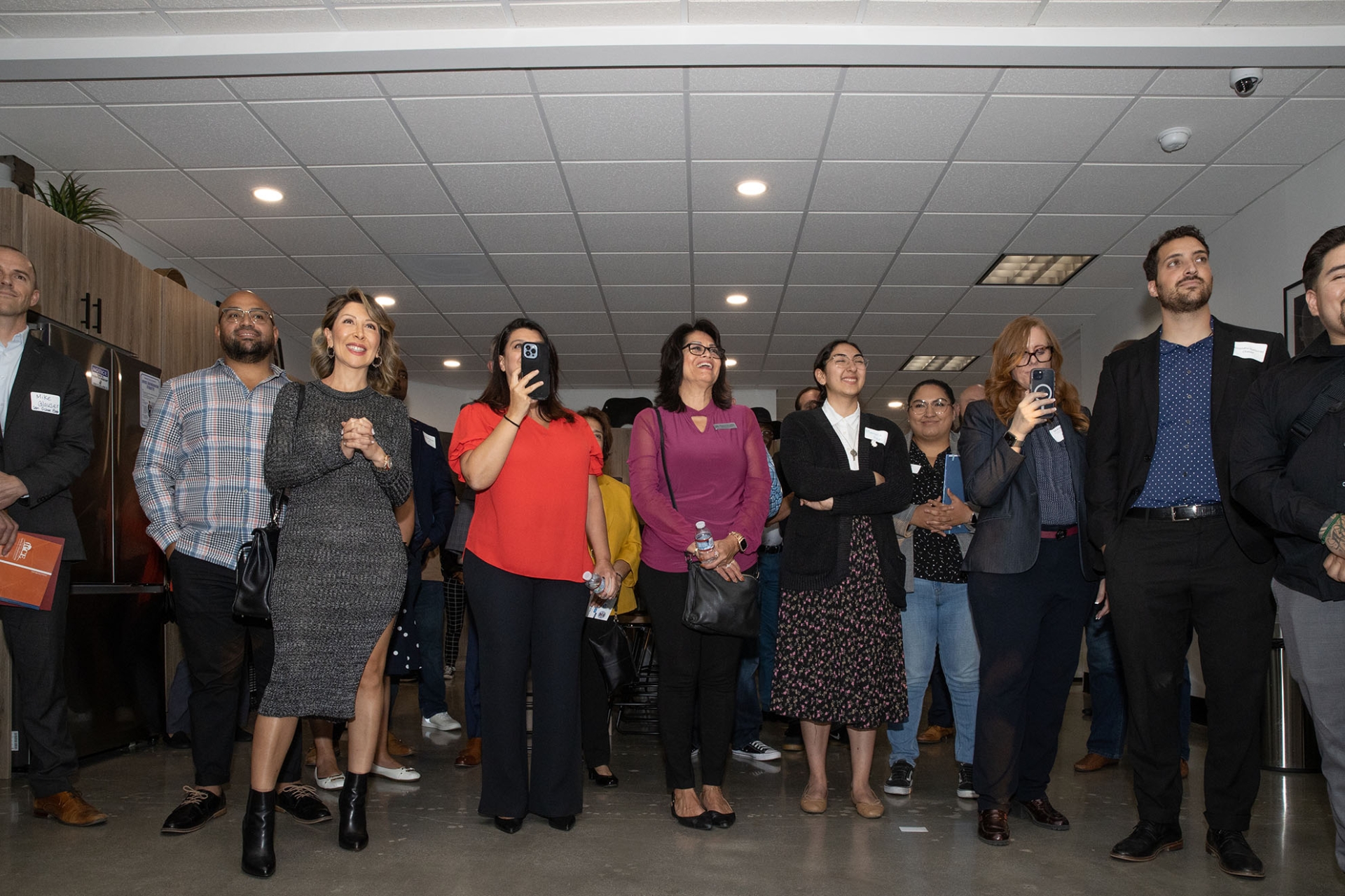 About CSUSB's Inland Empire Center for Entrepreneurship
The Inland Empire Center for Entrepreneurship (IECE) at Cal State San Bernardino is the largest and most experienced organization in the Inland Empire dedicated to supporting small business and entrepreneurship on campus for the Jack H. Brown College of Business & Public Administration's School of Entrepreneurship, and within the community throughout the Inland Southern California region. Established in 1999, the IECE has served over 173,000 individuals and business owners with comprehensive business counseling, mentoring, innovative training programs and engaging events. These services have resulted in the creation and retention of nearly 42,000 jobs and an economic impact of $534 million. The center is committed to diversity, equity, inclusion and continues to expand its reach to all business owners to support them through the post-pandemic repopulation and beyond. The top-tier segments of the IECE include the Women's Business Centers (IEWBC.org) (CVWBC.org), the Small Business Development Center (IESBDC) (ociesmallbusiness.org) and the Cross Border E-Commerce-Asia program (CBEC Asia) (cbecasia.com) and the Spirit of the Entrepreneur Awards (spiritawardsie.com).
To learn more about IECE and all of the programs available visit entre.csusb.edu.