John M. Pfau Legacy Society celebrates dedication of new recognition wall during library grand reopening event

The newly created John M. Pfau Legacy Society recently celebrated its inaugural gathering of estate gift donors with a brunch and the grand re-opening of the university's John M. Pfau Library's renovated first floor.
The John M. Pfau Legacy Society, established in 2023 and named for California State University, San Bernardino's founding president, is dedicated to recognizing the visionary group of individuals – alumni, current and former faculty and friends of the university – who have chosen to support CSUSB by including the university in their estate plans.
The society links its members to the legacy that John Pfau built by guiding the university through its initial years, laying a foundation that has been built upon since 1965, and ensuring the ability to impact its students and community in the decades to come. By including CSUSB in their plans, members of The John M. Pfau Legacy Society are following his lead and laying a new foundation for the next phases of growth and impact at the university.
On Sept. 20, society members Judy Rodriguez Watson and James R. Watson, Kathy Flynn, Dia Poole, Dr. Christine Choi, Tinie Callegan Runyard, and William Stevenson, along with guests Don Clark and CSUSB Philanthropic Board member Dr. Donald Averill, met with university President Tomás D. Morales, University Advancement Vice President Robert Nava, and John M. Pfau Legacy Society Chair Dorothy Chen-Maynard for brunch on the third-floor terrace of the Center for Global Innovation.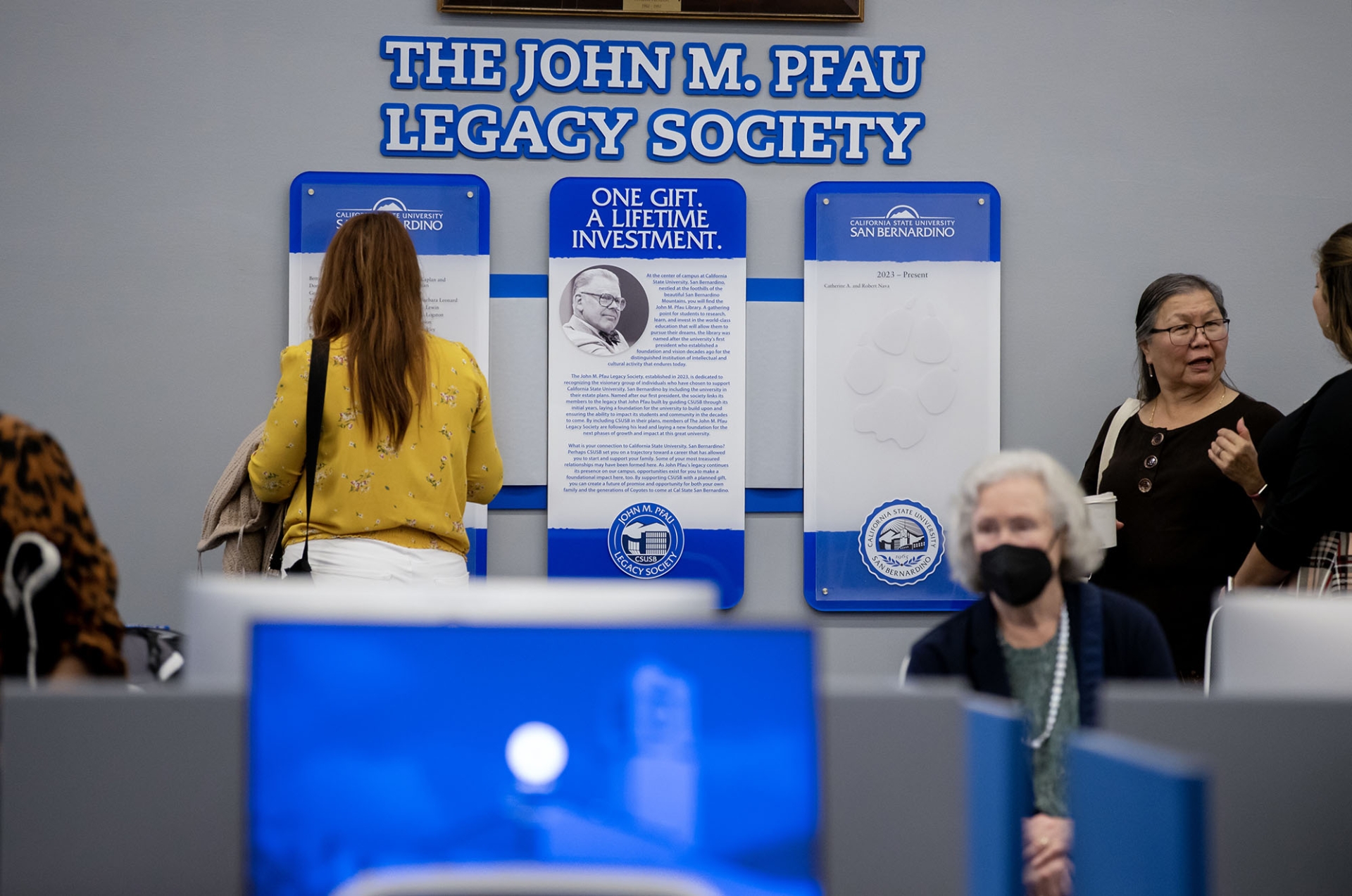 At the conclusion of the brunch, the group walked a short distance to the John M. Pfau Library, where they joined the university community in celebrating the formal dedication of the renovated first floor of the library, which had been badly damaged by flooding caused by Tropical Storm Kay in September 2022.
Included in the addition of ultra-modern furniture, new computers and related equipment in the open, collaborative space is the John M. Pfau Legacy Society recognition wall, which highlights the work of the society and lists its donors to date, and serves as a new symbol of the university's gratitude for the transformative gifts that these friends of CSUSB have created for the future.
For more information about The John M. Pfau Legacy Society, or information on how to leave your legacy to help CSUSB students define their future, contact the CSUSB Office of Planned Giving at (855) 204-0049 or planmylegacy@csusb.edu.