Joe Gutierrez | Office of Strategic Communication | (909) 537-3007 | joeg@csusb.edu
Alan Llavore | Office of Strategic Communication | (909) 537-3010 |allavore@csusb.edu
CSUSB professor officially begins work on White House advisory commission
Enrique Murillo Jr., a Cal State San Bernardino professor of education and the founder and executive director of the Latino Education and Advocacy Days (LEAD) project, joins a group of leaders in education, business and trade unions as the inaugural members of the President's Advisory Commission on Advancing Educational Equity, Excellence, and Economic Opportunity for Hispanics.
Murillo, whose appointment was announced in October, and the rest of the commission were officially sworn in during its inaugural meeting held earlier today, May 10, at the White House, after remarks by Melody Gonzales, executive director of the White House Hispanic Initiative, U.S. Secretary of Education Miguel Cardona and Vice President Kamala Harris. It was Harris who administered the oath.
Cal State San Bernardino President Tomás D. Morales praised Murillo for his ongoing work to improve the Latino community through LEAD.
"Serving on the President's Commission is truly a great honor that comes with a tremendous amount of responsibility in advising the president on advancing the Latino community," said Morales. "I can't think of a better and more qualified person to serve on this vital commission than our own Enrique Murillo, who has spent his entire educational career in serving, advocating and working to improve and enhance the education of Latinos, especially through LEAD."
Murillo said he was grateful for the opportunity to serve.
"It is my privilege and a great honor to dedicate time, energy, and experience to serve our country through public service. I do so with the hope to make a positive difference, as Latinos are the bridge to a post-pandemic future, as well as a post-pandemic economy," Murillo said.
"Education is imperative, and the Civil Rights issue of our generation; it's a right. As we represent a significant portion of this country's future strength, we must achieve a dramatic and powerful change in our communities," Murillo said. "We are the growth population, and so what happens to Latinos and education, in civic engagement and democratic participation, and in the workforce development all have profound and significant implications for everyone, whether or not they are in that population."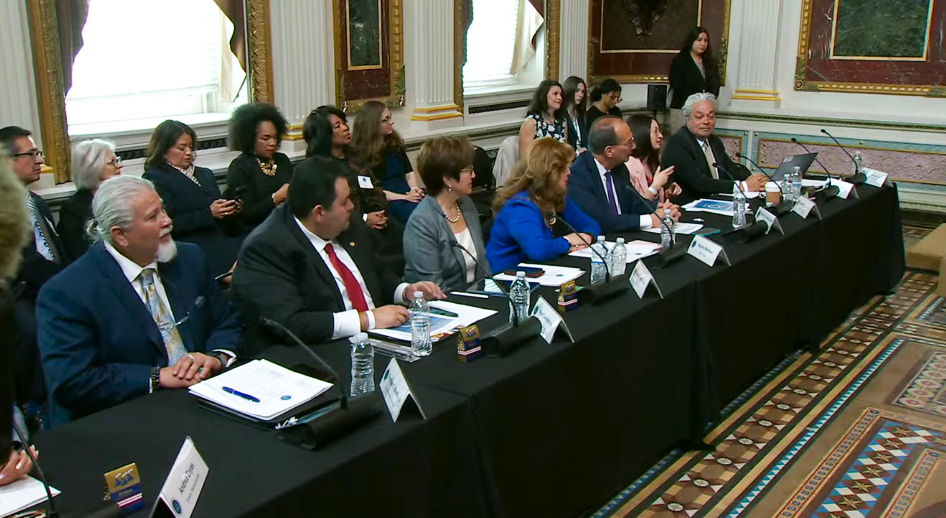 In addition to his work with LEAD, the National Latino Education Network, the Southern California Consortium of Hispanic-Serving Institutions and his scholarly research, Murillo serves as the faculty director for CSUSB's Doctorate in Educational Leadership Program. Born and raised in the east side of Los Angeles, Murillo has a bachelor's degree in psychology from the University of California, Los Angeles, a master's degree in educational foundations from Cal State Los Angeles and a doctorate in philosophy in social foundations of education from the University of North Carolina at Chapel Hill.
He has authored and/or edited more than 180 publications and scholarly multi-media works, and has presented at more than 180 professional conferences. He has been recognized with more than 50 local, regional, state, national, international and congressional commendations.
The commission was created through Executive Order 14045 on Sept. 13, 2021, to provide advice to President Biden, through U.S. Secretary of Education Miguel Cardona, on matters pertaining to educational equity and economic opportunity for the Hispanic and Latino community in the following areas:  
What is needed for the development, implementation and coordination of educational programs and initiatives at the U.S. Department of Education (Department) and other agencies to improve educational opportunities and outcomes for Hispanics and Latinos 

How to promote career pathways for in-demand jobs for Hispanic and Latino students, including registered apprenticeships, internships, fellowships, mentorships and work-based learning initiatives

Ways to strengthen the capacity of institutions, such as Hispanic-Serving Institutions, to equitably serve Hispanic and Latino students and increase the participation of Hispanic and Latino students, Hispanic-serving school districts, and the Hispanic community in the programs of the Department and other agencies

How to increase public awareness of and generate solutions for the educational and training challenges and equity disparities that Hispanic and Latino students face and the causes of these challenges

Approaches to establish local and national partnerships with public, private, philanthropic and nonprofit stakeholders to advance the mission and objectives of this order, consistent with applicable law
Learn more at White House Initiative on Advancing Educational Equity, Excellence, and Economic Opportunity for Hispanics. Information on each of the 21 commissioners can also be found online at "President Biden Announces Key Appointments to Boards and Commissions."