Over 1,200 high school students visit CSUSB for business tradeshow & competition
More than 1,200 budding entrepreneurial and business studied high school students from California, Arizona and Oregon came to Cal State San Bernardino for the 2023 Virtual Enterprise International – West Coast Regional Tradeshow, Competition and Exhibition, where they participated in various business-related competitions.
The VE event on March 10 was hosted and sponsored by CSUSB's Inland Empire Center for Entrepreneurship (IECE), the School of Entrepreneurship and the Jack H. Brown College of Business and Public Administration.
It was the first time the event has been held at CSUSB, though IECE director and professor of entrepreneurship Mike Stull said the center has been hosting the event annually since 2018. Previously, the Virtual Enterprise Regional Tradeshow and Competition has been held at the Pasadena Convention Center, he said.
The event featured various contests for the students including an elevator pitch competition, a financial statement competition, a Quickbooks competition and a marketing plan competition. The event also had the students create their own businesses and set up booths where they could market and sell their products as part of a competition.
The students' booths filled the Santos Manuel Student Union South as they pitched and sold products that ranged from clothing brands, hydroponic gardening systems, mental wellness snack subscriptions, sustainably sourced designer accessories and jewelry designs.
Teri Jones, the Virtual Enterprise regional director, said the event was a valuable experience for the students, who had created ideas for businesses and operated in their classrooms using the Virtual Enterprise banking system. The students were now able to practice their salesmanship and selling their products outside of the classroom.
"It's very exciting because somebody besides their teacher, their parents, their people at their own school are working with them and seeing what they're doing," Jones said. "They are getting recognition and sales experience. It's very exciting to see them working."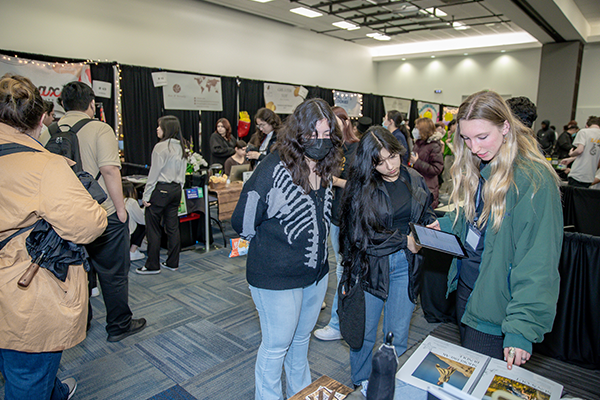 Stacey Allis, IECE assistant director said, "It's always a distinct pleasure to see the high level of innovation coming from the participating VE students, and for those that are business college bound and entrepreneurial, it is a nature progression for them to enroll with our highly accredited Jack H. Brown College of Business. Wherever their future professional interests take them, it is evident that they have attained a working advantage with the skills and experience they gain with being involved with VE.
According to its website, the VE has transformed the lives of more than 200,000 young people since 1996 through real business experiences that prepare them for their futures. VE does this by partnering with schools, school districts and businesses across the United States to create educational pathways that align career education and work-based learning with academic standards-based education.
The Inland Empire Center for Entrepreneurship, housed in the Jack H. Brown College of Business and Public Administration at Cal State San Bernardino, is the only organization in the Inland Empire dedicated to providing innovative programs and educational resources to entrepreneurs and small business owners. The School of Entrepreneurship is the first and only school dedicated to teaching entrepreneurship at the post-secondary level in California, and one of less than 20 such entities in the nation.