Joe Gutierrez | Office of Strategic Communication | (909) 537-3007 | joeg@csusb.edu
White House official touts education as the greatest investment for our children
Education, especially for Latinos in the United States, is the key to success, said U.S. Secretary of Education Miguel Cardona, who spoke at the White House Initiative Latino Regional Economic Summit held at Cal State San Bernardino on Nov. 17.
"Now, I may be a little bit biased, but I believe that all opportunity for success in this country flows from education. I believe, and I'm living proof, that education is an opportunity," said Cardona, who was the first in his family to finish college, graduating with a bachelor's degree in education. "It's the greatest investment we can make in our children, in our communities, and in our funding."
The White House Initiative Latino Regional Economic Summit in San Bernardino was the sixth and final in a series of events that began in March in San Antonio. Together, through these forums, the Biden-Harris Administration and the Aspen Institute have highlighted the administration's commitment to advancing equity and economic empowerment and connected local Latino community members directly with federal leaders and resources.
The summit's themes focused on:
Inland Empire regions that have suffered the most in California because of the pandemic and are in dire need of resources and plan for economic recovery. The government, the private sector, and the philanthropic sector have an important role to play here.

The Inland Empire's potential in leading the charge on the decarbonization of the logistics industry given the role it plays on trade.
Leaders from seven federal agencies led workshops at the summit, including: the U.S. Department of Agriculture, U.S. Department of Education, U.S. Department of Energy, U.S. Department of Health and Human Services, U.S. Department of Housing, National Science Foundation, and U.S. Small Business Administration. The summit was attended by more than 300 local officials, educators, business leaders and members of the community.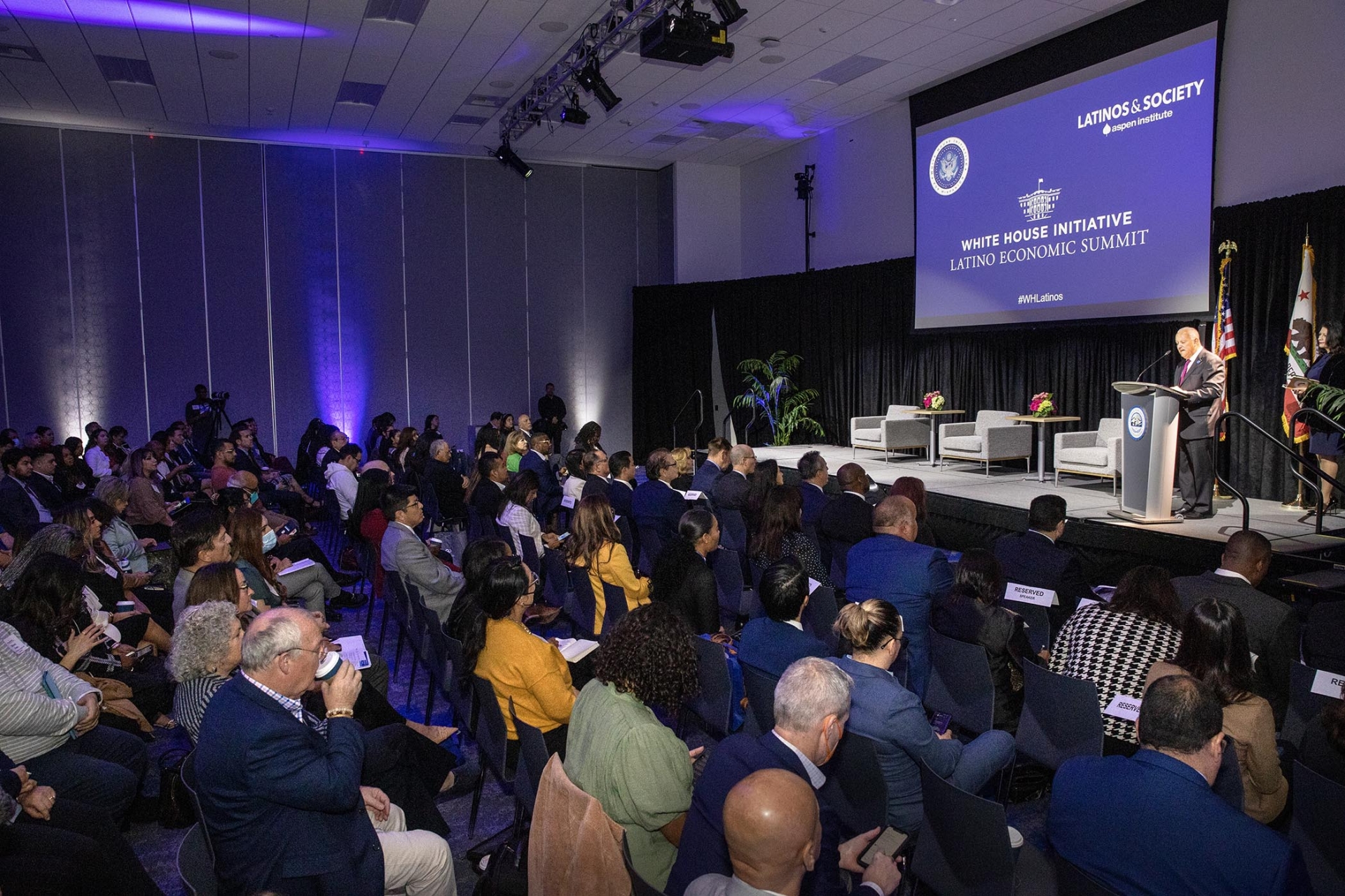 CSUSB President Tomás D. Morales, during his welcoming remarks, talked about the university's commitment and dedicated efforts to help students, especially its Latino students, succeed academically as "the second largest Hispanic-Serving Institution in California, the 16th largest HSI in the country, a Minority-Serving Institution that serves an economically stressed region where nearly two-thirds of our students come from economically disadvantaged backgrounds."
He said that "many of our students are the very first in their family to earn a baccalaureate degree and they transform their families and their families transform the communities we live in."
More than 50% of new CSUSB entrants are transfer students "and so we value our relationship with the 12 community colleges that serve this region," said Morales, who added that through the university's  partnership with "the University of California, Riverside, we also value our work with the K-12 community through organizations like Growing Inland Achievement, IEEP's Education Council and our own, very own Latino Education Advocacy Days led by our distinguished faculty member, Professor Enrique Murillo."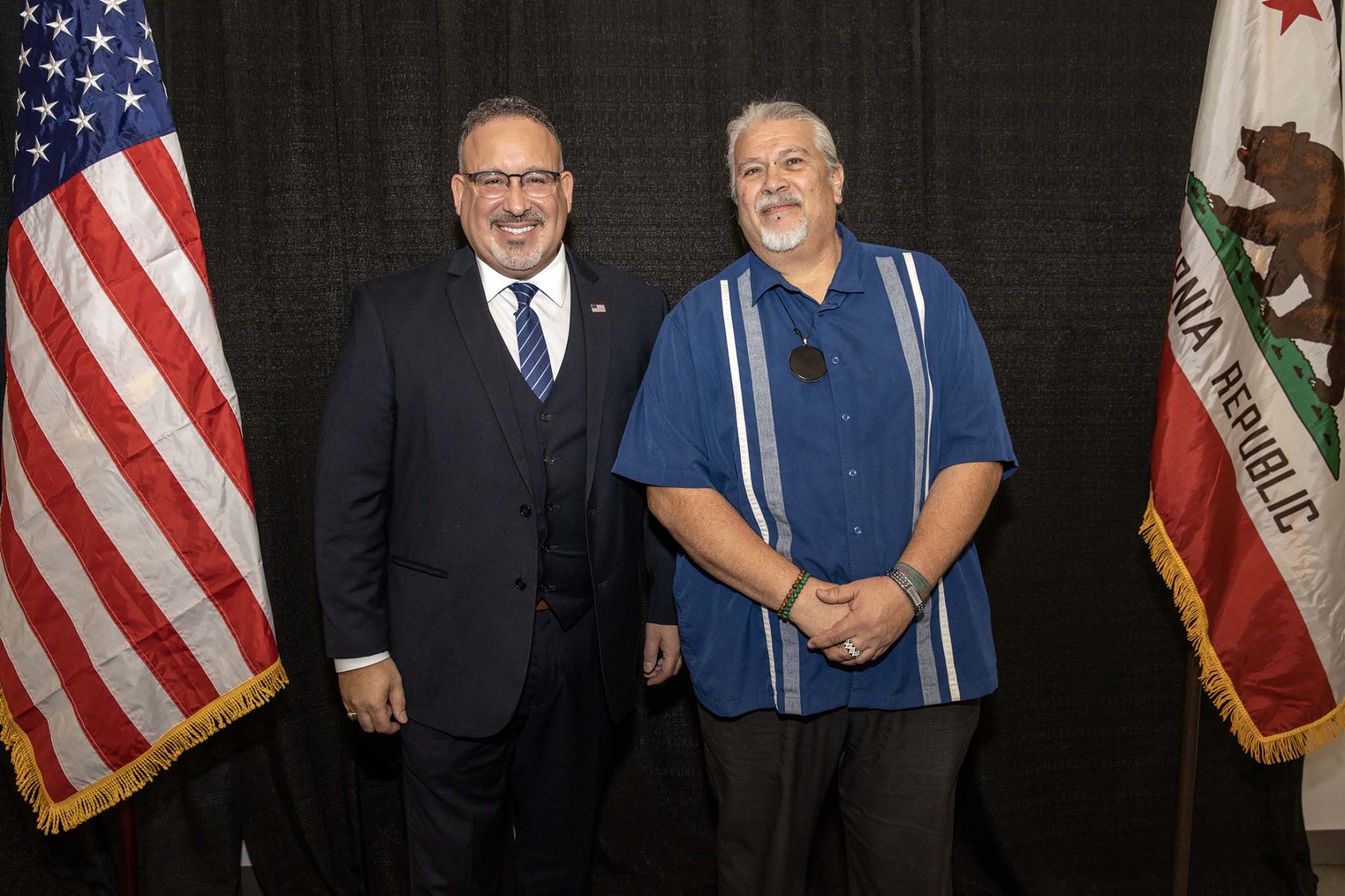 Cardona, who gave the afternoon keynote address at the conference, said that the education system and society has normalized underperformance in that some groups of students, especially diverse students, are preforming 20 points less than others.
"Since we've been collecting data, we've lost urgency around the fact that students that look like you and me have been underperforming, grossly underperforming, for decades," Cardona said. "The pandemic brought it back to life, and we're not going to go back to the system."
Federal funding passed to deal with the COVID-19 pandemic will help those efforts, but Cardona said it was also important that these funds be used to provide additional mental health support to students.
"For too long, our students who have suffered trauma or have had those needs unmet in their schools. We are pushing to ensure that social, emotional wellbeing and mental health support access is available in our schools, just like a warm meal is expected in our schools," said Cardona. "We have to change how we do schooling if we expect different results."
He said that "over 150,000 children are returning to our schools having lost a parent or caregiver due to COVID in this last year. So let's not think that for one moment that once our masks are off, we're good. Our kids are still hurting, and we have a responsibility to make sure our schools are better than they were before the pandemic."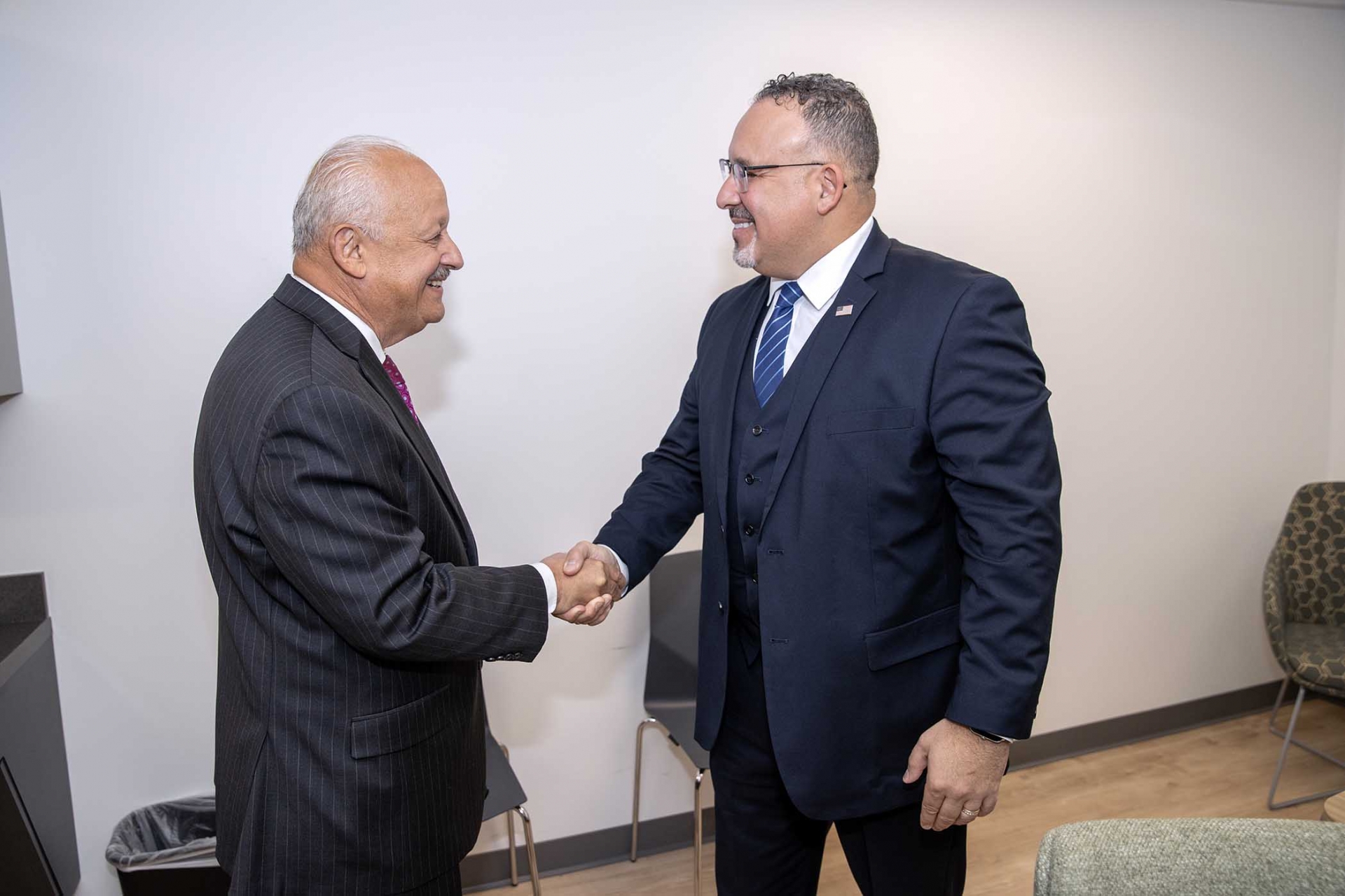 The secretary said that the government is also investing in career-connected learning so that more students have access to apprenticeships and college courses during high school.
"We want every high school student to graduate with a plan for pursuing either an industry credential or a college degree. For far too long, having college course access in high school has been a luxury in better resource districts. We need to make that the norm in this country, not the exception," said Cardona, who added that if it weren't for a course that he took in high school that gave him college credit, he might not have gone onto college.
"So, we need to make that the norm. We're pushing that through the Biden-Harris Administration.
"We know that for many students, the surest path to a rewarding career in long-term financial security runs through our college campuses," Cardona said. "For myself, a first gen, higher education opened doors to me that I would never imagine, to my family, to my children. My children have privileges now, opportunities now that would not have been possible had not been for my ability to navigate higher education. That is the American dream."
Cardona said another area to invest is in Hispanic-Serving Institutions, where a majority of Hispanic students in the nation attend.
"We've invested over $11 billion to HSIs today, and we're fighting for more, to make higher education more accessible," Cardona said. "That's why we secured the largest Pell grant increase in a decade, and President Biden has a plan to double it by 2029. This is so important for Latin college students."