Archives documenting CSUSB campus life during pandemic available online
"Separated from the Pack: The CSUSB COVID-19 Digital Collection," a university archives initiative chronicling campus life during the pandemic, is now available online through CSUSB ScholarWorks.
The special archives at the John M. Pfau Library started as an in-house collecting effort to document Cal State San Bernardino's response to COVID-19, focusing on official university communications and announcements.
But the project soon expanded to capture personal narratives, letters, stories, poems, reflections, videos, diary entries and artwork from members of the broader university community directly impacted by the pandemic.
The collection consists of more than 300 individual items, gathered while the campus was operating primarily virtually from March 2020 through July 2021. The collection is organized by the categories of artwork, audio, board games created by students, diaries, documents, images, oral histories, photographs, poems, reports, videos, and visual works, as well as an archive of university-issues statements and webpages.
In fall semester 2020, students from four classes – CAL 2970, CAL 4970, CAL 5951, and HIST 3160 – participated in the project and submitted content for preservation.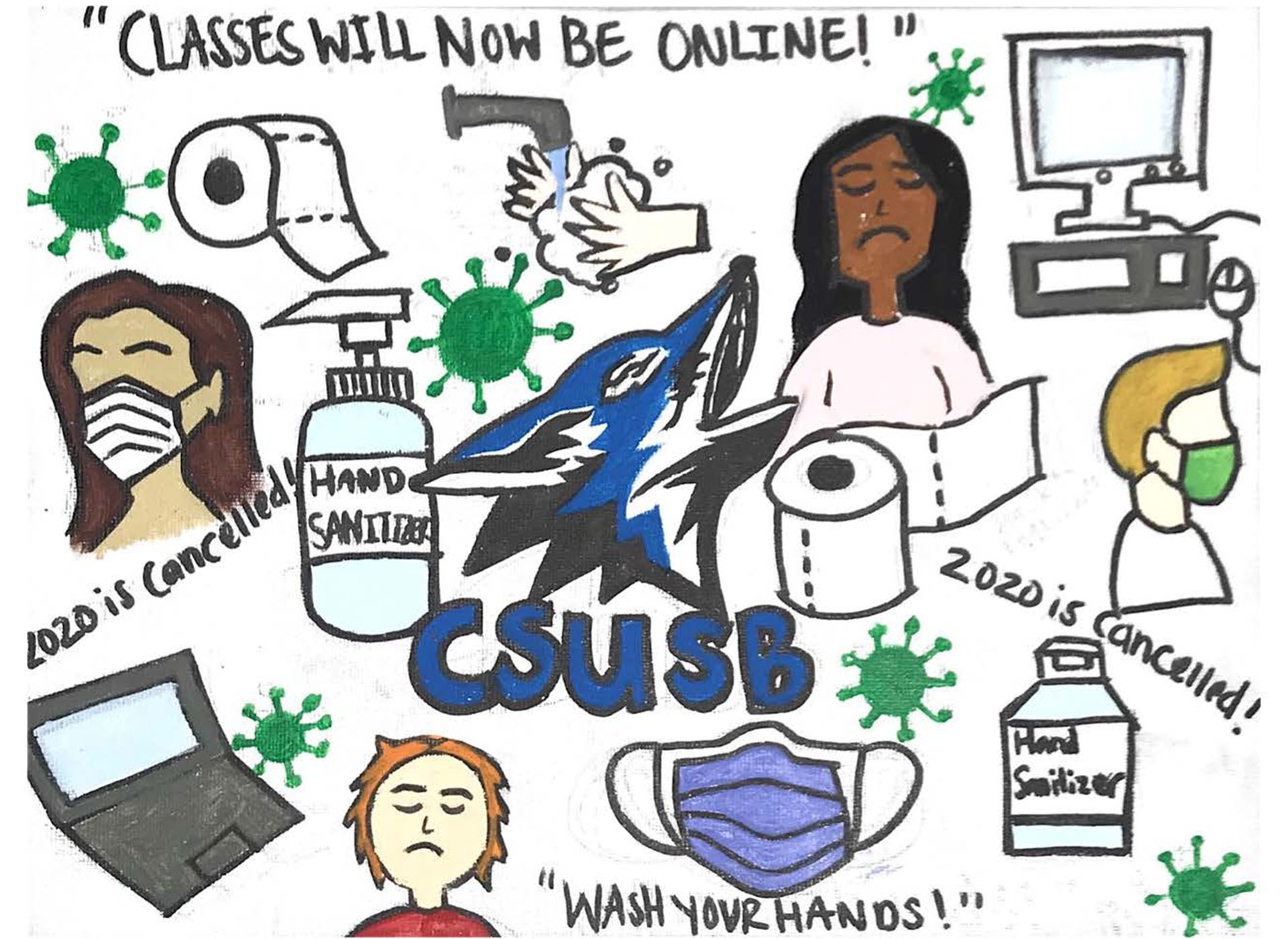 "While processing the materials, I was truly impressed with the creativity of our students," said university archivist Eric Milenkiewicz, who designed and oversaw the project from start to completion. "They submitted everything from poetry, paintings and musical works to board game designs and animated news segments. These works showcase the amazing talents of our students and their determination and perseverance while navigating through the uncertain times of a pandemic."
Pfau Library Dean Cesar Caballero, an early advocate of the initiative, praised the collection.
"This rich body of materials will serve as an important resource for future research, providing scholars with primary source evidence of university life during the COVID-19 pandemic. It will also offer valuable insight into the lived experiences of community members who remained resilient throughout a very difficult time," Caballero said. "We thank all participants who contributed to this important undertaking."
Additional information on the creation of the digital collection can be found at the "Documenting University Life During COVID-19."
For more information or questions, contact Eric Milenkiewicz at eric.milenkiewicz@csusb.edu.