Love wins: Psychology professor and relationships expert receives 2020-21 Golden Apple Award
Nationally recognized relationships expert Kelly Campbell, a professor of psychology at Cal State San Bernardino, entered a virtual meeting to discuss 2021-22 research projects for CSUSB's Institute for Child Development and Family Relations.
In the April 23 meeting, she instead encountered a host of fellow faculty members, staff and university leaders clamoring to offer congratulations. In all, about 50 colleagues filled the virtual space, where they had been invited to hear her good news: Campbell has been named recipient of the 2020-21 Golden Apple Award, the university's highest award for teaching excellence.
"Congratulations!" said university President Tomás Morales, welcoming Campbell to the meeting. "You are receiving this award based on your exceptional and vast teaching record, your dedication to teaching and mentoring of our students, which really reflects our university's mission, our university's DNA, to provide an outstanding education to our students."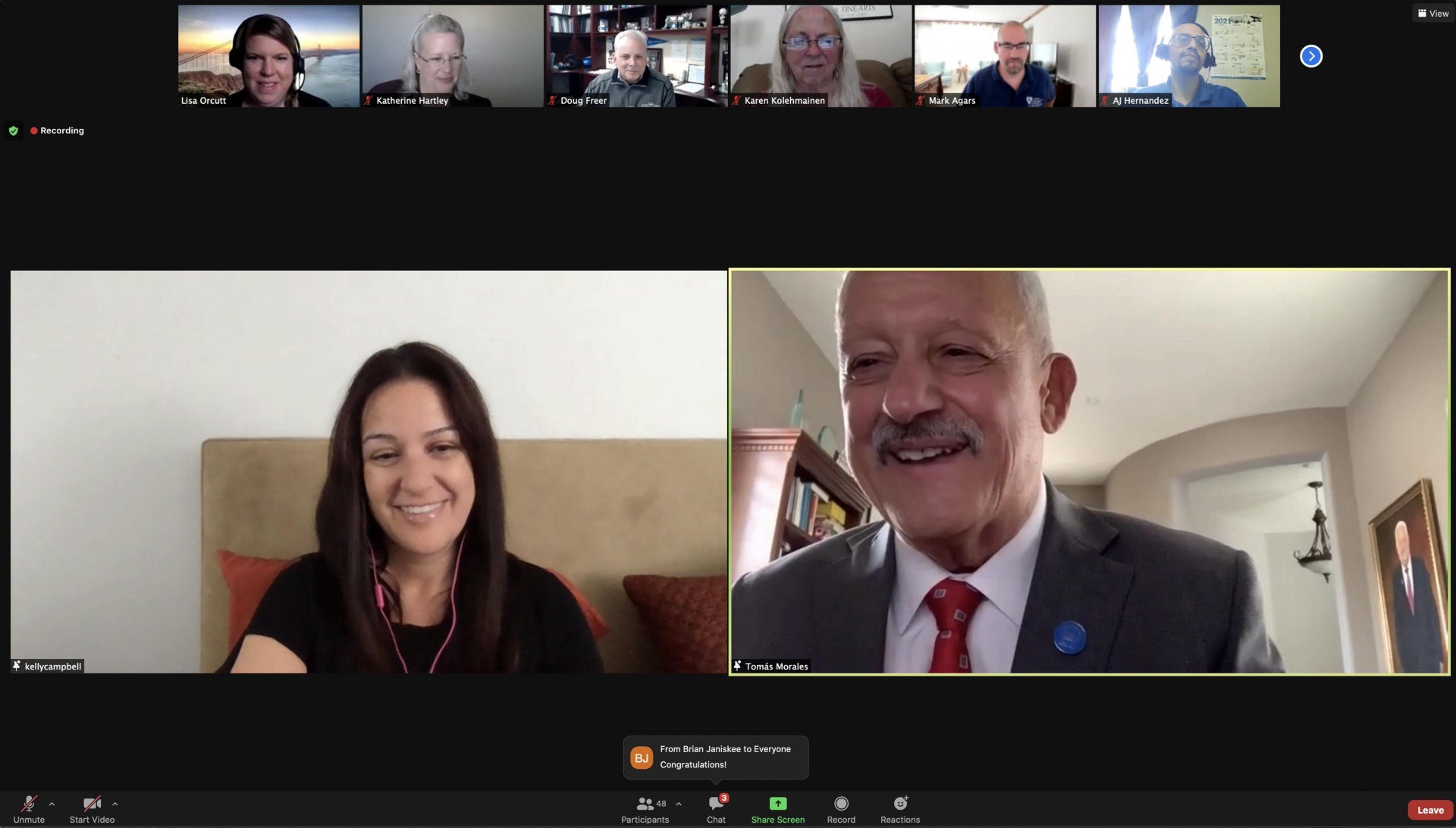 Added university Provost Shari McMahan, "Congratulations, Dr. Campbell on receiving CSUSB's highest award for teaching. Your support of our students and wide-ranging and impactful efforts are truly amazing. I also want to commend you for your extensive research efforts in an area we can all appreciate and relate to – relationships."
"I was thrilled when I received word that you were going to be this year's recipient of the Golden Apple Award," said Rafik Mohamed, dean of the College of Social and Behavioral Sciences, where the psychology department is housed. "I know all that you put into being an excellent teacher, being an excellent mentor, being an excellent resource for our students."
By university tradition, the president, accompanied by past winners, faculty and staff, enters the classroom of the annual Golden Apple Award recipient to surprise them in front of their students. During the COVID-19 pandemic, the university has held classes virtually, so the impromptu award announcement has been delivered via Zoom session.
As the recipient of the Golden Apple, Campbell, a 12-year faculty member, will receive a $2,000 faculty professional development grant, recognition at the College of Social and Behavioral Sciences Commencement ceremony and will be honored at the annual Faculty Recognition event.
In a letter to Morales recommending Campbell for the honor, 2020-21 University Awards Committee co-chairs Kimberly Cousins and Dany Doueiri pointed out that her contribution to teaching and learning extend well beyond the classroom.
"As coordinator of the honors program in psychology, she has grown the number of students earning honors theses, including a record five from a single program who have won recent CSBS [College of Social and Behavioral Sciences] Dean's Honors Thesis awards," the co-chairs wrote. "She regularly supervises multitudes of undergraduates and graduate students in independent study, graduate research, directed readings, and as a teaching mentor. This includes her supervising 28 undergraduate honors theses, as well as 10 master's theses supervised directly."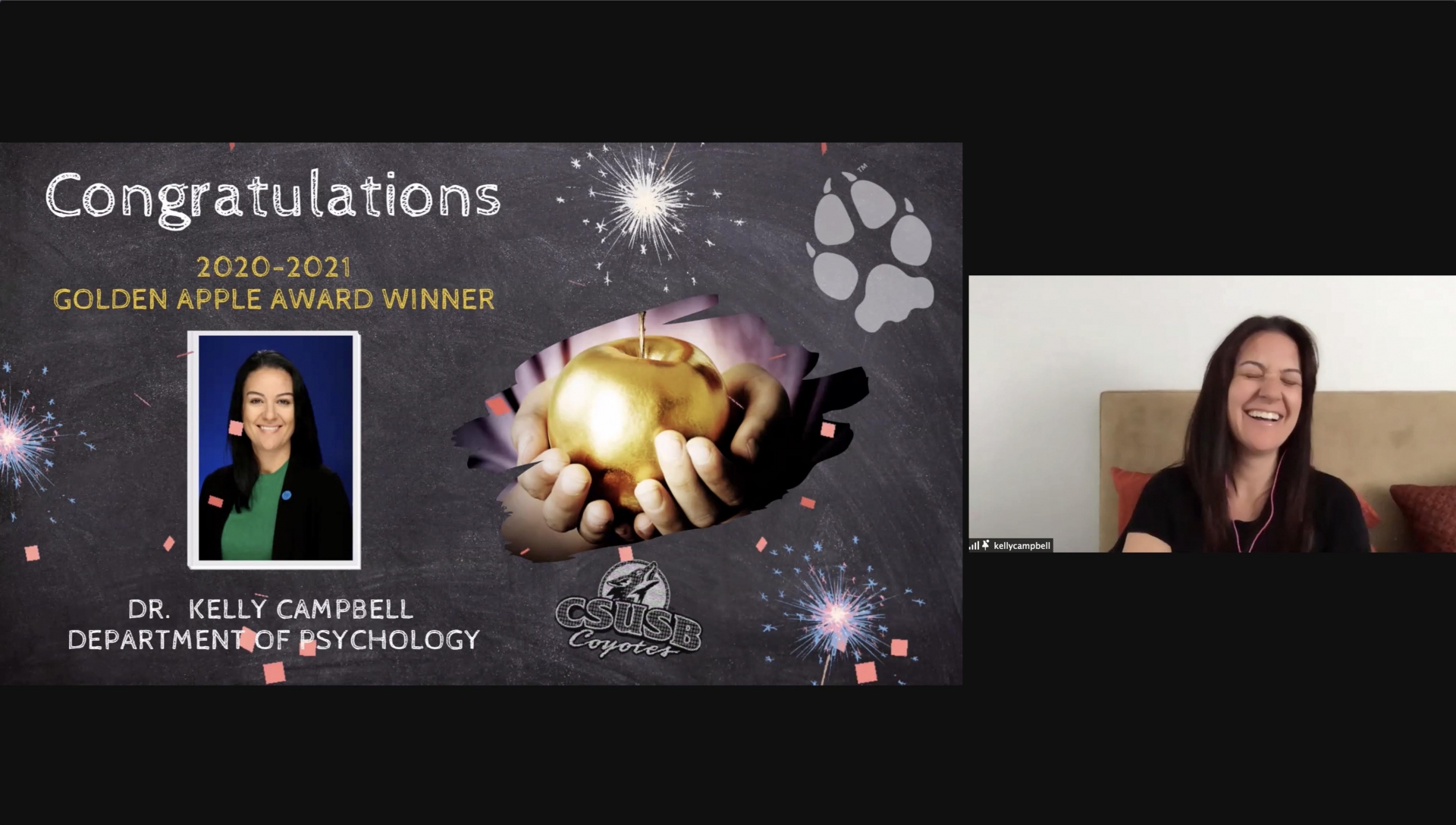 Calling her the "best teacher we have at CSUSB," one colleague told the awards committee that at the annual CSBS end-of-year award ceremonies, "dozens and dozens of Dr. Kelly Campbell's students – at each and every ceremony – line up to thank her, so very often with their whole family, so very often in such a powerfully emotional manner, for all that she has done for them."
One thing she consistently does for students: facilitates their direct participation in research, including contributing to published studies and professional presentations. "Dr. Campbell's CV lists more than 10 pages of professional presentations, most with student coauthors and/or students as presenters," Cousins and Doueiri observed. "Clearly her mentorship in research is substantial, achieving results disseminated at local, regional and national venues."
As a researcher, Campbell examines couple relationships and friendships, including deceptive online dating practices, infidelity, instant connections (aka, "chemistry") and love. Fluent in three languages and proficient in a fourth, she has
conducted studies in the U.S., Canada, England, France, Greece, Italy, Portugal and South Africa. She teaches courses on intimate relationships, families, parenting, positive psychology, personality, and race and racism.
One student enrolled in the latter commented: "Learning about racial privilege and male privilege, and my position in the topics, weren't always comfortable. Her quality instruction and positive approach were key."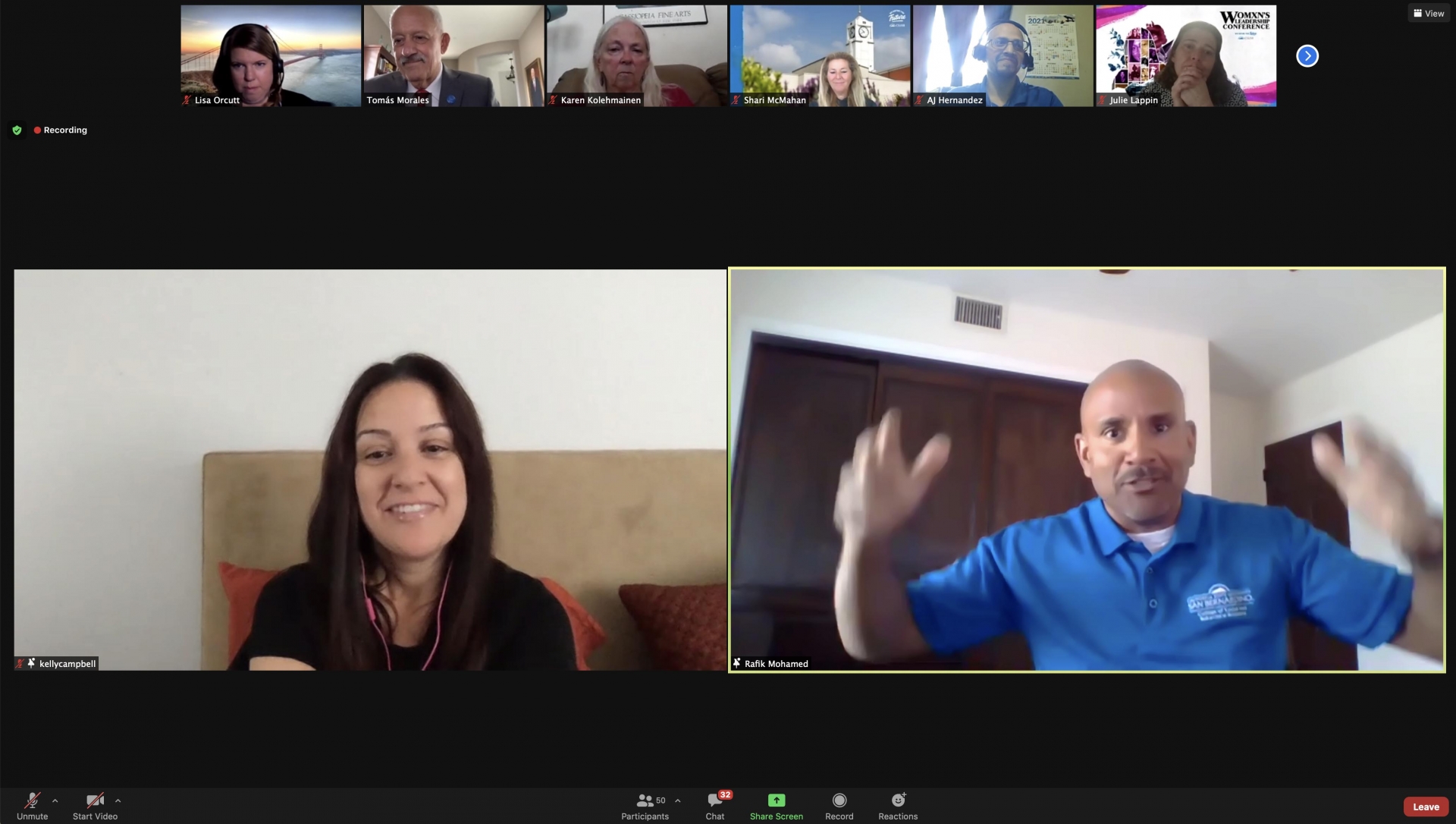 Outside the classroom, Campbell serves as associate director for the CSUSB Institute for Child Development and Family Relations, co-directs a South Africa study abroad program and teaches for the London study abroad program. She also blogs for Psychology Today and hosts a Coyote Radio show called "Let's Talk Relationships."
Interviews featuring her expertise and research have appeared in publications including the Wall Street Journal, Huffington Post, Cosmopolitan magazine, USA Today, Woman's Day, Men's Health Magazine, Fitness Magazine, Shape Magazine and have been broadcast by outlets such as NBC television, CBS radio, NPR and Sirius XM Radio.
Campbell earned a doctorate in child and family development from the University of Georgia and holds master's and bachelor's degrees in family studies from the University of British Columbia.