Deadline to enter the 2021 Innovation Challenge is midnight March 19
The Cal State San Bernardino virtual 2021 Innovation Challenge is accepting entries for the chance to compete for $20,000 in cash prizes in presenting cutting-edge social and business solutions that could change the university campus, the community and possibly the world.
The competition, now in its fourth year by the CSUSB Inland Empire Center for Entrepreneurship (IECE) and now the university's School of Entrepreneurship, gives CSUSB students, faculty and staff the opportunity to team up to present their ideas and innovations for the competition, which is accepting entries. The deadline is midnight, March 19. The IECE and School of Entrepreneurship is located in the Jack H. Brown College of Business and Public Administration.
Only selected teams will be allowed to make presentations at the main event on April 22, from 4-8 p.m.
Teams will combine their knowledge and ideas to solve real problems during the main event via virtual trade show style online platform.
The event will feature finalist teams presenting their next big business plans in pursuit of the $20,000 in prize money. Because the event requires that two or more colleges, departments or divisions on campus collaborate on their entry, it is helping people work across boundaries to establish connections and partnerships among different parties on campus to reinforce a culture of collaboration around innovation.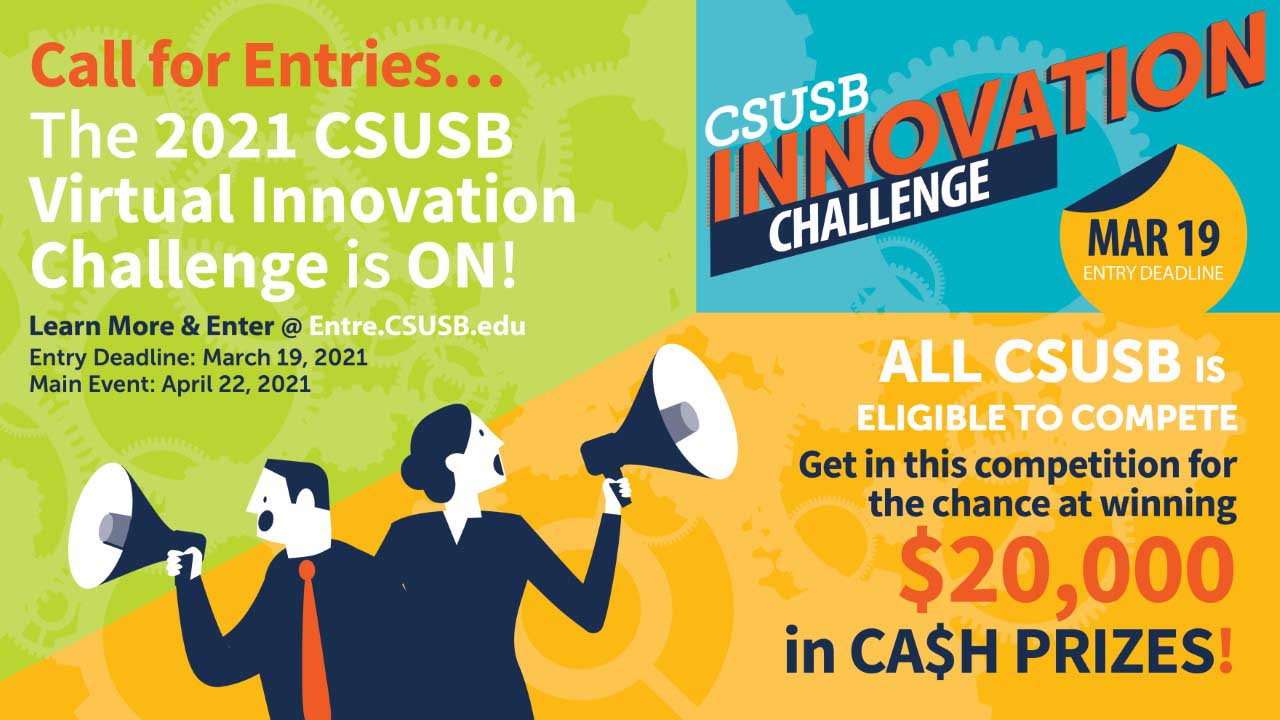 Entering the competition is simple. Participants must complete an online Intent to Compete Form. At the site entrants must enter their business idea in 50 words or less. Entrants do not have to have team member(s) secured at the time of submitting their Intent to Compete entries.
Steve Abbott, CSUSB lecturer and entrepreneur-in-residence, will contact each team to get them prepped and ready for the challenge with dedicated coaching.
For students interested in competing, but don't have an idea to pitch, the competition offers a wait list as the selected contestants will be looking for team members. Visit the Innovation Challenge Team Wait List for more information and to sign up.
For any questions related to the event or competition, contact Stacey Allis at (909) 537-3217 or email stacey.allis@csusb.edu and visit the CSUSB Innovation Challenge homepage.
Beyond this event, entrepreneurship is growing on campus. The IECE has continued creating new programs such as the Catalyst Mobile App Lab  and the UpStarters Discovery Camp for any college-bound high schoolers from this event.
Additionally, IECE has reached out across campus to help facilitate entrepreneurship and innovation through the Entrepreneurship Faculty Fellows, a yearlong program where faculty from diverse backgrounds such as art, kinesiology, psychology and theater arts work on projects that weave entrepreneurial concepts into their teaching, curriculum and research. The most recent success yielded is the Arts in Entrepreneurship minor program that has already gained significant student interest.