Excelencia in Education releases report on Hispanic-Serving Institutions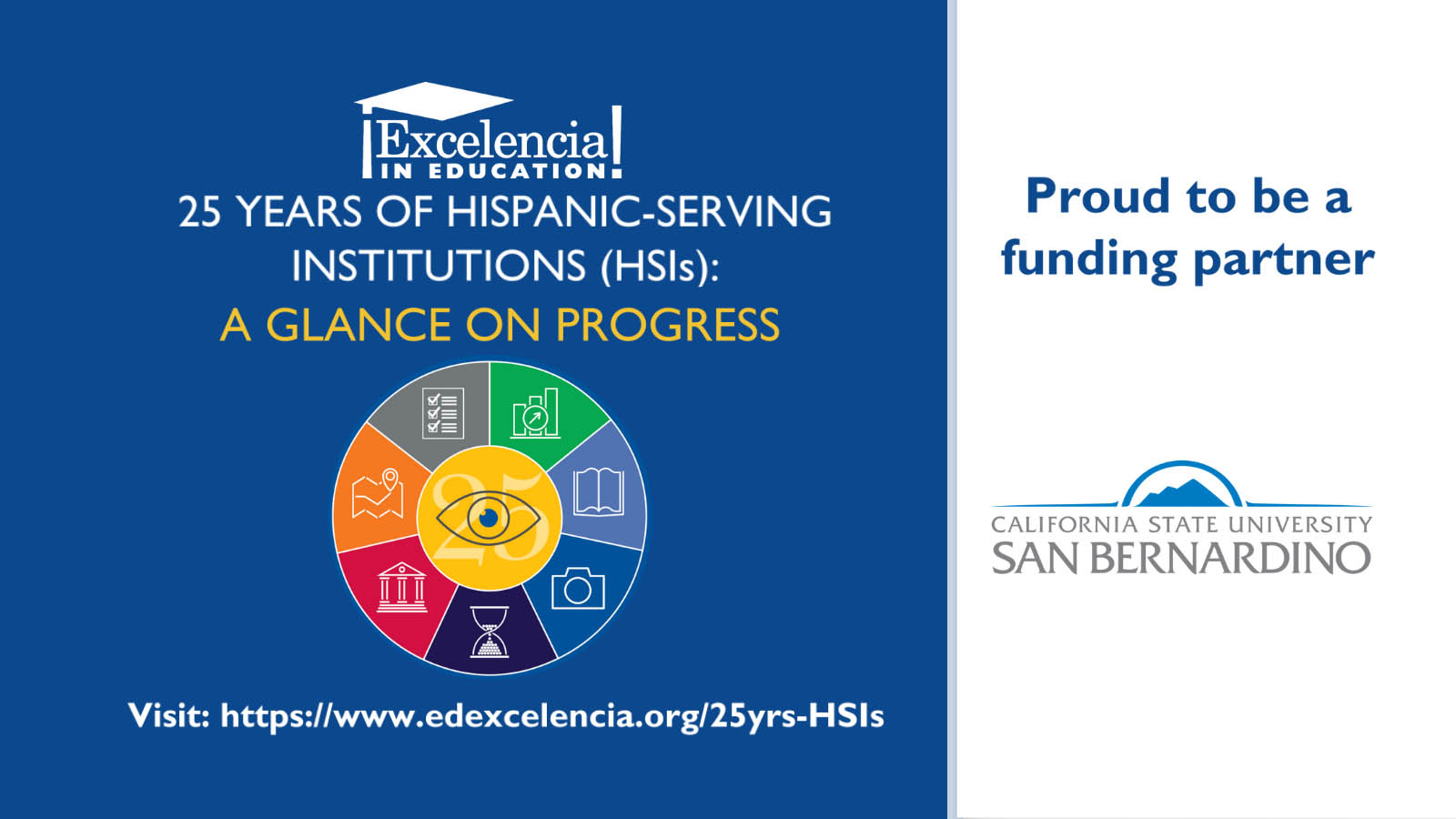 Excelencia in Education, a nonprofit organization dedicated to accelerating Latino student success in higher education, has released a report on the growth of Hispanic-Serving Institutions in the United States over the past 25 years.
The report, "25 Years if Hispanic-Serving Institutions (HSIs): A Glance on Progress," was released today, Tuesday, Dec. 8, and was developed with the generous support of the leaders of 14 colleges and universities including Tomás D. Morales, president of Cal State San Bernardino, which has been a Hispanic-Serving Institution since 1994.
HSIs are defined in federal law as accredited and degree-granting public and private nonprofit institutions of higher education with 25 percent or more total undergraduate Hispanic full-time equivalent (FTE) student enrollment. These institutions were first recognized in federal law in 1994.
The HSIs have increased considerably in the past 25 years. The number of HSIs grew from 189 in 1994-95 to 539 in 2018-19. That was also reflected in public institutions, which are more likely to be HSIs. In 1994-95 there were 91 HSI public 2-year institutions, and in 2018-19 it grew to 231 – an increase of 154 percent. For 4-year institutions, in 1994-95 there were 30 HSIs, which grew to 140 in 2018-19 – an increase of 367 percent, according to the report.
CSUSB reflected the increase of Hispanic students, which has steadily grown over the years. From 2013, the university reported a Hispanic student enrollment of 9,613 of the total enrollment of 18,398, to 2020 where Hispanics numbered 12,850 of the total student enrollment of 19,404.
The analysis was created to inform and support academic researchers, higher education policy makers and elected officials to better support Latino student success in higher education.
The analysis used U.S. Department of Education, National Center for Education Statistics (NCES), Integrated Postsecondary Education Data System (IPEDS), 1994-2018 Fall Enrollment and Institutional Characteristics Surveys.
Visit Excelencia's "25 Years of Hispanic-Serving Institutions (HSIs)" webpage for more information.
About Excelencia in Education
Excelencia in Education accelerates Latino student success in higher education by promoting Latino student achievement, conducting analysis to inform educational policies, and advancing institutional practices while collaborating with those committed and ready to meet the mission. Launched in 2004 in the nation's capital, Excelencia has established a network of results-oriented educators and policymakers to address the U.S. economy's needs for a highly educated workforce and engaged civic leaders. For more information, visit the Excelencia website.