Joe Gutierrez | CSUSB Office of Strategic Communication | (951) 236-4522 | joeg@csusb.edu
CSU graduation rates increased to an all-time high
The California State University reported record highs in student achievement measured by graduation rates under the CSU's Graduation Initiative 2025, as reported at the virtual GI2025 symposium "The Time is Now" on Oct. 23.
CSU Chancellor Timothy White welcomed the attendees to the symposium, which featured a look at the GI2025 data, by Loren J. Blanchard, executive vice chancellor for CSU Academic and Student Affairs.
The symposium also featured a performance by poet, artist and San Francisco State alumna Cherokee White; Recognition of the CSU Faculty Innovation Leadership Award (FILA) to Roberto Soto, an assistant professor of mathematics at Cal State Fullerton; a campus spotlight on Cal State Los Angeles; a Chancellor-to-Chancellor Chat with Chancellor White and Chancellor-Select Joseph I. Castro, who will lead the CSU system starting in January 2021; and Monica Lozano, president of the College Futures Foundation, who provided statewide perspective on the value of the GI2025 and the CSU.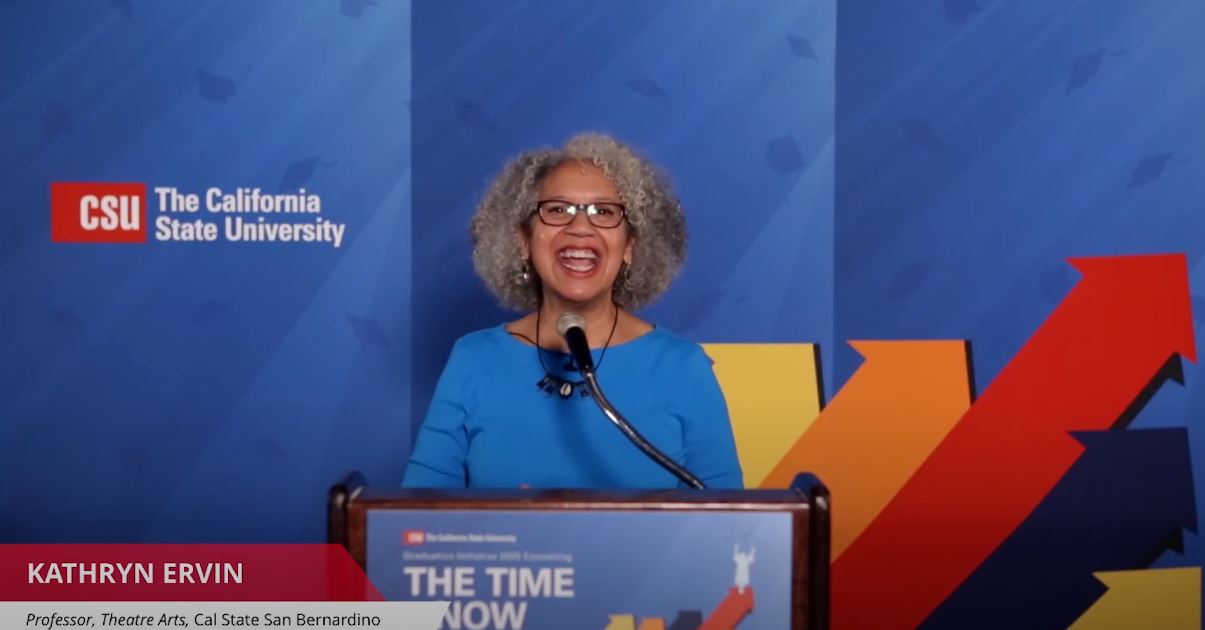 Cal State San Bernardino was well represented in the symposium. Kathy Ervin, a CSUSB professor of theatre arts, served as the event's emcee, and Francisca Beer, associate dean of the Office of Academic Equity in CSUSB's Jack H. Brown College of Business and Public Administration, introduced the FILA winner.
Blanchard reported that the CSU four-year graduation rate for first-time students increased to 31% compared to the prior year; the six-year graduation rate for first-time students remained at 62%; and first-time students are taking a higher average of units per term (14.64) than ever before.
The university has made even greater year-over-year progress with transfer students as the two-year graduation rate for transfer students has increased to 44% just shy of the 45% goal targeted for 2025 and the four-year graduation rate for transfer students has increased to 79%.
A recording of the CSU GI2025 symposium is available for viewing at "CSU Graduation Initiative 2025 Convening: The Time is Now."