CSUSB's Beta Gamma Sigma welcomes new members and attends virtual recognition ceremony
Cal State San Bernardino's chapter of the Beta Gamma Sigma (BGS) international business honor society joined the first-ever, society-wide BGS virtual recognition ceremony to congratulate the university's newest members. Francisca Beer, president of the Jack H. Brown College of Busines and Public Administration BGS society and professor of accounting and finance, and Marina Kamel, BGS advisor, attended the virtual event on May 21.
CSUSB's chapter, which was chartered in 1995, annually holds its ceremony for its new members each year, but due to the Covid-19 pandemic, the event was canceled. This year, the chapter has already welcomed 60 members, and more are still eligible to join.
The BGS Global Headquarters offered the society-wide virtual recognition ceremony "to ensure all new members have the opportunity to be honored and are aware of the lifetime benefits of their membership," according to its website. Presenters included advisors, members of the BGS Board of Governors, and the BGS CEO.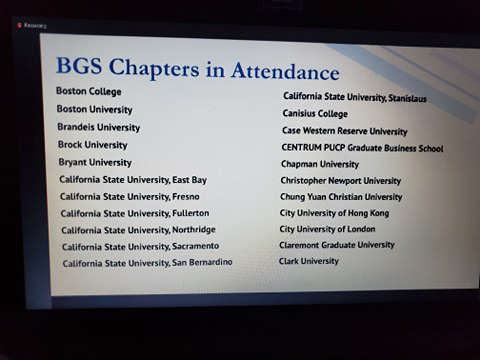 BGS is the International Business Honor Society serving business programs accredited by the Association to Advance Collegiate Schools of Business (AACSB) International. AACSB International accredits just 5 percent of business schools worldwide, which assures that BGS members belong to "an organization synonymous with the highest standards of academic excellence," according to the BGS website.  
Membership in BGS is the highest recognition a business student anywhere in the world can receive. BGS only accepts the top 10 percent of undergraduate students and the top 20 percent of graduate students in their business college.

Jack H. Brown College dean Lawrence Rose, Beer and Kamel said they extend their congratulations to all the eligible students who have been invited to become lifetime members of BGS.
"We hope they will seek value from the benefits, opportunities, and connections the organization is dedicated to giving them," the group said.
Visit CSUSB's Beta Gamma Sigma website for more information about the chapter. For more information about the society, visit the Beta Gamma Sigma website.