Joe Gutierrez Office of Strategic Communication (909) 537-5007 joeg@csusb.edu
New student housing and dining commons construction reaches major milestone
The construction of Cal State San Bernardino's new student housing and dining commons reached a major milestone on Oct. 18. Workers and university officials held a topping-out ceremony when a signed piece of the top floor's wall was set into place.
CSUSB staff photographer Robert A. Whitehead documented the ceremony at the work site, near the Jack H. Brown College of Business and Public Administration. The wall piece was signed by construction workers and university officials.
The construction is the largest single capital project in university history, costing $95.8 million and encompassing 164,000 square feet.
Ground was officially broken on Sept. 29, 2016, and the project is targeted for completion in time for the 2018 fall quarter.
With 416 beds, the student housing development is the initial phase of a larger community that will be developed at CSUSB as enrollment grows. This residential community will eventually serve about 1,200 more students. 
This phase will be targeted to meet the needs of entering first-year students and will be the first new housing community specifically designed to serve their needs since Serrano Village opened in 1972. 
In addition to the new housing units for students, the community will have dedicated space for student advising and academic support, the Honors Program, two Faculty-in-Residence apartments, a community kitchen, multipurpose meeting rooms, and will be the administrative home of the university's Department of Housing and Residential Education.
The new dining commons will be a two-level, multi-faceted campus dining facility. With an expected capacity of nearly 700 customers, the initial seating layout will be approximately 500. Two dining experiences are slated for this location. 
The first will offer an all-you-care-to-eat dining hall featuring a range of dining cuisines, including a grill, sandwiches/salads, display cooking and a number of international choices. Seating will be on multiple levels, including two enclosed outdoor locations, meeting rooms that can be reserved for groups and guests, and a faculty/staff collaboration dining room. 
The second venue in the new dining commons will be a cash-and-carry operation, as well as an enhanced convenience store. Slated to be CSUSB's first planned late-night dining location, it will offer sandwiches and grill-style cash options all day, providing an exciting place for the campus community to gather into the evening.
As with all campus housing, the project will be funded through the rental rates of students living in the residence halls. No state general fund dollars are committed to this project.
Contact CSUSB Facilities Planning, Design, and Construction at (909) 537-5136 with any questions about the construction impacts related to this project.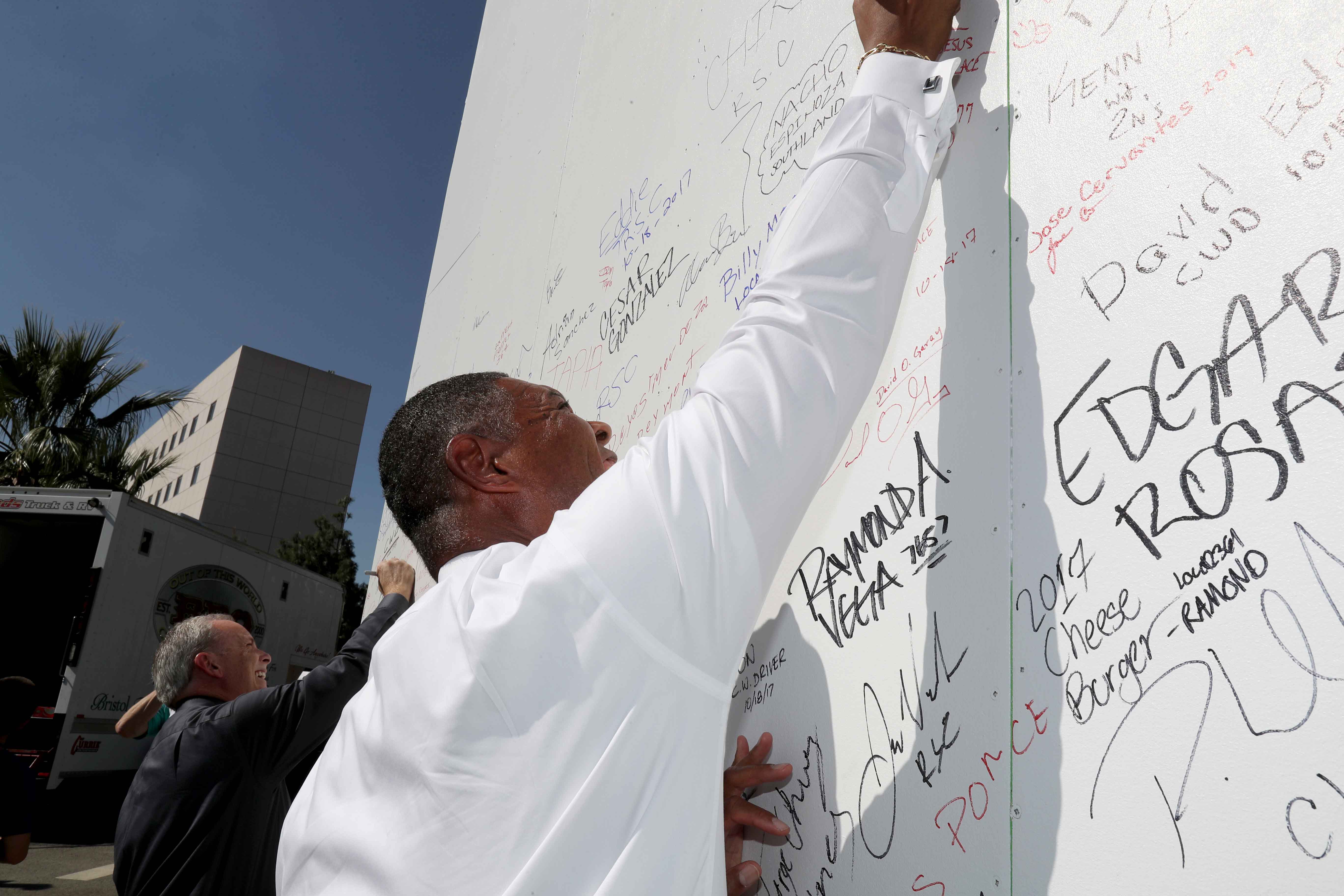 Douglas Freer, vice president of Administration and Finance, and Brian Haynes, vice president of Student Affairs, sign a piece of a wall that will be placed at the top floor of the student housing complex now under construction. Photo: Robert A. Whitehead/CSUSB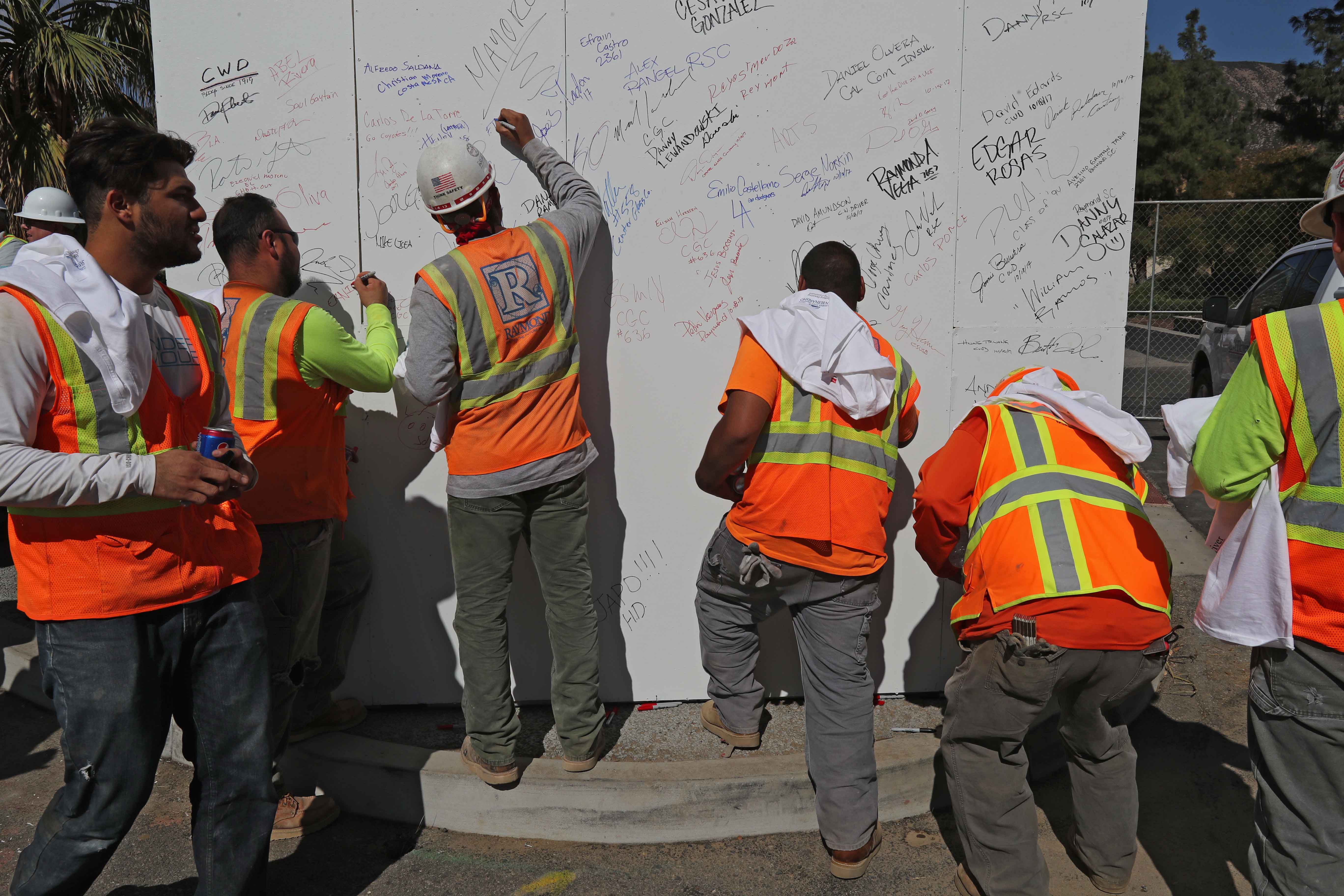 Construction workers sign the piece of wall that was later placed at the upper floor of the student housing complex at the topping out ceremony on Oct. 18. Photo: Robert A. Whitehead/CSUSB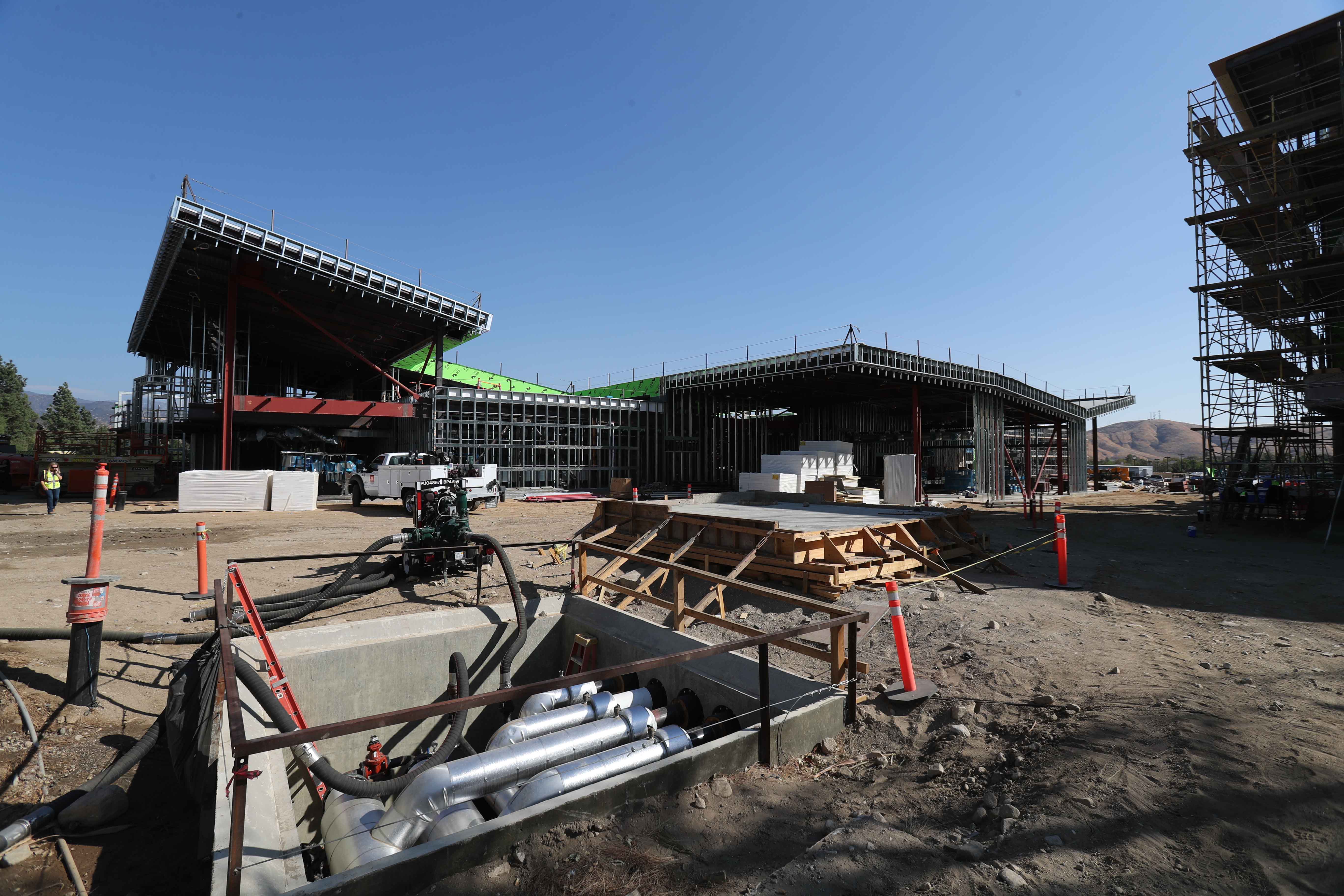 With 416 beds, the student housing development is the initial phase of a larger community that will be developed at CSUSB as enrollment grows. This residential community will eventually serve about 1,200 more students. Ground was officially broken on Sept. 29, and the project is targeted for completion in time for the 2018 fall quarter. Photo: Robert A. Whitehead/CSUSB