Joe Gutierrez Office of Strategic Communication (909) 537-5007 joeg@csusb.edu
San Bernardino mayor holds town hall meeting at CSUSB about the state of the city
San Bernardino Mayor Carey R. Davis said the city is in a much better state since coming out of bankruptcy, pointing to a number of steps that include streamlining operations, adopting a new city charter, focusing more attention on public safety, and staying fiscally solvent.
"Back in 2012 we were sitting at about a $45 million general fund deficit, significant problems with liquidity. In 2016, our last fiscal year that we completed in autumn, we now have approximately a $33 million dollar reserve," Davis said. "We made a huge swing in helping to create not only political stability but financial stability in the city's governing structure."
Davis, a CSUSB alumus ('97 MBA) now in his third year in leading the city, made his comments during a town hall meeting held at the CSUSB Santos Manuel Student Union Events Center on Oct. 26.
The audience of about 75 people consisted of CSUSB students, faculty and staff as well as city residents there to meet with Davis, to discuss issues in the city that are of interest to them.
Accompanied by City Manager Andrea Miller, Assistant City Manager Teri Baker and Assistant Police Chief Eric McBride, Davis and his staff talked the state of the city before the bankruptcy and afterward.
Davis said the city has increased its police budget over three years from $54 million to $72 million had hired enabling the department to hire about 40 new sworn officers.
Other areas of discussion included the city's ongoing need to recruit and hire capable and talented young people to fill a number of vacancies in various departments left open by departing city staffers, the city's proposal to become the second corporate headquarters for online retailer Amazon's and the various programs to reduce crime in the city.
Davis started the town halls in 2015 to meet with residents. The forums have been held at all of city's seven wards.
The meeting was sponsored by the Latino Business Association and the CSUSB Student Ambassador Society in conjunction with the San Bernardino Mayor's Office.
Davis is the 28th mayor of the city of San Bernardino and was elected mayor in February 2014. Born in the city, Davis is a third generation resident and lives with his wife, Johnetta, in the 7th Ward. He graduated from Pacific High School and received his master's in business administration from CSUSB. His bachelor's degree was obtained from Cal Poly San Luis Obispo. 
For more information on San Bernardino Mayor Carey R. Davis, call the mayor's office at (909) 384-5133 and visit the mayor's website.
For more information on Cal State San Bernardino, contact the university's Office of Strategic Communication at (909) 537-5007 and visit the Inside CSUSB news site at news.csusb.edu.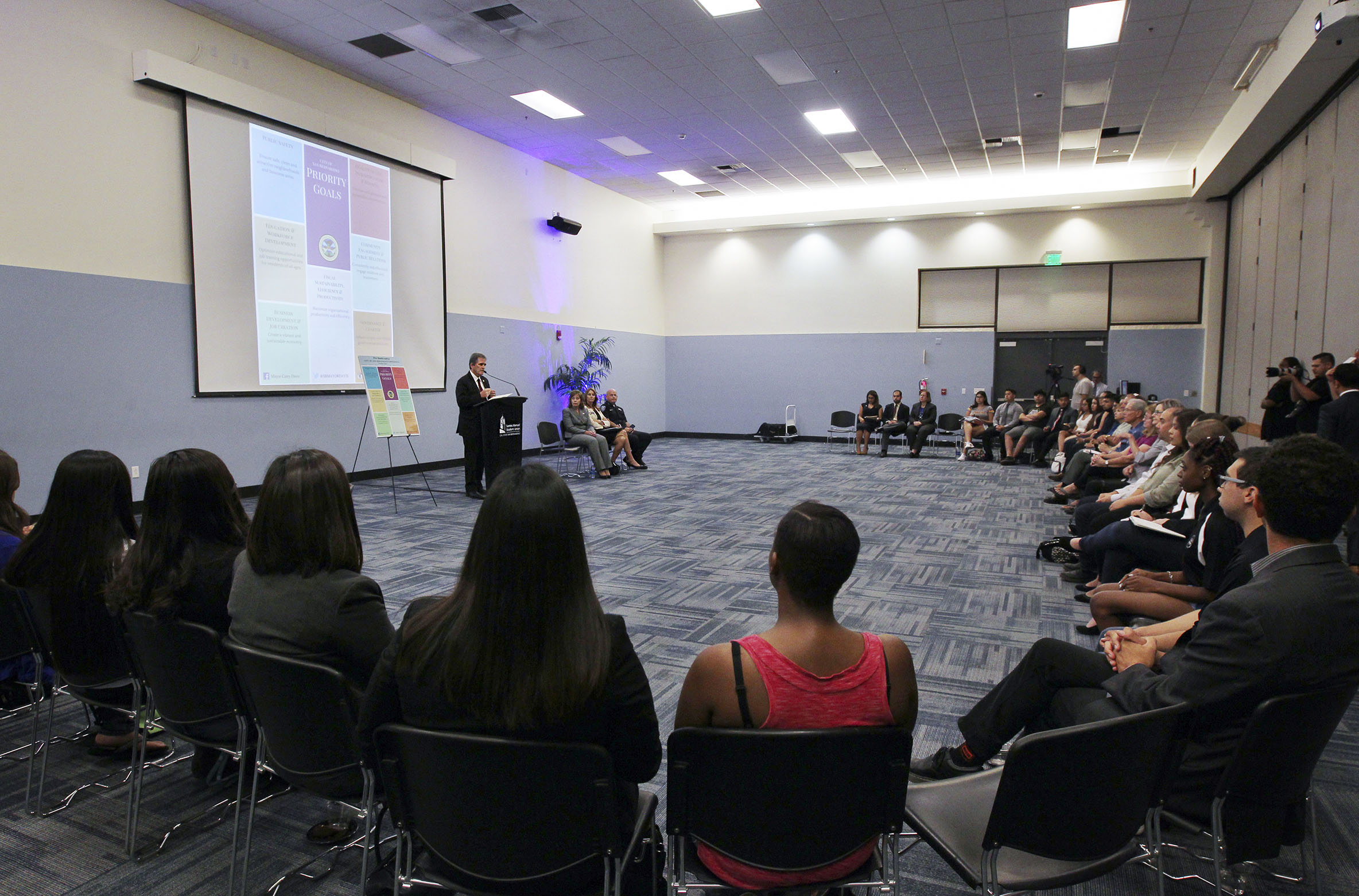 City residents, CSUSB students, faculty and staff attended a forum with San Bernardino Mayor R. Carey Davis on Oct. 27. Photo: Jasmin Limon/CSUSB