Joe Gutierrez Office of Strategic Communication (909) 537-5007 joeg@csusb.edu
Groundbreaking ceremony for CSUSB's Center for Global Innovation signals formal start of the new building's construction
The College of Extended Learning at Cal State San Bernardino hosted a groundbreaking ceremony for the new Center for Global Innovation (CGI) building on Dec. 5. While the ceremony was scheduled to take place outside near the construction site behind the John M. Pfau Library, the event was moved to the atrium of the College of Education due to high winds.
The relocation, however, did not affect the excitement; College of Extended Learning Dean Tatiana Karmanova, who served as the event's master of ceremonies, gave a warm welcome and introduced several university officials who gave enthusiastic speeches about the upcoming building. In addition, campus and community members sported construction hats and shovels for a traditional groundbreaking picture, only this time, it was taken in front of a portable box of dirt.
CGI, which was unanimously approved by the California State University Board of Trustees and is expected to open by fall 2019, will be home to the College of Extended Learning, including all international student programs. According to Karmanova, CGI will provide a more centralized location for international students, where they can better assimilate with the general student population.
"The Center for Global Innovation will augment the instructional needs and administrative operations for the college and greatly contribute to this university's international student programs," said CSUSB President Tomás D. Morales, a strong advocate for study abroad programs. "As the name indicates, one of its primary goals is to centralize services provided to our international student populations — those who are visiting as well as those matriculating here.
"At CSUSB, we seek to prepare our students for successful integration into the global marketplace," he said. "Along with equipping professionals who can work across cultural boundaries, we endeavor to help our graduates thrive in a multicultural society."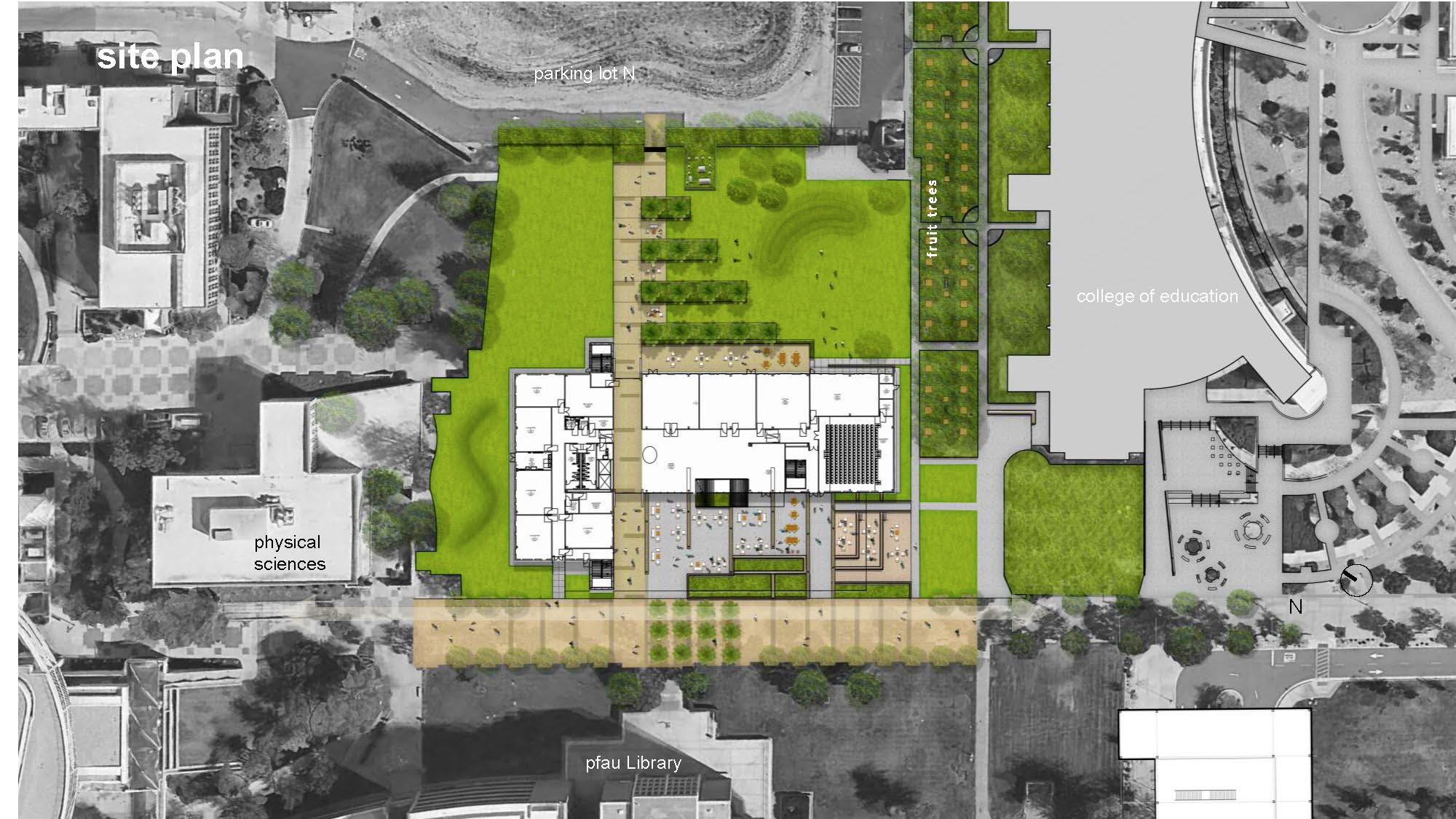 The Center for Global Innovation will be built behind the John M. Pfau Library, between the Physical Sciences Building and the College of Education.
At $55 million and 71,000 square feet, directly connected to Coyote Walk by a large outdoor shaded plaza, CGI will be a three-story classroom and administrative office building that includes 24 classrooms designed to accommodate collaborative learning, reconfigurable multi-purpose rooms and casual study lounges. CGI will also include a 250-seat auditorium, retail food services, and opportunities for indoor and outdoor hosting of special programs on the third floor terrace, the exterior plaza and the large global gallery with a featured video wall. CGI will serve as the centerpiece to the central core of campus, enriching student and academic life.
"It will result in increased visibility for the college and enhanced access to services and campus life for those who work and learn there," said  Morales. "The center will also contribute much-needed instructional space within the university hub."
Douglas R. Freer, CSUSB vice president for administration and finance, noted that in addition to focusing on what is going to be on the inside of the new building, the development team also "spent a lot of time on what the experience is going to be outside the building."
The lighted stair tower on the north side of the building will serve for way-finding to the center of campus, offering improved pedestrian access not only to CGI, but also the library, student union and food services.
"It's a beautiful project for this campus," Freer said.
Sustainable building features will include extensive use of natural lighting and ventilation, energy efficient LED lighting with smart lighting controls, water efficient plumbing fixtures, and glazed windows.
The CGI project joins an aggressive physical expansion plan to the CSUSB campus, joining the ongoing construction of 164,000 square feet of new residence halls and a dining complex (opening fall 2018) and a recently student-approved 100,000 square feet expansion of the San Manuel Student Union (scheduled to open fall 2021).
The CGI building will be located north of the library, south of parking Lot N, east of the College of Education building and west of the Physical Sciences building. Facilities Planning, Design and Construction will separately communicate to the campus community impacts to roads, parking and pedestrian access paths. 
Please contact Facilities Planning, Design, and Construction at (909) 537-5136 with any questions on construction impacts or other information related to the project.
For more information on Cal State San Bernardino, contact the university's Office of Strategic Communication at (909) 537-5007 and visit news.csusb.edu.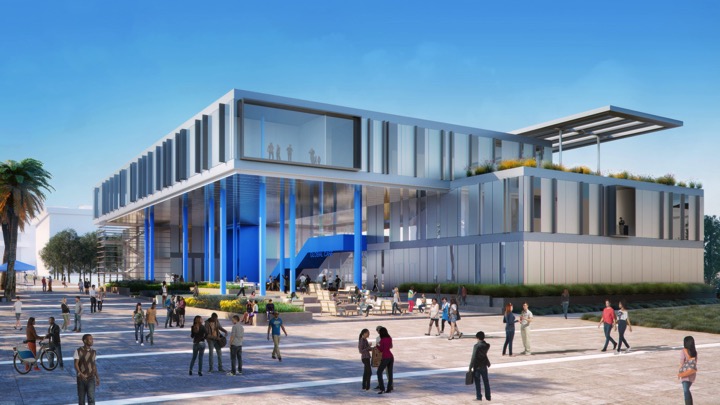 An architect's rendering of the Center for Global Innovation at Cal State San Bernardino.