Joe Gutierrez Office of Strategic Communication (909) 537-5007 joeg@csusb.edu
CSUSB master's program in industrial/organizational psychology among nation's best
Cal State San Bernardino's graduate program in industrial/organizational psychology has been ranked among the best in the nation by the Society for Industrial and Organizational Psychology.
The program, housed in the Department of Psychology in the College of Social and Behavioral Sciences, was ranked No. 5 in Top 20 Institutions/Programs for the Curriculum Dimension and No. 15 in the overall rankings of Top 20 Institutions/Programs. Nationwide, there are 158 master's programs in industrial/organizational psychology, also referred to as I/O psychology.
The Society for Industrial and Organizational Psychology (SIOP) is a professional organization for those working in the field of I/O psychology.
Industrial/organizational psychology is the scientific study of working and the application of that science to workplace issues facing individuals, teams and organizations. The scientific method is applied to investigate issues of critical relevance to individuals, businesses and society. 
"This is a well-deserved recognition, and a testament to our psychology faculty's dedication to providing excellent educational opportunities for our students here at CSUSB," said Rafik Mohamed, dean of the College of Social and Behavioral Sciences. "It's truly an honor to receive this acknowledgement and I couldn't be prouder of our I/O faculty."
"The development of the graduate I/O program has been a collective effort from the start," said Jan Kottke, professor of psychology and director of the program. "I feel very fortunate to work with such fine colleagues — Mark Agars, Ismael 'Izzy' Diaz, Janelle Gilbert and Ken Shultz. They could have chosen to join an R1 institution, but because they value teaching so highly, they came to CSUSB to work with our very talented students. Equally important, the program has flourished because of the support that its faculty and students has received and continues to receive from the psychology department. The education of our graduate students truly is a collaboration."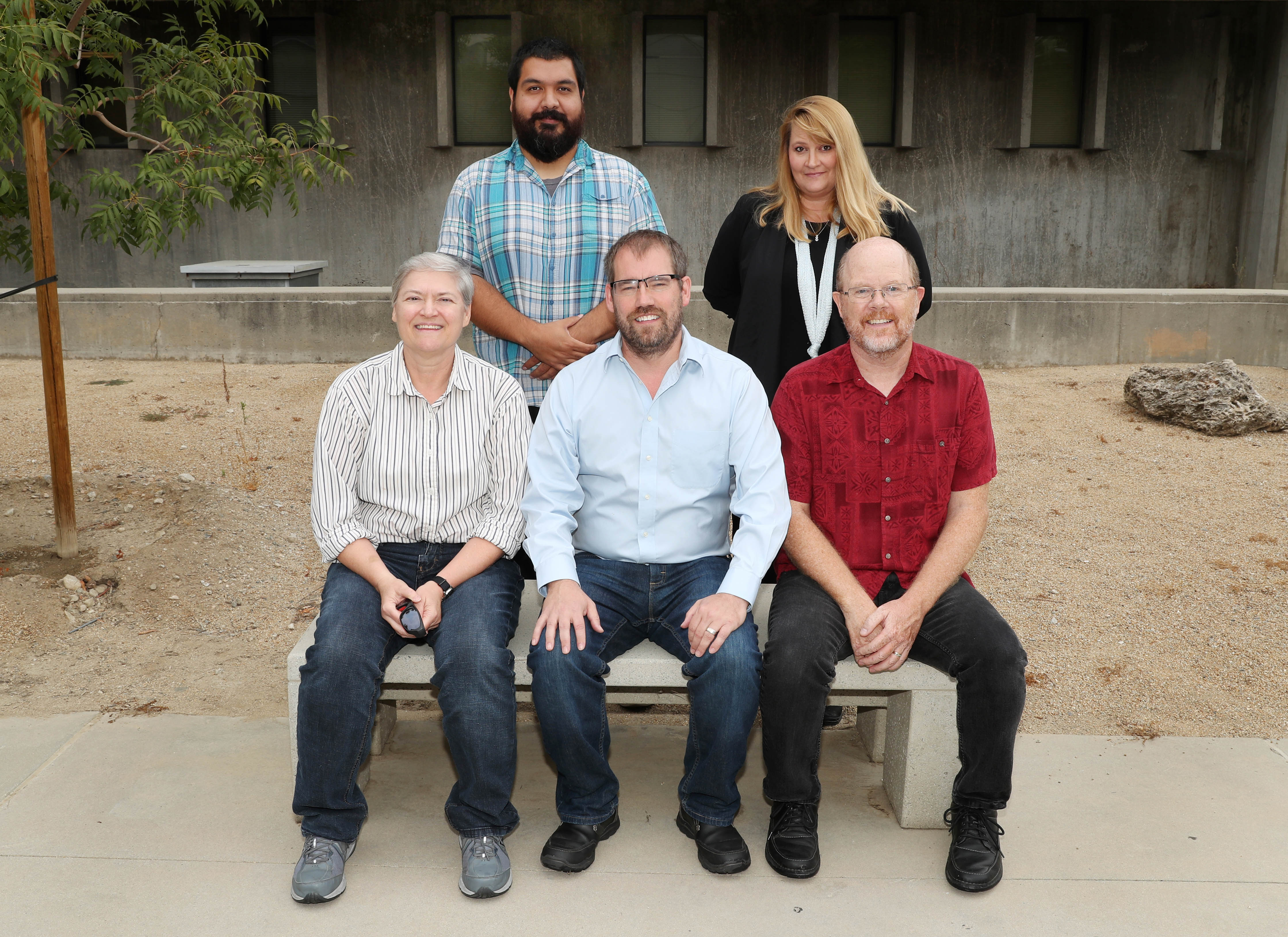 Top from left:  Ismael "Izzy" Diaz and Janelle Gilbert; bottom from left, Jan Kottke, Mark Agars and Ken Shultz.
Since its beginning in 1985 as a master of arts program, and then subsequent transition to a master of science program in 1992, the M.S. Industrial/Organizational Program at CSUSB has graduated several hundred students who have gone on to have significant influence in the human resource areas of local, regional and national organizations. Graduates of the program have held job titles including college president, director of staff education and development, vice president of training and human resources operations, and chief operations officer. Several graduates have also gone on to start their own consulting firms. In addition, several dozen graduates have continued on to doctoral programs and subsequently have had a lasting impact on the field of I/O psychology based on their published research and mentoring of future I/O professionals.
CSUSB's master of science degree in industrial and organizational psychology provides a comprehensive slate of I/O-specific courses designed to prepare students for immediate entry into careers in applied settings. Academic coursework is supplemented with an applied externship completed for academic credit.
The program requirements provide excellent preparation for those interested in pursuing a doctoral degree  upon completion of the master's degree.
The course of study also includes a strong, five-course quantitative sequence in research methodology, statistics and measurement. I/O students are expected to become competent in theory, research and application of psychology as each relates to human behavior in private and public organizations.
The primary objective of the industrial/organizational program is to provide students with the skills to apply the principles and methods of psychology to organizations, public and private, and to settings where people are engaged in work. To be successful in this application, the graduate must have developed knowledge and appreciation of psychological theory and research as they apply to organizations and people at work, and mastery of the measurement and research technologies that are commonly used in the discipline.
Visit the M.S. Industrial/Organizational Program website to learn more.
For more information on Cal State San Bernardino, contact the university's Office of Strategic Communication at (909) 537-5007 and visit inside.csusb.edu.