Office of Strategic Communication news@csusb.edu | (909) 537-5007
Kids explore ancient Egypt during summer workshop at CSUSB art museum
Clay art projects inspired by ancient Egypt are just some of the activities lined up for the popular "Kids Discover Egypt" art workshops July 17-18 and July 19-20 at Cal State San Bernardino's Robert and Frances Fullerton Museum of Art.
With the recent renovation of RAFFMA's extensive antiquities Egyptian collection, recently reopened in fall 2016, "Journey to the Beyond: Ancient Egyptian in Pursuit of Eternity" will be in focus during this year's Kids Discover Egypt Workshop.
For children ages 9-12, the two art day workshops will be hosted by RAFFMA from 9 a.m.-3:30 p.m. each day.
During the workshop, participants will learn about ancient Egyptian history, art and culture through many educational and hands-on activities.
Led by CSUSB staff, children will participate in a variety of activities like clay art projects, creating cat "mummies," shaping beads from authentic ancient Egyptian molds, and excavating a mock archaeological dig. Participants will be learning basic art concepts and vocabulary that are applied to each of their hands-on projects for a cross curricular workshop.
Registration for the workshop is $40;  $30  for CSUSB faculty, staff, students, Alumni Association members; and free for Friends of RAFFMA with a Family Membership. The price includes materials and lunch for both days.
Pick up a brochure and registration form at the museum front desk or download it from RAFFMA's website.
Space is limited. First come, first served.
For more information, contact RAFFMA's Education and Visitor Engagement Coordinator at (909) 537-7783, lothyana@csusb.edu
About RAFFMA
The Robert and Frances Fullerton Museum of Art is a nationally recognized museum accredited by the American Alliance of Museums. RAFFMA has accumulated a permanent collection of nearly 1,200 objects focusing on Egyptian antiquities, ceramics and contemporary art. Located at Cal State San Bernardino, RAFFMA houses the largest permanent and public display of Egyptian art in Southern California.
General admission to the museum is free. Suggested donation is $3. Parking at Cal State San Bernardino is $6 per vehicle Monday-Friday and $3 on Saturday and Sunday. The museum is open Monday, Tuesday, Wednesday and Saturday from 10 a.m. to 5 p.m.; Thursday from 11 a.m. to 7 p.m.; and is closed Friday and Sunday. For more information, call (909) 537-7373 or visit the RAFFMA website.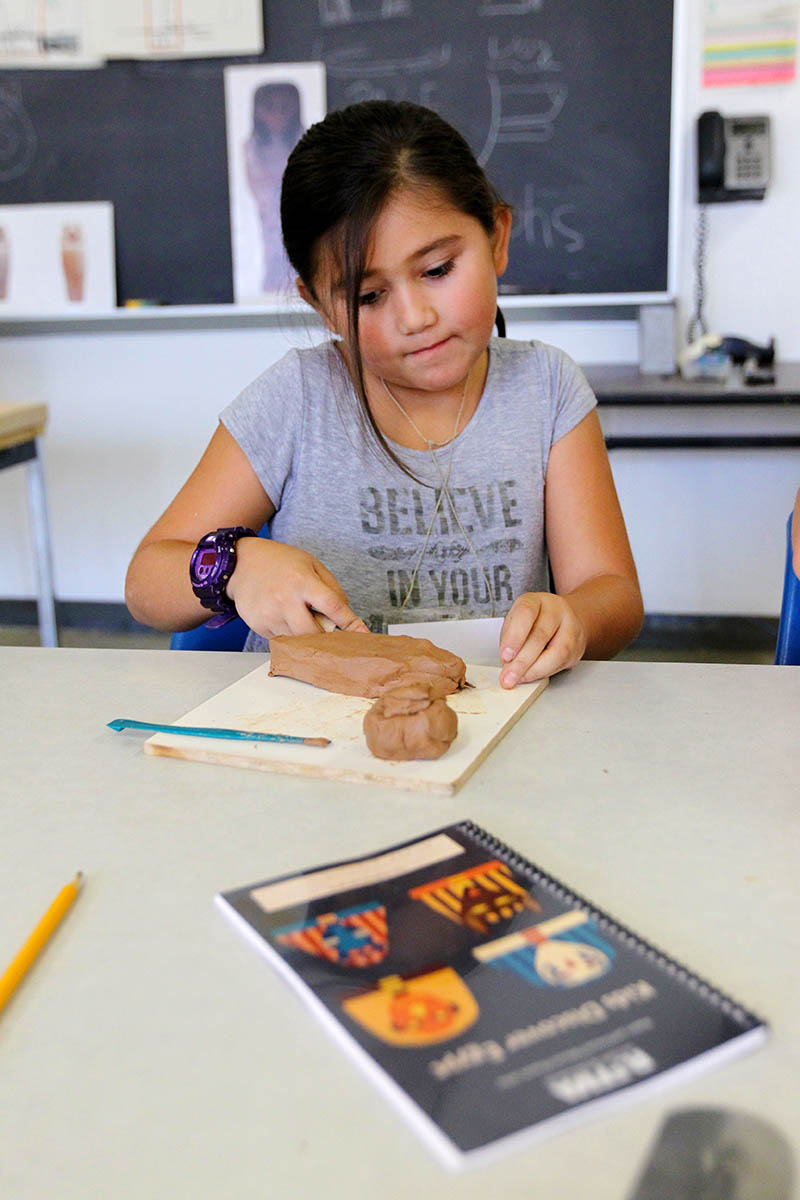 A student works on her project during the 2016 Kids Discover Egypt workshop at California State University, San Bernardino's Robert and Frances Fullerton Museum of Art. Photo: Jasmin Limon/CSUSB