Join us for our 15th Annual Community Engagement & Volunteer Fair
Community Partners,
We thank you for your work in the community and your continued support of CSUSB and the Office of Community Engagement (OCE). Due to the pandemic, CSUSB will be open but virtual until at least December, 2020, and OCE's programming is shifting to reflect this new environment.
Our annual Volunteer Service Fair is an event we look forward to each year in re-connecting with all of our colleagues in the community, inviting you to our beautiful campus and the opportunity to connect our students with your service opportunities.  Given our new virtual campus, we will not be able to host this event in-person this fall, but instead invite you to join us for a digital version of the event: 
Click. Learn. Serve. Virtual Volunteer Service Fair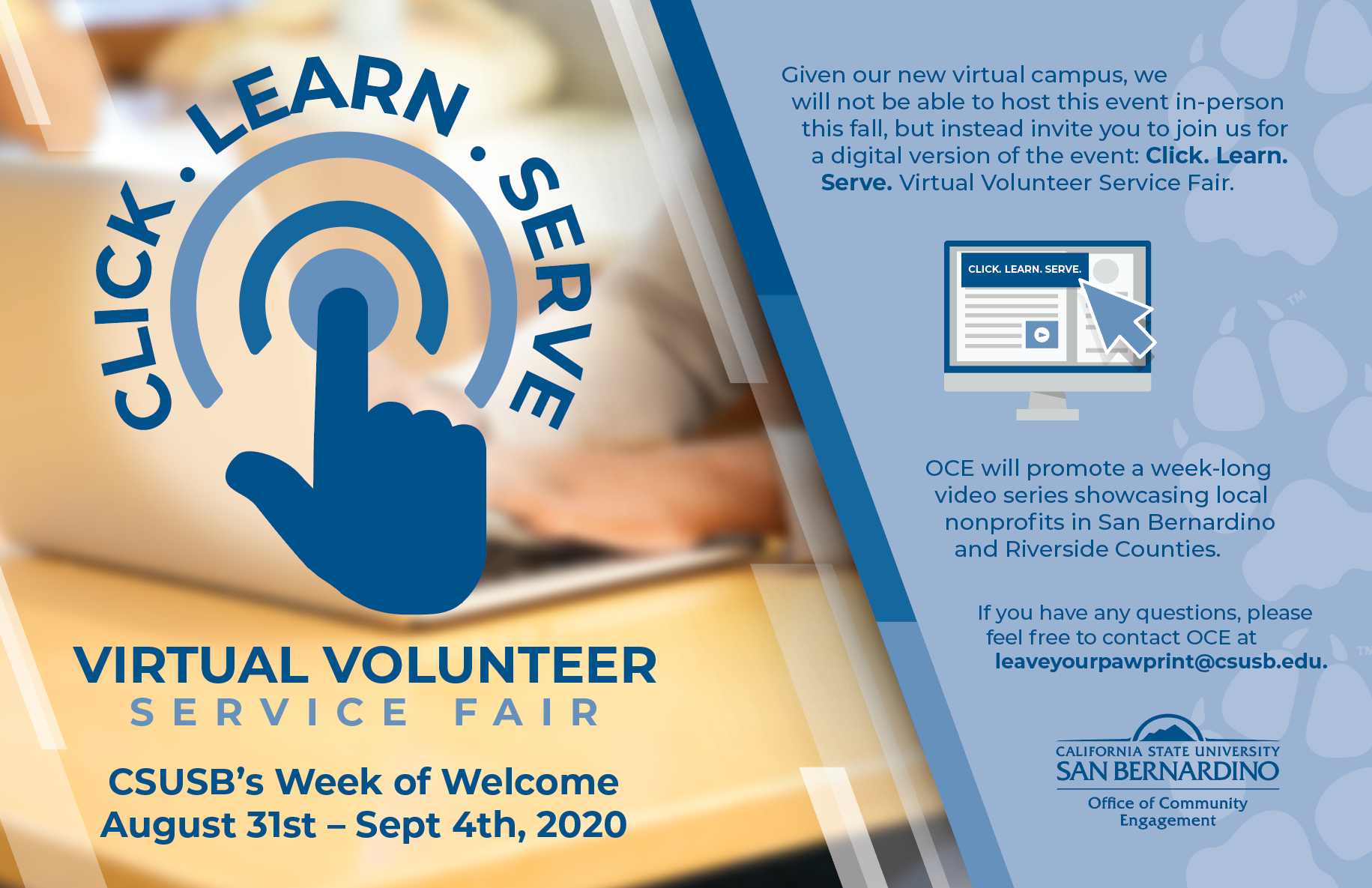 The new virtual format will be a part of CSUSB's Week of Welcome (August 31st – Sept 4th, 2020) where OCE will promote a week-long video series showcasing local nonprofits in San Bernardino and Riverside Counties to connect our students to volunteer opportunities through their phones, laptops and tablets. This event will assist CSUSB students in identifying meaningful VIRTUAL (not in person) volunteer service opportunities ranging from short-term volunteer service to in-depth service learning internships. The event will also help students develop a better understanding of the nonprofits that serve our community. Your participation will encourage our students to engage with the community and enhance their skills while serving others! We are trying our best to keep the event familiar, simple and flexible! 
Why should you participate? 
This first ever virtual Volunteer Fair will be a featured component of CSUSB's launch of the new academic year, and OCE will invite all students to participate, especially the incoming first-time freshmen and the large transfer student class that is entering in August, 2020. OCE will also invite all faculty to participate, including a special emphasis on internship coordinators.  Through your participation, CSUSB students, faculty and staff will get the opportunity to learn about your VIRTUAL volunteer opportunities and also to develop an awareness of your agency's mission and needs for the future when volunteers are able to return in-person.  
The event will have a dedicated website for everyone to view the week-long video series, and the website will remain active until the next scheduled Volunteer Service Fair. 
What do you need to do?
If you have any questions, please feel free to contact OCE at leaveyourpawprint@csusb.edu.
Thank you for your continued support of CSUSB students and our tradition of community engagement!
---
Educate & Serve Breakfast Series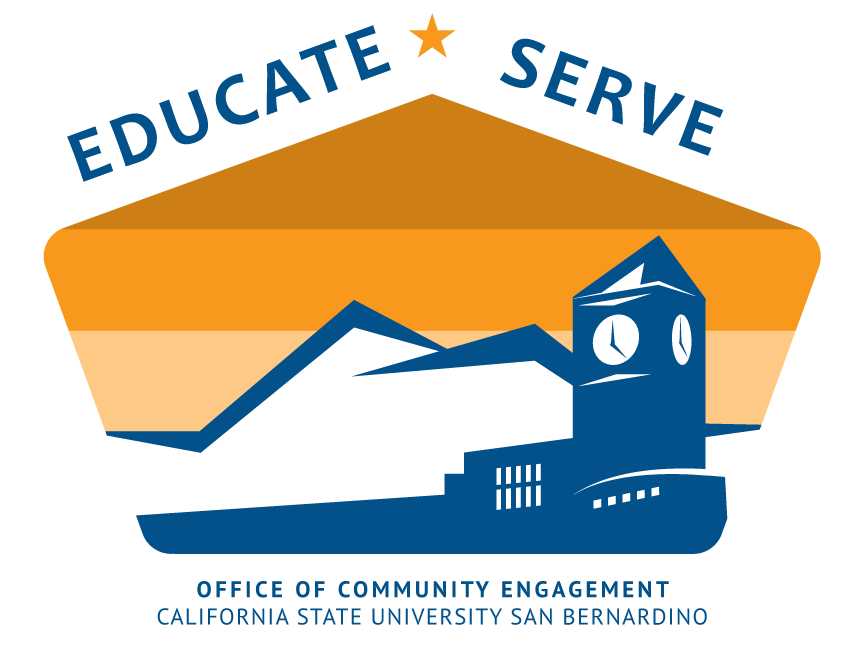 The Educate & Serve program aims is to connect select faculty with key community stakeholders to identify areas and opportunities for increased partnership, collaborations and facilitating campus and community conversations.
To view past year events, please visit:
---