About the Center for Health Equity
Overarching Goal
The Center for Health Equity is working to build research capabilities at CSUSB.
The primary purpose of the Center for Health Equity is to increase the research, scholarship, and training opportunities for faculty and students in the area of health disparities.
It is our hope that CSUSB will become a leader in health disparities research that could benefit the Inland Empire, nation, and the international community.
Recent Activities
Under the current leadership (since 2017), CHE has a demonstrated track record of research excellency and recognition, including:
25 plus peer-reviewed publications resulting from collaborations among center's faculty members;
established two mentored research internships for students, resulting in over 10 students mentored in research and internship projects who served as co-authors on peer-review publications or professional reports;
established external advisory board, representative of leaders in healthcare and public health organizations in the Inland Empire, was also established to ensure an informed research agenda that addresses emergent health disparities in the Inland Empire;
collaborative grant submissions with local partners and institutes of higher education.
established partnership with University of California, Riverside to collaborate on student training for Future Physician Leaders and Health Coach Programs for CSUSB students;
secured a competitive grant from Tobacco-Related Disease Research Program.
secured a competitive grant from ReachOut (a local non-profit organization) for CHE's leadership team to receive training as part of 2020-2022 Center for Civic Policy & Leadership, Racial Justice Fellowship. 
secured a competitive grant from CSUSB's Centers and Institutes Seed Funds grant.
History
In 2007, CSUSB faculty obtained a grant from the National Institute of Minority Health and Health Disparities (NIMHD; P20 MD 002722) to enhance the research infrastructure of minority institutions (RIMI).
The RIMI grant was utilized for six years to support both students and faculty, enhancing their knowledge and research skills related to health equity. This work led to the creation of the Center for Health Equity at CSUSB and also to the certificate in Health Equity and Health Disparities. The center focuses primarily on faculty led research activities and the certificate program provides educational opportunities for students. The center and the certificate are separate but interrelated through the interdisciplinary programs at CSUSB.
The reporting person, as outlined by FAM 105.4, for the Center for Health Equity is Associate Provost of Academic Research & Graduate Dean.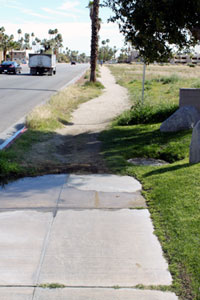 'The need for change bulldozed a road down the center of my mind.'
(Maya Angelou)
External Advisory Board Members
Some faculty members who are also public health working professionals, may serve on the advisory board (but cannot assess their own research/project outcomes as part of advisory board tasks).
Established July 2020 by Dr. Monideepa B. Becerra
Marwa Ahmad, MPH 
Community Health System Specialist
San Bernardino County Superintendent of Schools
Devin Nicole Arias, MPH
Data and Evaluation Director
AIM HIGH
Robert Avina, DrPH, MPH
Lead DIS Epidemiologist
California Department of Public Health
Teresa Chapa, PhD, MPA 
Southern California Regional Vice President, FredFinch: Youth and Family Services
Former (retired) Senior Policy Advisor, United States Department of Health and Human Services
Antonia E. "Toni" D'orsay, PhD, MS, MA
Director of Trans Services
Borrego Community Health
Roque Anthony Velasco
Nurse Practitioner and Chair, Transgender Wellness Program
Desert AIDS Project