Dark-eyed Junco
(Junco hyemalis)
Sparrows
Common
Fall, Winter and Spring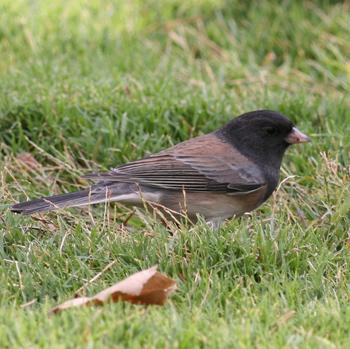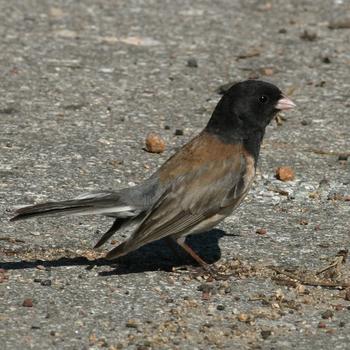 The Dark-eyed Junco is a common fall and winter visitor on campus from October through April. It is a common wintering bird, and a common breeder in the mountains of southern California. The primary subspecies seen on campus is the local Oregon Junco (J. h. oregonus), although Slate-colored Junco (J. h. hyemalis; photo) and Gray-headed Junco (J. h. caniceps; photo) have both been recorded on campus.
High Count: 65, Average Count: 5-15
Male Dark-eyed (Oregon) Juncos can be identified by their black hoods, white underparts, pinkish sides, rusty brown backs and brownish gray wings and tail. Females are similar but have gray instead of black hoods. In flight, the distinctive white outer tail feathers of both sexes can be seen.