Biology degree flowchart
The flowchart below is similar to, but displays information differently from, the Biology degree roadmap. We recommend all students (first time freshmen, transfer students, and quarter-to-semester (Q2S) transition students) become familiar with both. It is important to understand that the roadmaps are just an example of how it is possible to complete your degree, but that the vast majority of students will not follow the roadmap exactly - rather, they are going to follow some personalized variation of the flowchart here. It is also important to read through the Biology Degree requirements and BIOL course descriptions in the CSUSB Course Catalog.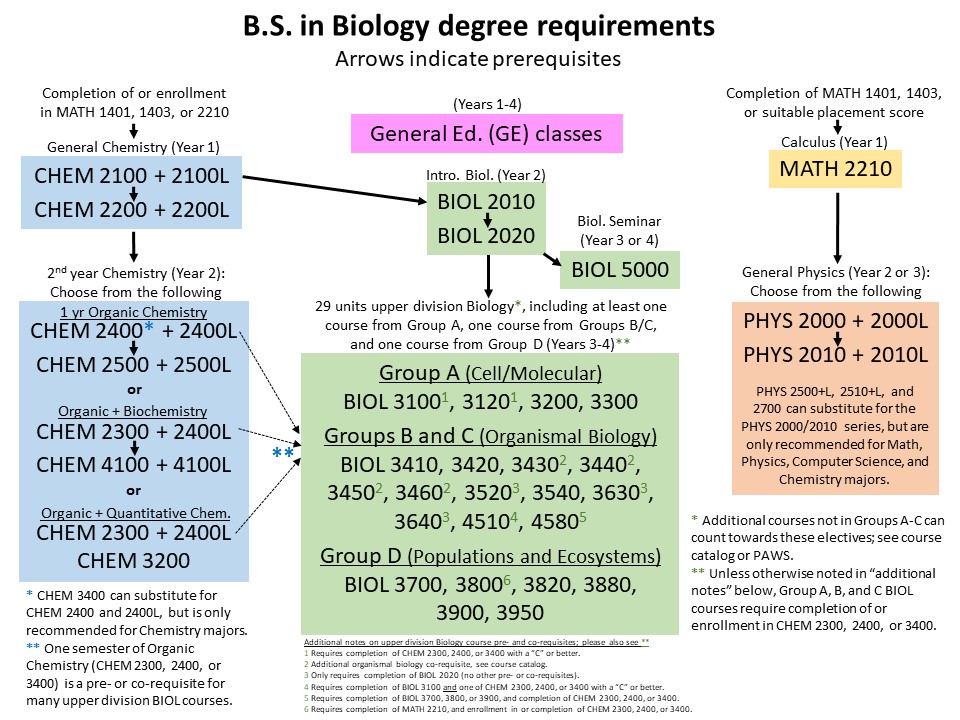 Important information on the course flowchart
All BIOL courses with a course number between BIOL 3100-5999 will fulfill the 29-unit upper division BIOL elective requirement! You are not limited to taking BIOL courses listed in Groups A-D in the above chart. 
There are still some glitches in the PAWS Report system - if a BIOL course you have enrolled in is not counting towards your Biology major elective requirements, contact the chair of the Biology Dept. for assistance. 
There is no substitute for advising! Make sure you speak with an ASUA advisor, a College of Natural Sciences Science Success Center advisor, or a Biology Dept. faculty advisor.
Note that the new group requirements (combining of Group B and C) are effective as of the 2022-23 Academic Year but will not reflect in the course catalog or PAWS automatically until the 2023-24 Academic Year. Contact the chair of the Biology Dept. for waivers if you are ready to graduate in 2022-23 and have completed at least one Zoology or Botany course but not both. 
Transfer Students
Transfer students include community college transfers, transfers from other CSU or UC campuses, or out-of-state transfers. We strongly recommend that transfer students speak to a Biology Dept. faculty advisor (as opposed to or in addition to an ASUA or Science Success Center advisor), as transfer situations can be more complex and there are also certain nuances in how course registration works that may affect transfer students. 
California community college transfer students should look at ASSIST.org for course transferability information. We provide this course transferability chart for your convenience, but you should always consult ASSIST.org and Biology faculty advisors for the most up-to-date information. 
Quarter to Semester conversion (Q2S)
As of Fall 2020, CSUSB has switched to the semester system. The requirements for the Biology major are different for students that declare the major after transition to semesters in Fall 2020, e.g. for all first-time freshmen in Fall 2020 and beyond. Biology majors that have declared a Biology major during the quarter system have the option either to stay with your current (quarter system) requirements for graduation or to switch to the semester-system Biology major on or after Fall 2020; if you take no action, your requirements will not change from what they currently are. However, in most cases it is advantageous for you to switch.
Starting in AY 2022-23, the Biology Department will no longer offer Q2S bridge courses for students who have only completed a portion of the BIOL 200-201-202 sequence that was offered during quarters. Contact the department chair for advising if you still need assistance with the Q2S transition. 
For students transitioning from quarters to semesters: the CSUSB Office of the Registrar has an online form for requesting a catalog year change to 2020 or later. 
To help navigate the Q2S transition, it is important to see an advisor (Biology faculty advisor, AUSA advisor, or Science Success Center advisor) as soon as possible, and as often as necessary, to help develop an individual advising plan, and to complete your MyCAP academic plan. Information in the links and documents below will also help you make decisions regarding the Q2S transition. Below are some useful resources for Q2S students.