White-crowned Sparrow
(Zonotrichia leucophrys)
Sparrows
Common
Fall, Winter and Spring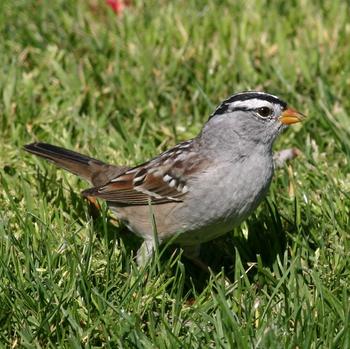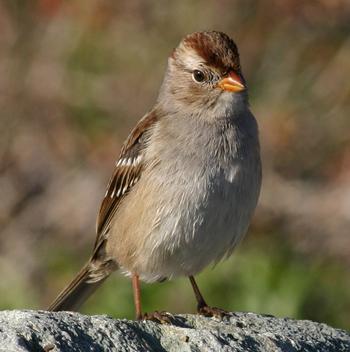 The White-crowned Sparrow is a common wintering bird on campus from late September to April, mirroring its general status and distribution in southern California. For many southern California birders, the arrival of White-crowned Sparrows and Yellow-rumped Warblers (probably our two most common and abundant wintering birds) in late September signals the changing of the seasons: summer is over and winter is on its way.
High Count: 125, Average Count: 25-50
Adult White-crowned Sparrows can be identified by their black and white striped heads, light gray underparts, and brown streaky upperparts. Immature (first winter) White-crowned Sparrows are similar to adults, but their heads are striped dark and light brown instead of black and white. They often occur in small flocks, and are frequently seen foraging on the lawns close hedges or other dense vegetation that they use for refuge from predators.