Vermilion Flycatcher
(Pyrocephalus rubinus)
Flycatchers
Common
Year-Round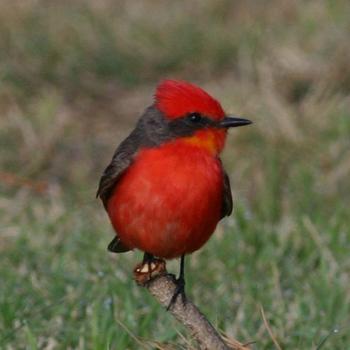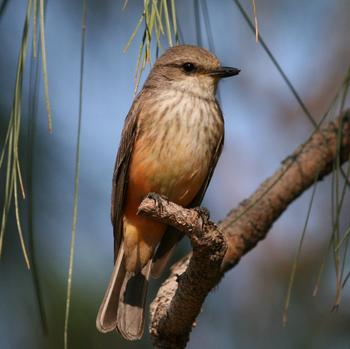 The Vermilion Flycatcher is a common year-round, breeding resident on campus. Up to seven pairs of birds have nested on campus, and they can easily be found on the athletic fields during spring and summer. The Vermilion Flycatcher is a rare, localized breeder in the deserts and coastal lowlands, and a rare winter visitor throughout southern California. It is listed as a Species of Special Concern by the California Department of Fish & Game. Click here to read an article on Vermilion Flycatchers breeding at CSUSB.
High Count: 12, Average Count: 4-6 Apr-Aug, 1-3 Sep-Mar
The adult male Vermilion Flycatcher has a brilliant red head and underparts with a black eye stripe and upperparts. Young males are similar to adult males but with a variable amount of red on the head and underparts. Females have brown upperparts, a white breast with faint streaking, and a pinkish belly. Juveniles are similar to females but have more distinct breast streaking and white wing bars, and may lack color on the belly.