Welcome our new Campus Advocate,
Cortni Alexander, M.A.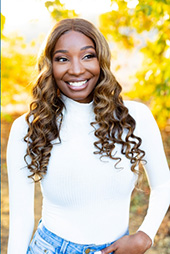 My name is Cortni Alexander, and my pronouns are she, her, hers, ella. I have always had a passion for advocacy, and started my career serving in the United States Navy. I served as the Sexual Assault Victims Advocate for Naval Station Norfolk, and surrounding bases. I responded to the scene of an assault, and assisted the survivor with hospital visits, court appearances, and worked with NCIS to help get the survivor the best help possible. I became passionate about women in the military's health, and how it was being handled. I also served as the President of the Coalition of Sailors Against Destructive Decisions, and the Leader of my commands Honor Guard. It was while mentoring my junior sailors, that I realized that I had a passion for fighting the stigma and silence around the mental health of those who are serving. After completing my enlistment, I went on to earn degrees in Sociology and Communication at Western Washington University. While in undergrad, I facilitated events to challenge racism and sexism, both in Education and in the Military. I became the Liaison for WWU's Veterans, and put on several panels, and events to shed light on the lack of representation and services for Veterans who were women. Along with a strong team of women who served, I met with the Senator, and demanded more space at the VA and other Veteran spaces, for women. After completing my Bachelors, I went on to earn a Master's Degree in Marital and Family Therapy at University of San Diego. I was my cohorts Student Ambassador, and liaison while our cohort studied abroad in Madrid, Spain. I introduced the concept of racial trauma to the students in Madrid and learned about how family systems differ in other countries. I completed clinical rotations at South Bay Family Violence Shelter, and UCSD Eating Disorders Center. I have dedicated my life to advocacy and plan on continuing this work while at CSUSB. The major theme in my work in the past, and moving forward, is, "Intersectionality", because without it, true advocacy does not exist.
Confidential Advocate Line: 909-273-7872
What does an advocate do?
Facilitates individuals in writing civil and domestic violence restraining orders.
Act as an advisor during all stages of investigations, hearings and other meetings with the Office of Student Conduct & Ethical Development.
Assists individuals in filing Victim Compensation paperwork.
Works with diverse student groups, organizations, academic and other campus departments regarding student health needs, issues, and problems.
Develops survivor advocacy services annual goals and objectives.
Annually reviews survivor advocacy services mission and ensures mission is in alignment with university mission, particularly around areas of social justice.
Mission
Survivor Advocacy Services' mission is to provide victim/survivors of sexual assault, dating/domestic violence, and stalking with a safe and confidential space in which they can learn about the dynamics of abuse, their rights and options, and be empowered to make their own decisions about justice and healing. SAS seeks to change the campus culture through prevention education, awareness programming, advocacy for survivors, and collaboration with key partners.
For other inquiries or support, please contact CSUSB Counseling and Psychological Services at 909-537-5040 during regular business hours.
San Bernardino Sexual Assault Services (SBSAS)
SBSAS San Bernardino: 909-885-8884
SBSAS Redlands:  909-335-8777
SBSAS Yucaipa:  909-790-9374
SBSAS Victorville:  760-952-0041
SBSAS Morongo:   760-369-3353
SBSAS Coachella Valley:  760-568-9071
Philosophy
The Survivor Advocacy Services staff believes that:
Services must be culturally competent and meet the survivor where they are.
Services must be trauma-informed.
Services to CSUSB students, faculty and staff and their non-offending families, friends, and partners must be free of charge.
Services must be available to any person who needs them regardless of gender identity, ethnicity, age, sexual orientation, citizenship status, nationality, socio-economic status, size, ability or religion.
Confidentiality is fundamental to the safety of survivors.
Dating/Domestic Violence, Sexual Assault and Stalking are public health issues that affect all of society.
Social justice and social change are necessary to end social, cultural, and institutional oppressions which contribute to violence and cause barriers to healing.
Advocacy is only the beginning of intervention.
Services must be survivor-centered and understand that survivors are the experts on their own lives.
While staff should continuously develop their knowledge, they must work within their scope of expertise and provide referrals as appropriate.
Dating/Domestic Violence, Sexual Assault and Stalking are a choice made by perpetrators and are not the fault of the victim/survivors.
Campus-wide prevention education is key to unlearning victim blaming and learning consent and healthy relationships.
Relationship Resources
Positive Relationship Quiz | It's Not OK (areyouok.org.nz)
www.areyouok.org.nz/i-need-help/positive-relationship-quiz/
National Domestic Violence Hotline:
Phone Number: 1.800.799.SAFE (7233)
Text START to: 88788