Some content on this website has known accessibility issues that may affect those utilizing assistive technology. We are actively remediating these issues. If you are not able to access information on this website due to an accessibility barrier, please contact:
2021 Festival de Calaveras
In celebration of Hispanic Heritage Month, the Robert and Frances Fullerton Museum of Art invited the campus and the community to sign up to decorate a Calavera. All completed Calaveras will be showcased in a virtual Festival de Calaveras exhibition, opening October 11 on RAFFMA's website and social media. Calaveras will then be auctioned during the Association of Latino Faculty, Staff and Students Día de los Muertos celebration on November 6th to raise money for ALFSS student scholarships.
All proceeds from the auction will go directly to ALFSS Student Scholarships.
Questions, please contact Miranda Canseco at miranda.canseco@csusb.edu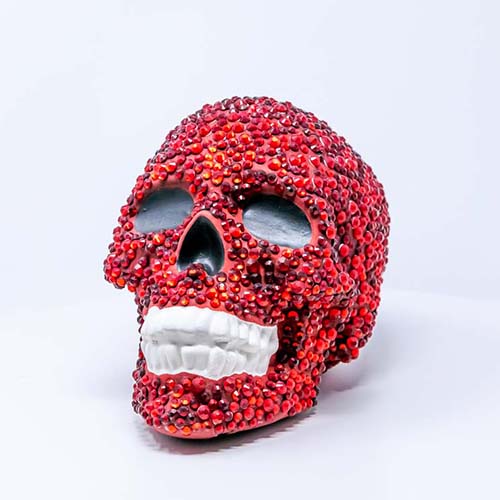 Alex Pearl
Surrender Dorothy 
The skull has been covered with two layers of paint, and encrusted in hundreds of faux rubies. Just like Hollywood glamour covered up the horrific abuse of Judy Garland while filming The Wizard of Oz, sparkling stones glitter on the surface of this grim reminder of death, THe color and decoration of the skull is a deliberate nod to the ruby slippers.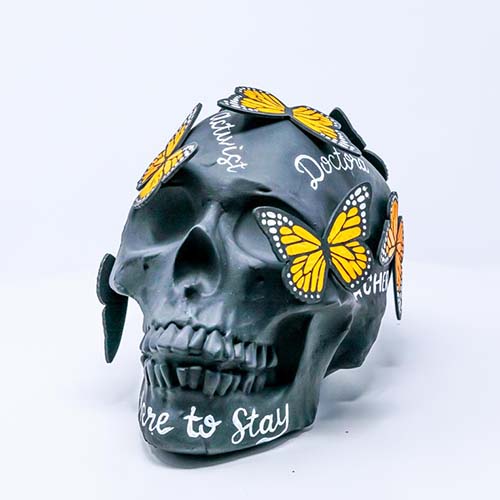 Alicia Echevarria
Migration is Essential, products of immigration
Acrylic black paint, wooden butterflies with names of occupations and people. America is made up of immigrants who are the standard. As migration is essential, so are those who have come here to make a difference. Immigrants make up 11.1 million people in the country, they are here to stay!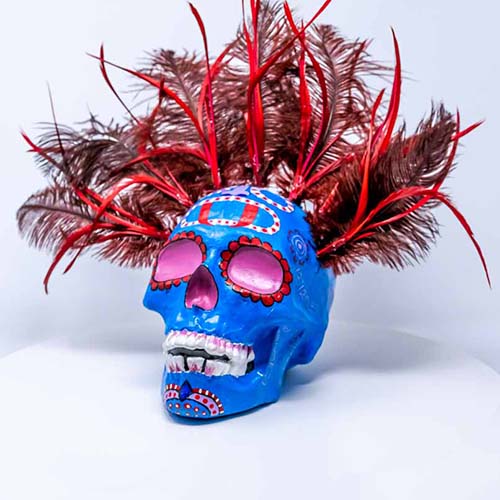 Amanda Mendez
Aztec Warrior
My Aztec warrior represents all the warriors in Mexico who fought for their Aztec empire. We honor them today and forever for their bravery.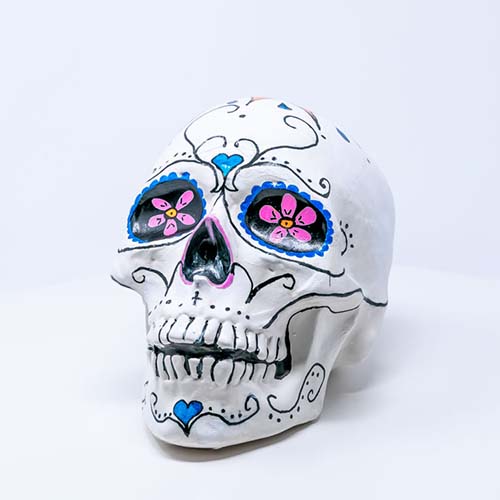 Amelia Calderon
Eternal Blessings
The orange flower on top represents blessing bestowed upon us. The pink blossoms in the eyes represent the gift to see all the love and beauty in life - this and the next. The blue hearts on the forehead and chin are the loving moments we remember and the ones we share with others. The swirls and dots are all the little things that make us and those around us feel loved.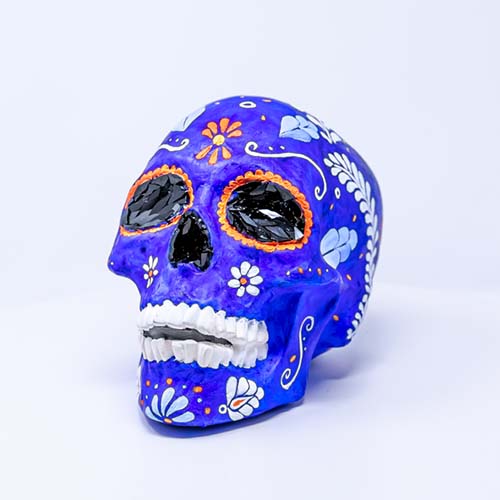 Andrea Diaz
Una Historia de Amor
The black eyes of my skull are the black abyss that one crosses when dying. The cempasuchil flower petals around the eyes become the exit. They light and guide the dead during their visit to the world of the living. Huitzilin and Xochitl are present in a form of a cempasuchil flower and hummingbird to remind us that love transcends death.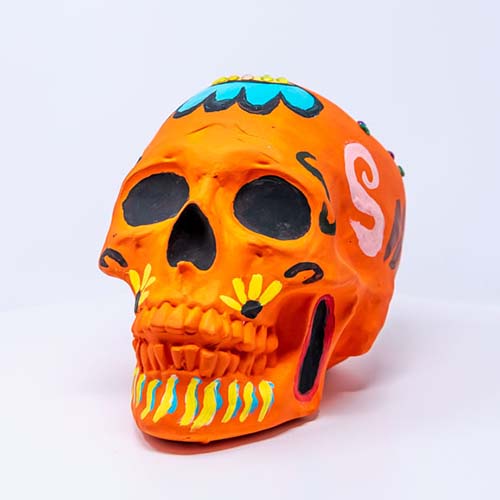 Andrea Zaragoza
Amor Platonico del Atardecer
This skull consists of sharing a platonic love of two souls. Representing this with the colors of the sunset; very warm, welcoming, and beautiful. However cold and lifeless through the eyes as the feelings are not interchangeable. A platonic love story.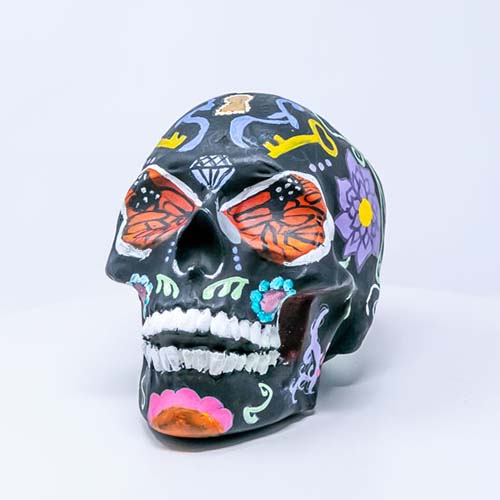 Angie Cervantes 
Neon Garden
The meaning behind the design is in memory of my grandmother. She had a beautiful garden that she always had locked behind a gate so on one would pick them. She's the one who had the key so I'd always fo for walks with he in the garden.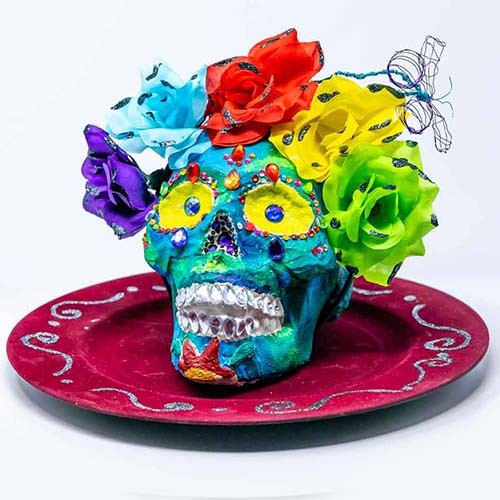 Anna (Ugarte) Atkins 
Mariposa de Barrio
This Calavera is painted with the colors of the earth from where we are from and where we return. Infused with rich Hispanic color brings out the beauty of family. The butterfly represents that our loved ones are always showing us signs that they are with us. Dedicated to Lena Ugarte (mom), Benjamin Ugarte (dad), Rosie Hernandez (aunt), Delfina Mendoza (godmother) - all lost to COVID-19.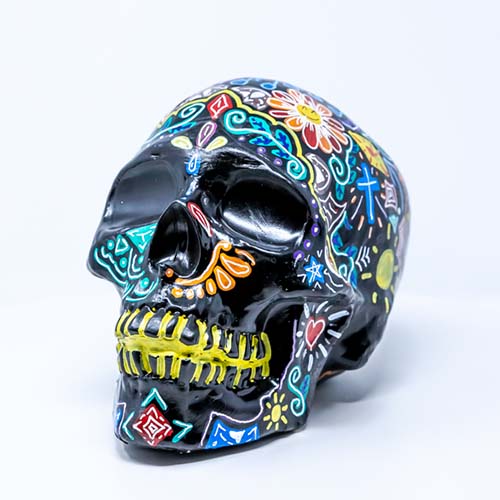 Annabella Ostorga
Recuerdos de mi Corazon
This skull features many symbols of loved ones that are no longer here and of my family heritage; such as the taino symbol for the coqui of Puerto Rico. I decided to keep to the style of the calaveras that usually are seen with lots of bright colors and lots of details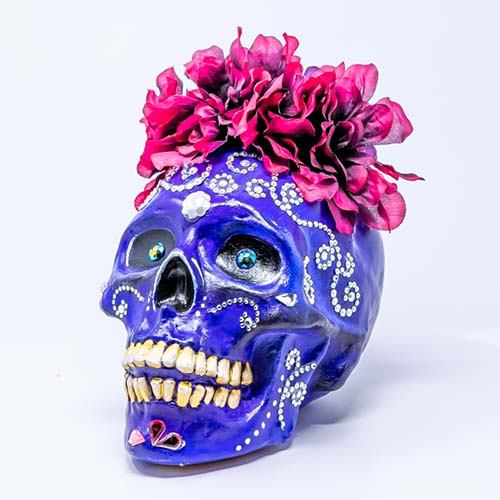 Annette Ramirez
Jewels of JoAnna 
JoAnna represents all women who loved to dress up for gatherings and made heads turn as she entered. To all the "JoAnna's" that have passed, we will always keep your spirit alive.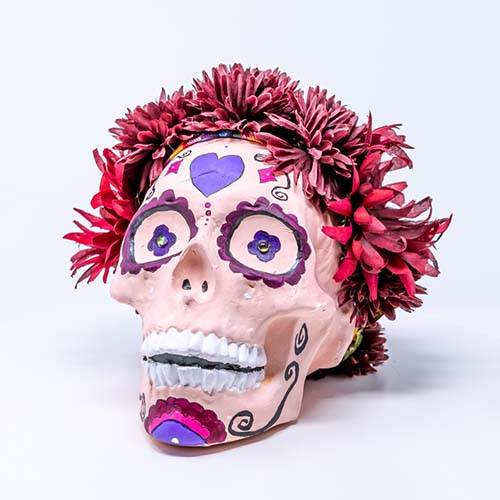 Ashley Mendoza
A vision of my feminine ancestors 
I have always felt a strong feminine force surrounding me and I would like to attribute that to my ancestors, specifically mi abuelita. This is my vision of her and her energy.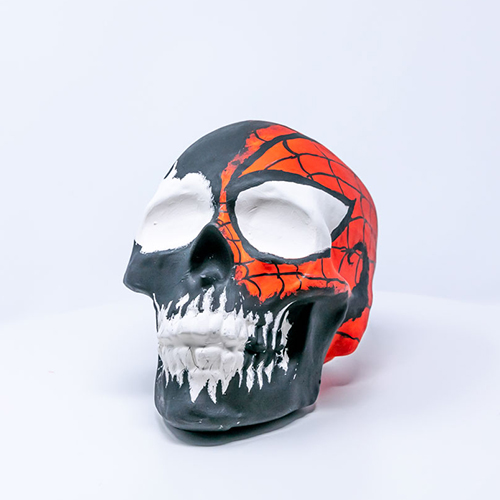 Biggie Cheese 
We are Venom
Venom overcoming the friendly neighborhood spiderman.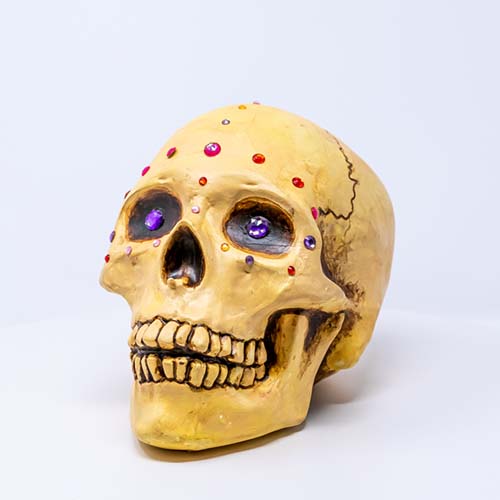 Bob Chairez
Testament to Mortality
In the third world death is not a taboo subject. We are born, we live our lives, and we pass from this world. it is not to be feared. We must understand this philosophy and embrace it.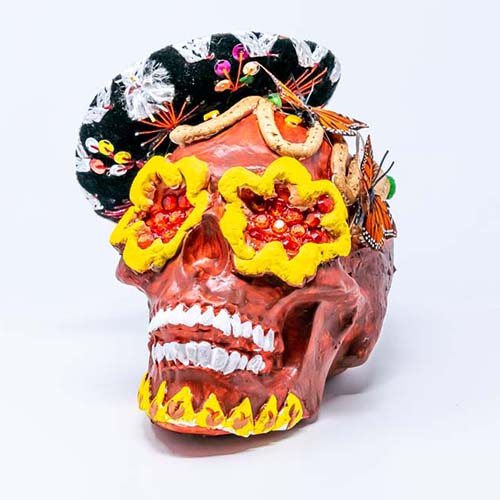 Carolina Yañez-Macias
Mariposa del Barrio
No Description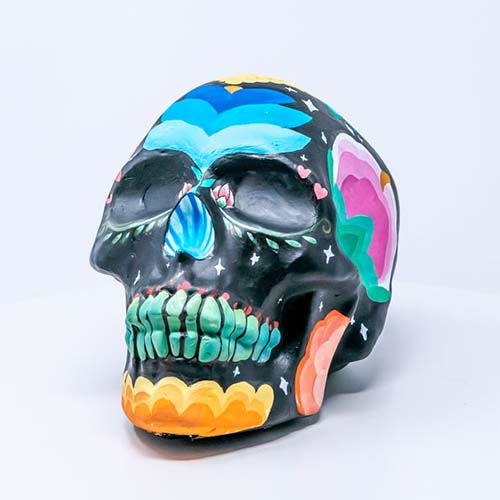 Dalia Marin
Untitled
No Description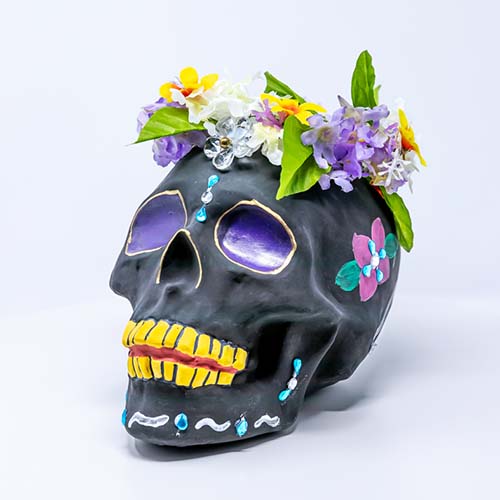 Daysi Castaneda
Solis La Luna Negra 
This work can be used to tell the stories of the tradition behind the calavera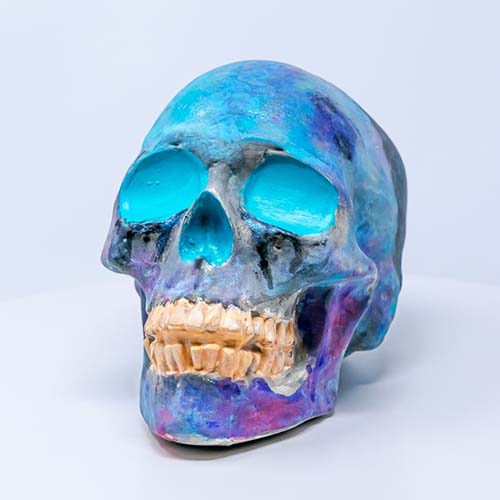 Denisse Valdes 
My Mental Health
Mental Health is an important factor. This skull represents how people see the part of you that they want to see but never the part that you are hiding in the back of your head. The black in the back of the head represents mental health and the colorful part represents what you are trying to pretend and what people see.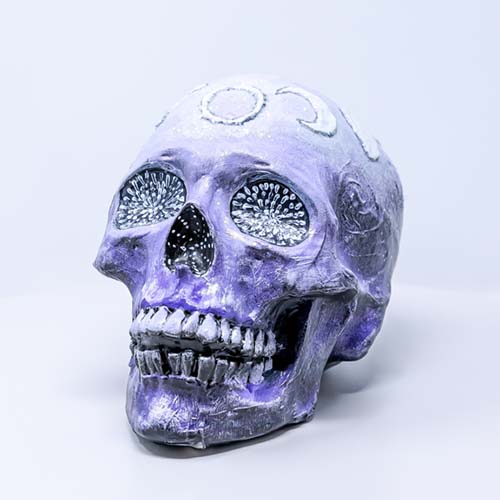 Diana Shimane "The Lupie Rock Carver"
Luna
My calavera represents the deepness of night, countless stars, celestial bodies, and especially our Moon in all her phases. Holding power in fluidity, creativity, femininity, and change. This is Luna.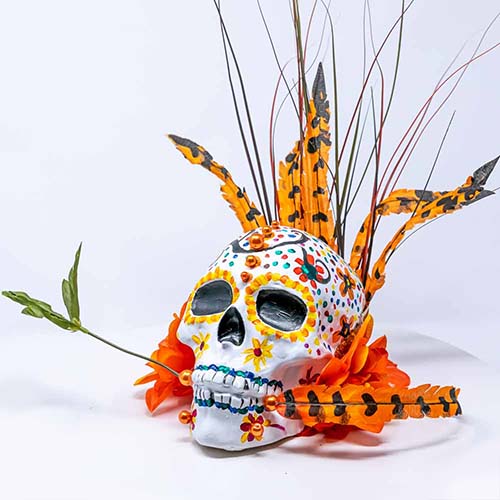 Elizabeth Peréz
Baila esta Cumbia
Calavera is decorated with many colors, orange flowers in the teeth to resemble tango, decorated collar with flowers and orange ribbon.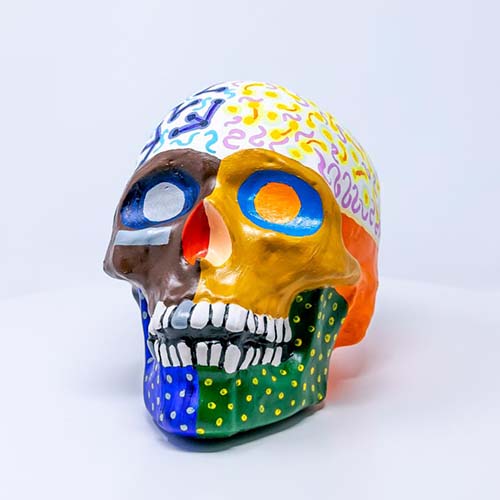 Elsa Lopez
Night & Day
Open to interpretation...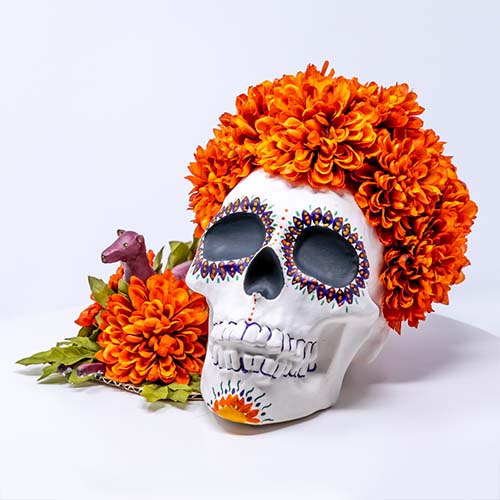 Erica Zamora - Reyes 
Guardián
Inspired by Mexico's traditions and history of Dia de los Muertos, I wanted to create a representation of our beloved deceased and their journey in their afterlife. It is said that once our loved ones pass, they must make their journey to their final resting place in which the living help by providing nourishment and, according to Aztec legend, they are guided by a Xoloitzcuintli. However, in a clash of cultures, our deceased are seen as our guardian angels from above. Guardíans represent the clash of cultures where our deceased are guided by the Xoloitzcuintli but are our guardian spirit. Past traditions in Mexico have opened us to celebrate death instead of fearing it. Through this piece, I want to celebrate the death and life of a loved one.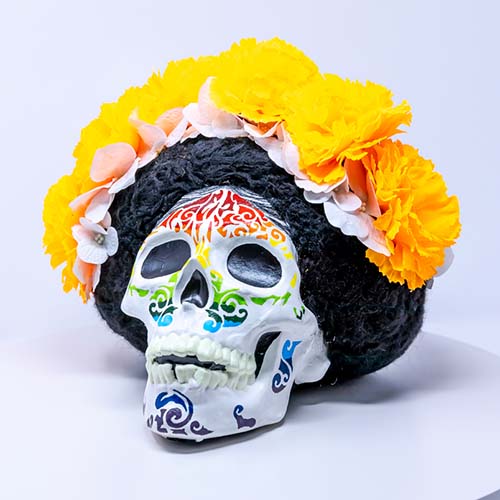 Erick Herrera 
A Step Towards Inclusivity
The skull is a statement piece to bring awareness to the underappreciated Afro-Latinos who contributed a lot to the Latin community. The afro is to show pride for her ancestry, orange marigolds symbolize warmth/vibrancy, white for innocence, and rainbow for inclusivity.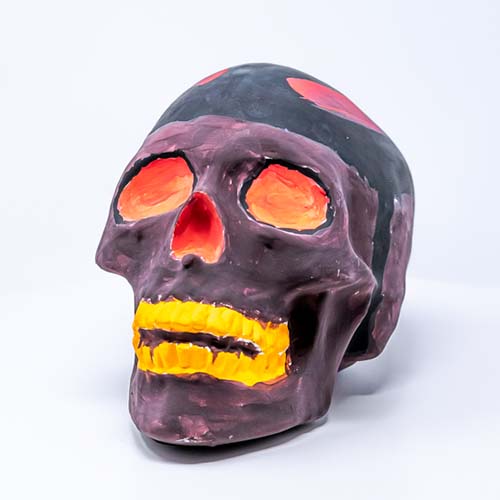 Erza Ramos
Red Helm
Dark skull with a black helmet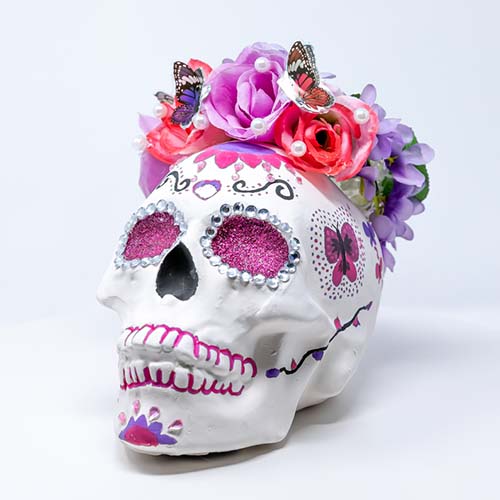 Esmeralda Castañeda Solis 
Butterfly, Fly Away
All calaveras have different meanings. And for this piece I would like to convey; resting in peace. The butterflies represent freedom. The heart on the forehead means always and forever in our thoughts. And finally, the flowers represent love and life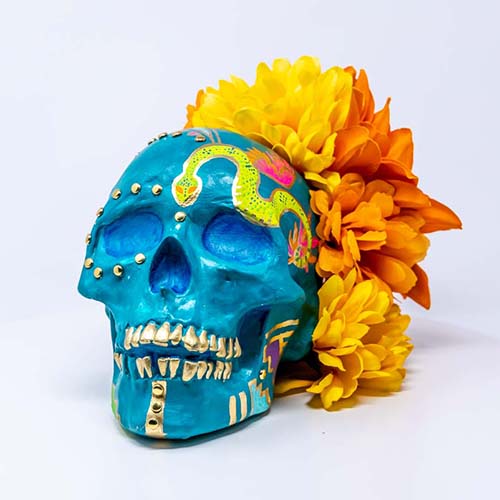 Essie Flores 
Calavera de Alebrijes
I was inspired by the Aztec past that dia de los Muertos descends from and all the beautiful and colorful are that come w/ the holidays, like Alebrijes the animal figures the get put on the altars, and the marigolds that get placed all over to welcome the dead.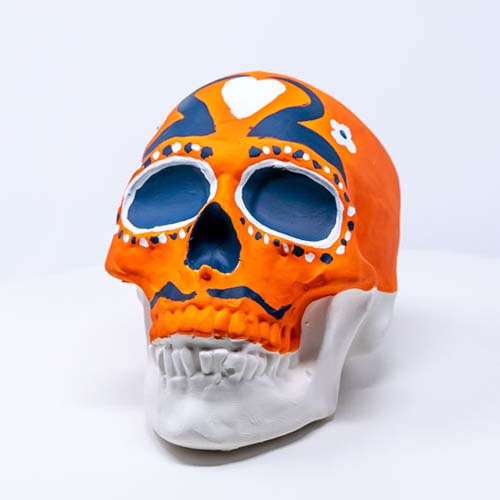 Estefania Vazquez
Orange Matter
No Description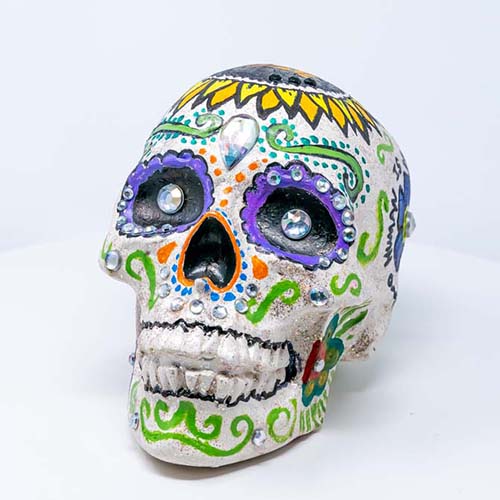 Familia Trujillo/Luna: Xochilt, Sergio, Ollin, Cuahtemoc and Yartzi
Honoring our past while looking to the Future
We used this activity as a way to remember and honor our roots and our ancestors. We also used this opportunity to talk about what we need for a brighter future for us all. La union hace la fuerza.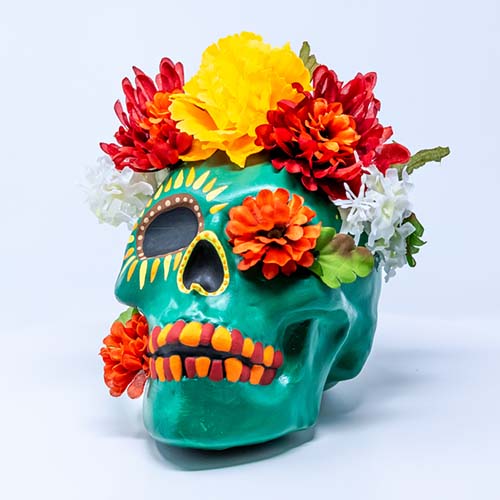 Gabriel Knights-Herrera 
From the Garden Bed
The skull was designed to create across between death, the skull, and life, the flowers. The main idea was to create the effect of the flowers growing out of the calavera, almost overtaking it. 
Galilea Tinoco
La guerra Michoacana
La guerra michoacana represents my grandma full of color, life, beauy, and charisma. She is a beautiful person that is not only eye-catching to the public eye but is a Guerra who will forever carry life.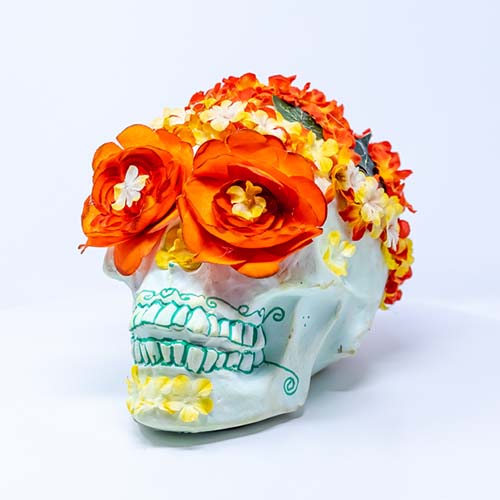 Gizelle Mascorro
Blessing
This calavera represents family members I have lost. It's a reminder that I will always celebrate them.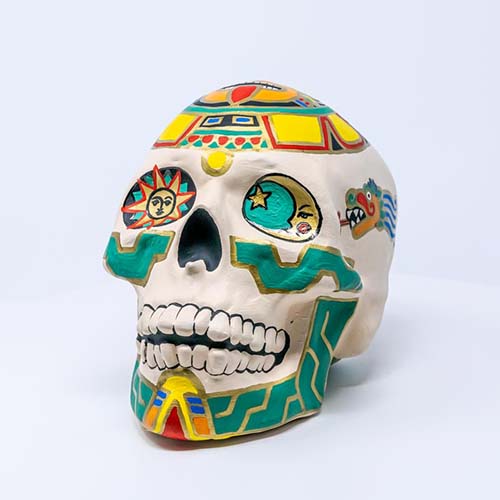 Grace Schmidt
Aztec Sun God
The face of the Aztec sun god, Tenatiuh, appears at the center of the calendar on the top of the calaveras. Wrapping around one side is Quetzalcoatl, the feathered serpent deity, the god of wind, bringer of maize, and instrumental in the creation of the Aztec universe. On the opposite side is the quetzal bird, associated with the snake god and seen as a symbol of goodness and light.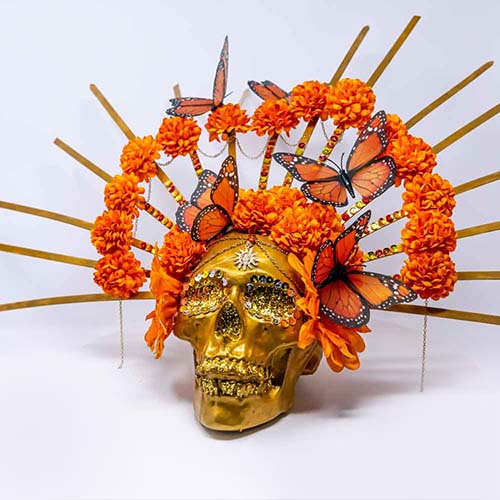 Hailey Vargas
Sun Goddess
Gold Calavera featuring a sunburst headdress, decorated with marigolds, dahlias, and monarch butterflies, adorned with gold chains. Inspiration coming from Guanajuato and Michoacan, Mexico.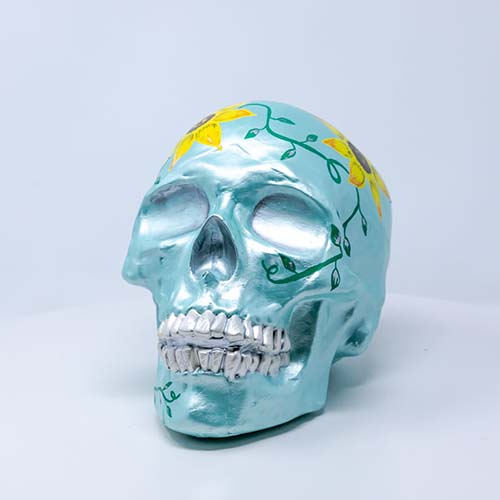 Heather Armstrong
Fluttering Sun
With a marine base love and a passion for sunflowers, I tried to capture the combination of each color's beauty. Also, raised butterflies and wanted to let one loose on this piece!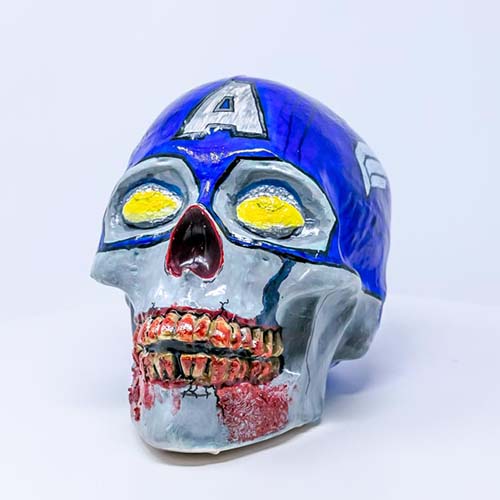 Huy Le 
Zombie Captain America 
Inspired by Marvel's What IF's series where our fallen hero is zombified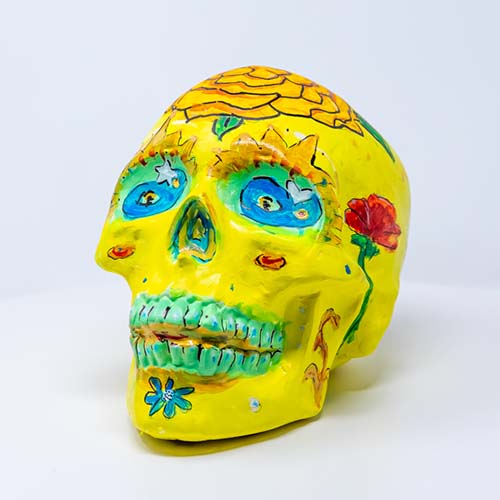 Isabel Zavala
Marigold 
Painted with acrylic and gouache paints. Alcohol markers and fine liners were used for details. Flowers portrayed include: marigolds, poppies, sunflowers, and daisies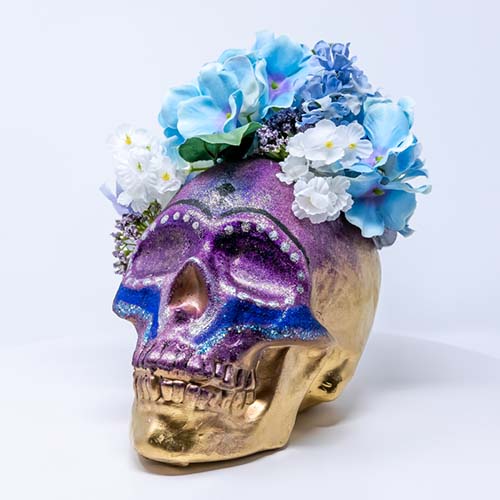 Jacqueline Bernal
Naturaleza Muerta
Gold and purple skull adorned with glitter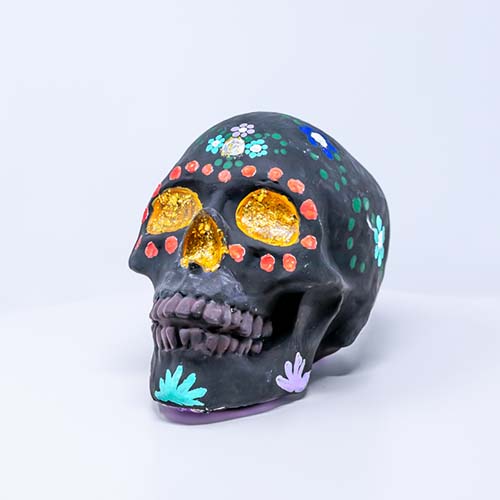 Jadenn Allen 
flora de flower
Darken skull with beautiful sprouting flowers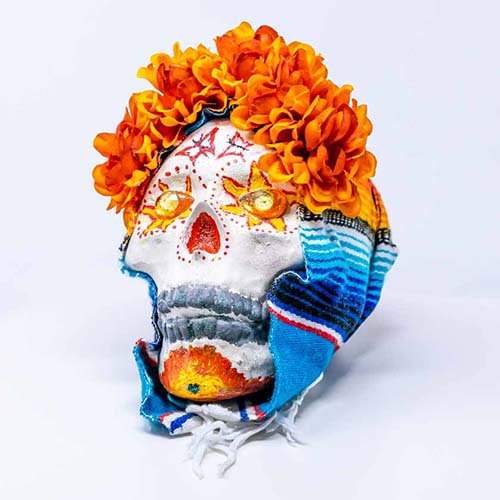 James Martinez
Buena Vida 
Live your best life.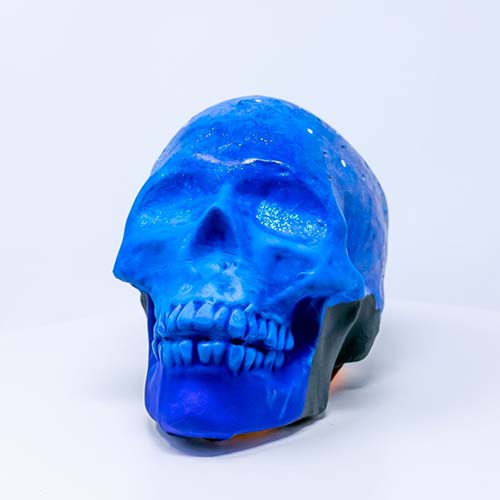 Jennefer Doty
Cosmic Dreams 
This calavera is battery-operated! Turn it on and see the glow of the "stars". When you gaze at my calavera, I hope you enjoy the glitter, shades of blue, and whimsy. *Don't forget to turn it off, thank you*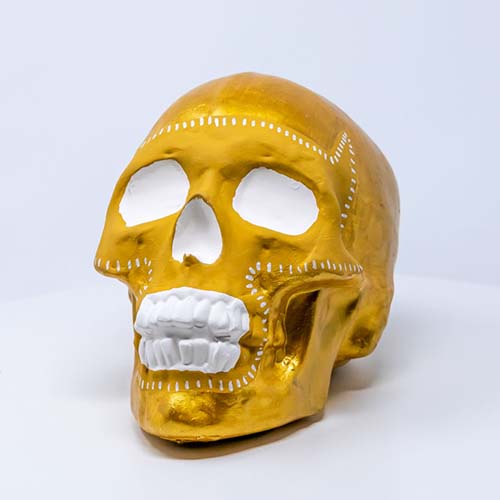 Jerard Uy
Ramses 
This skull is in commemoration of Ramses from Nacho Libre. In addition to Ramses, there is another calavera, which is Nacho Libre, so these will work well displayed together.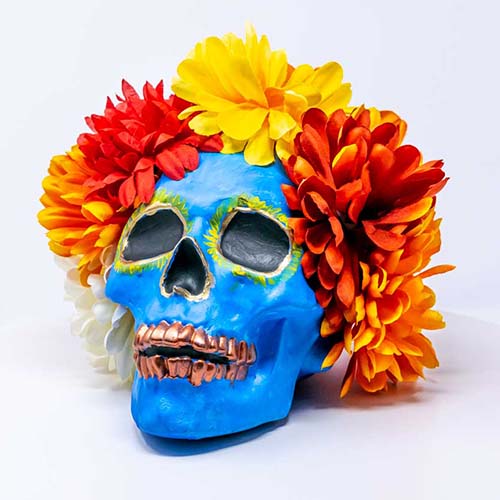 I just wanted to create something inspired by the death of the dead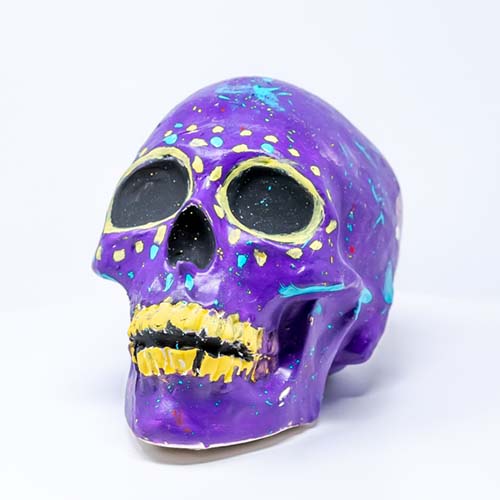 Jim Rosas Rodriguez
Marked by Love 
Most of the skull is dominated by dark colors (purple and black). However, the bright yellow seeps through the openings (eyes and mouth). The pink love mark is changing the skull that has only ever known the darkness, Just like how our Mexican "machista" way of thinking is changing to be more accepting.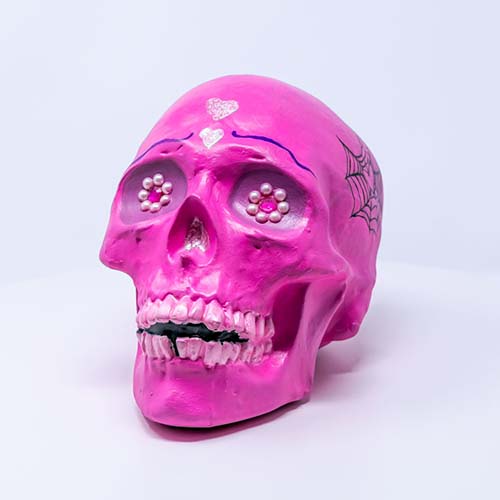 Jordan Madrid
The skull of hearts 
The love you hold never fades not even in the afterlife.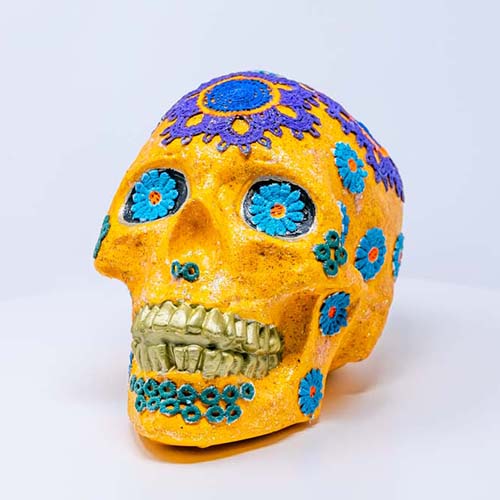 Karina Rodriguez Torres
Agent Orange-Covid-19
During the pandemic, many people desired to boost their immune system by increasing their vitamin C intake. The color orange signifies both rebirth and death. The pandemic provided better self-care through stillness, reflection, and wellness. Yet, COVID-19 was powerful enough to take the healthy individuals out. This calavera represents the pandemic: we might do our best to stay safe and healthy, but when destiny calls forth a pandemic all we can do is surrender and be grateful.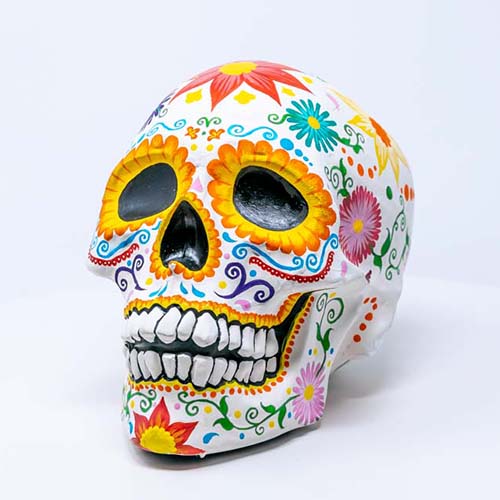 Karla Rosales
De Colores
I dedicate this calavera to my aunt and grandmother who passed away within these past 2 years. De Colores is my form of remembering them in their bright, beautiful, and unique souls that will always be cherished adn loved.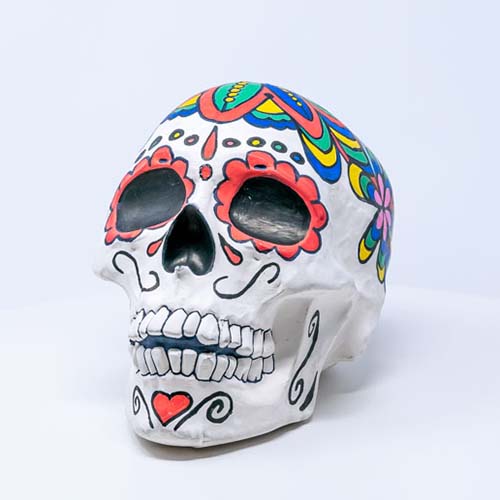 LaTia Harris 
La Fiesta
A fun and festive hand-drawn and hand-painted calavera. A representation of a good time. Love, Live, + Laugh :)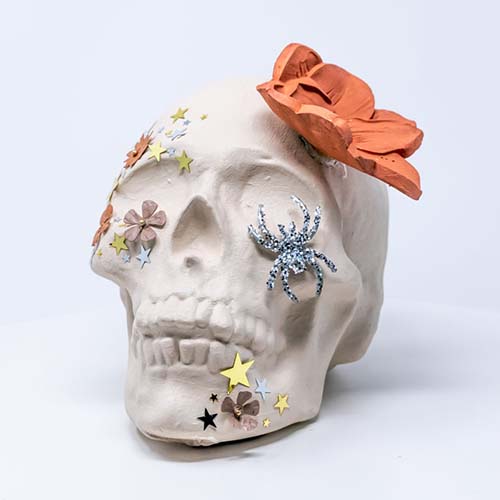 Liezl Ignacio
Neutral Bloom
A modern, meutral take on a Dia De Los Muertos skull. The holiday represents beautiful families honoring their past - and I wanted to represent that here.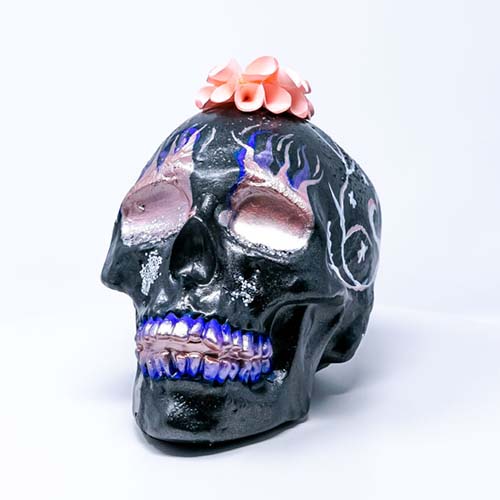 Manuel Pina-Aguilar
Death in the Cosmos 
Inspired by the colors of the universe, and how we give specific colors to an area that only a few people have been able to visit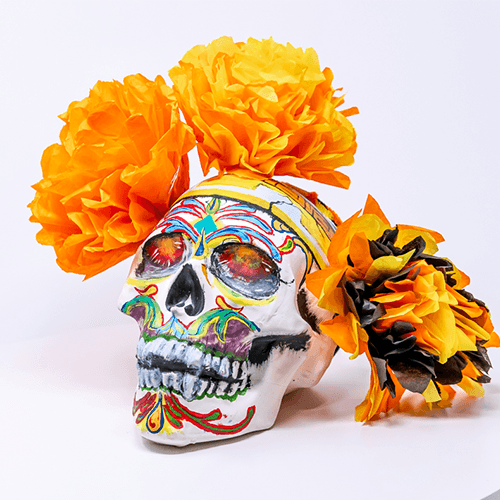 Maria Gomez
Recuérdame 
Colorful calavera with paper flowers.
Martin Parra Hernandez
El ultimo Guerrero 
No Description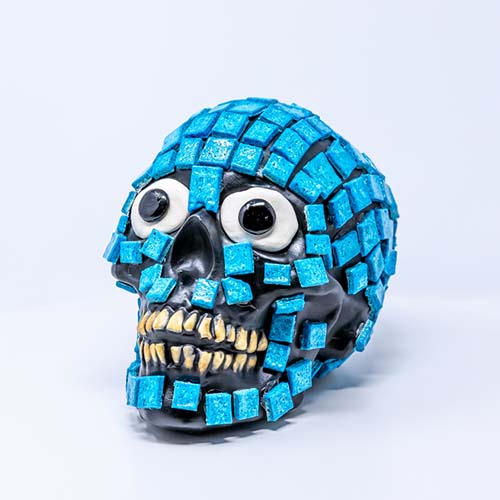 Mathew Dickerson
Homage
I based this calavera on an ancient Aztec mask and wanted to pay homage to the dead and cultural inspiration that followed. This calavera is decorated with ceramic elements most notably the Egyptian faience tiles that adorn the skull in place of turquoise.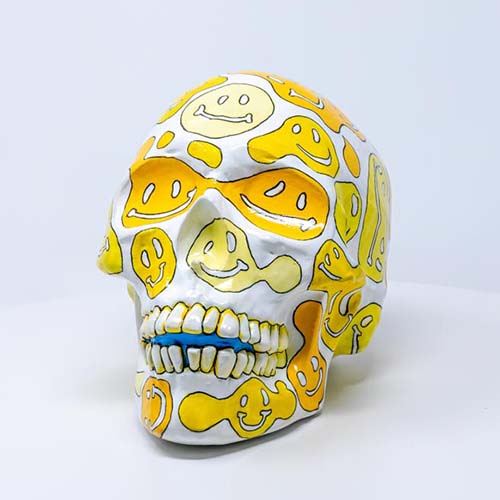 Mayuli Lemus
Overly Optimistic
Skull painted with various organically shaped happy faces in acrylic paint, micron pen, and clear glaze.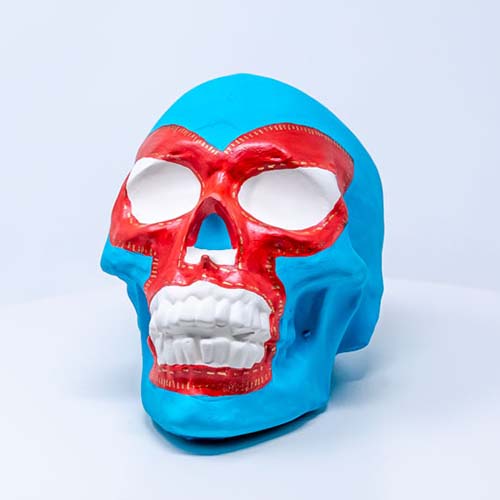 Melissa Nollora 
Nacho
Based on the early 2000's film "Nacho Libre" the protagonist Nacho's luchador mask. Compliments another Calavera titled "Ramses".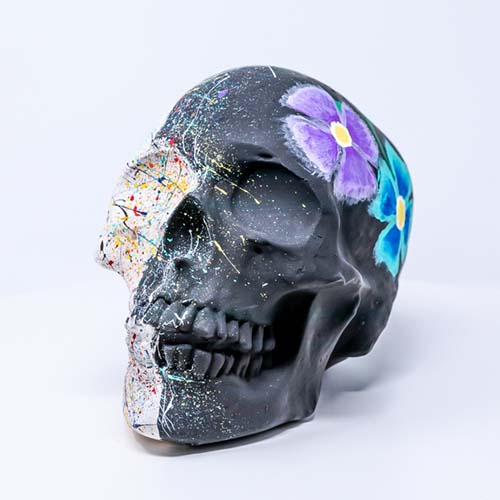 Michell Penaloza
Itachi
"No single thing is perfect by itself. That's why we're born to attract other things to make up for what we lack" by Itachi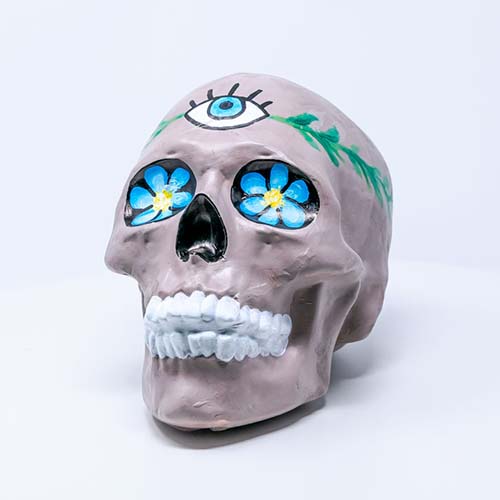 Mikaela Sillano
Third Eye 
A simple calavera showcasing the all-seeing eye and vines wrapping the crown of the skull, symbolizing unity in the afterlife and celebration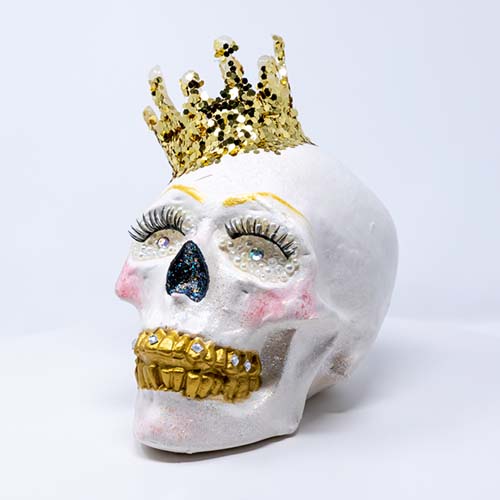 Monica Zazueta
Take me with you!
Beautiful skull with pearl eyes, lashes, blush, blinged teeth, and a gold crown that glows in the dark. Reign Queen!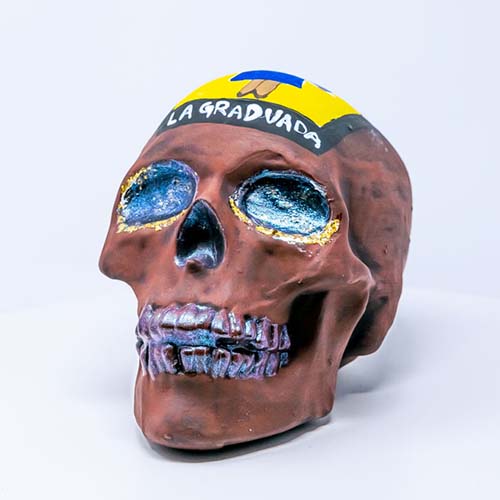 Natalie Martinez
La Graduada 
A representation of being a first-generation female graduate. The overall exterior of the calavera is painted like antiquity to represent past generations, the Loteria card represents our Hispanic Heritage, and the sparkles show a golden future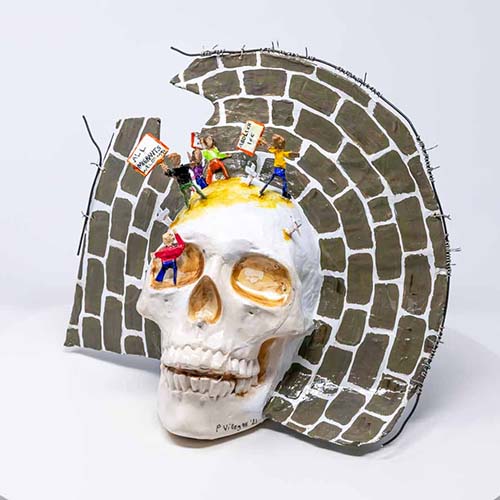 Paloma E. Villegas
Resistiendo Fronteras de aqui iy alla
The calavera depicts the violence of borders and bordering practices across geographic contexts as well as how migrants and communities resist that violence
Paul Smith
Antiguas + Ancestors 
Using an oil-based pen, I tried to create a balance of night and day mirroring the balance of my Mexican and non-mexican heritage. I used this medium to ask my ancestors for a child. This is a moment of looking back and looking forward at the same time.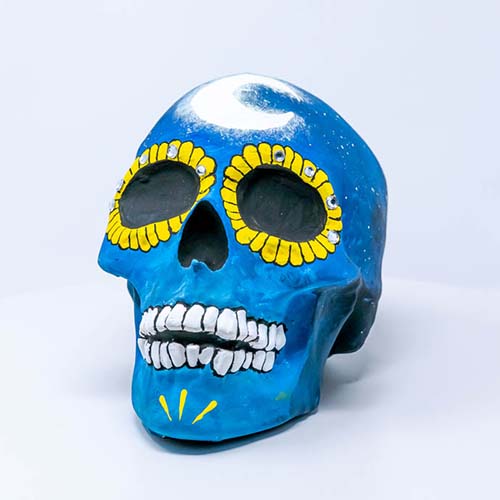 Primavera and Chris Reza-Nakonechny
Amor del Luna
As part of a set, that can be displayed together or individually, Amor de Luna, is a dedication to our daughter. The calavera showcases our life for mi Mija and offers a beautiful opportunity to teach our cultural traditions.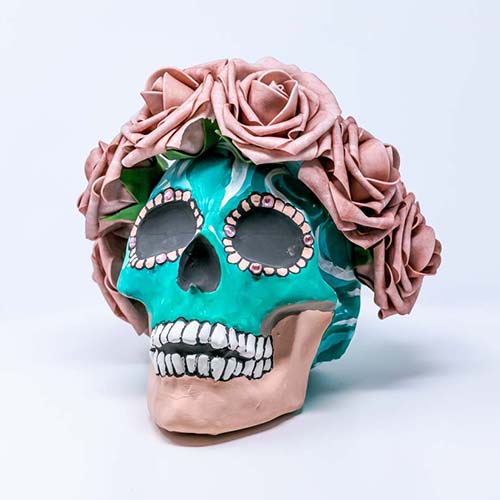 Primavera and Chris Reza-Nakonechny
Rosa del Rio
As part of a set, that can be displayed together or individually, Rosa del Rio is a dedication to our daughter. The calavera showcases our love for mi Mija and offers a beautiful opportunity to teach our cultural traditions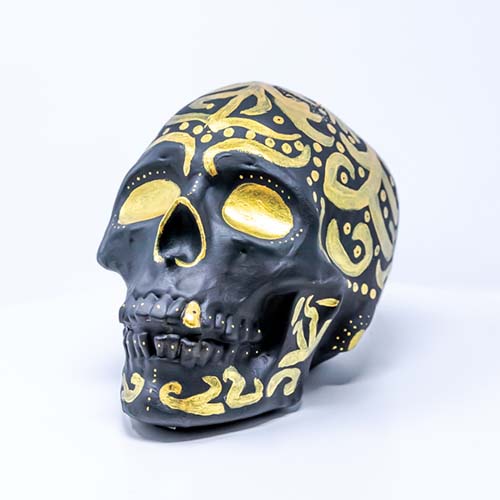 R & E Woidyla
Keket
This calavera is a tribute to Keket, the Mythical Goddess of Darkness. The artists were also inspired by S.E. Hinton's novel, The Outsiders, which references a line from Robert Frost's poem, Nothing Gold Can Stay.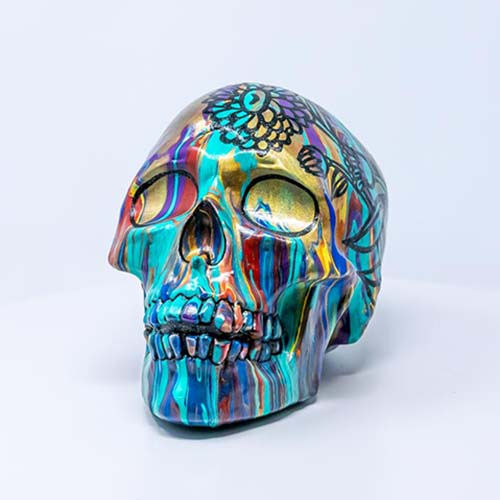 Rebecca Beltran
In Bloom
An acrylic pour pain design with a flower containing blossoms in three stages of development. This calavera represents overcoming the fear of change and embracing the unknown.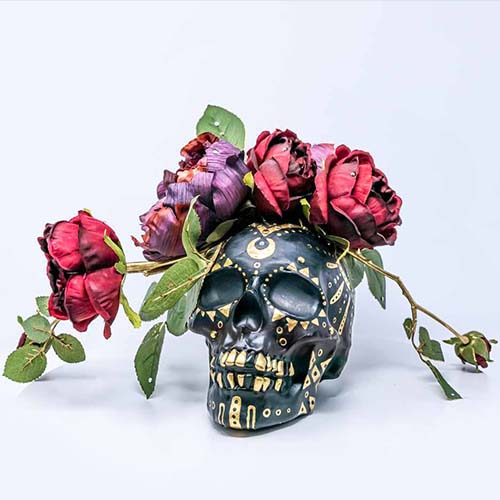 Richard Cutler 
Brujeria 
This Calavera is inspired by the Beautiful Catrinas that my mother had on her ofrenda every year from dia de los muertos and the way the incense made me think of magic and the pagan past that the holiday came from.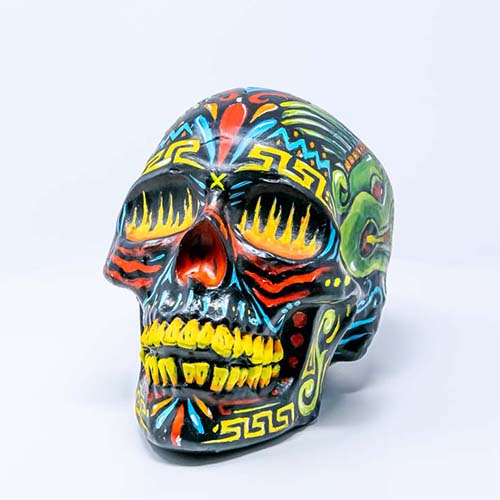 Rico Espinoza
Warrior
My piece represents the strength, the power, the fighting spirit..we are warriors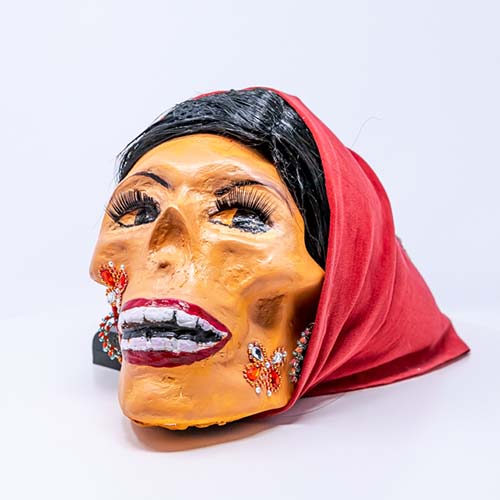 Rose Loya
Lucia Monroy Barajas (Farm Worker)
My grandmother Lucia M. Barajas was born 1913 in California, 1940 she lived with her husband Flavio Barajas and her 3 children...Lupe 6 (My Mom), Robert 5, Joseph Barajas 2, Later she gave birth to two more children in Coachella, Riverside, California. My grandmother worked as a farmworker. When she died in the 1950's of Tuberculosis there was "The Bracero Program", an executive order called the Mexican Farm Labor Program established in 1942; Guaranteed workers a minimum wage of 50 cents per hour, insurance, and safe, free housing. However, Farm owners frequently failed to live up to these requirements. Housing and food routinely were well below standards and wages were low but also frequently paid late or not at all. The migrant and seasonal agricultural worker protection act of 1983, is now the principal federal employment law for farmworkers. Which came too late for my grandmother Lucia who died of tuberculosis in 1955. In 1945, 63,000 persons died of tuberculosis and 115,000 new cases of the disease emerged and because of no health plan for many farmworkers died. Thanks to Cesar Chavez who founded the National Farm, the United Farm Workers Union in 1962, for a long time there were very few union dues-paying members by in the 1970's the UFW had effectively organized most of that industry, at one point in time claiming 50,000 dues payment farm workers problems and the 340 miles march from Delano to Sacramento. Chavez's tireless leadership and nonviolent tactics that included the Delano Grape strikes in 1966, which the farm workers wore their black eagle with Huelga (strike) and Viva la Causa (Long live our Cause), and because of the strikes and marching of the farmworkers now, they are able to organize into a union and allow collective bargaining for better pay, safer working conditions ect.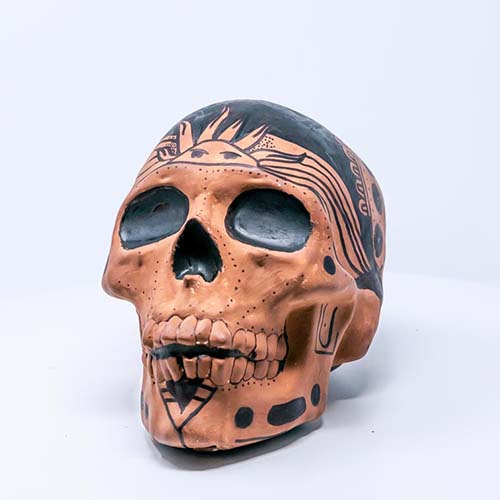 Roxanne Bogarin
The Calendar
For the skull, I put elements of the Aztec calendar. The sun on top represents my great grandmother, who also inspired me to be involved in art, and who is the center like the sun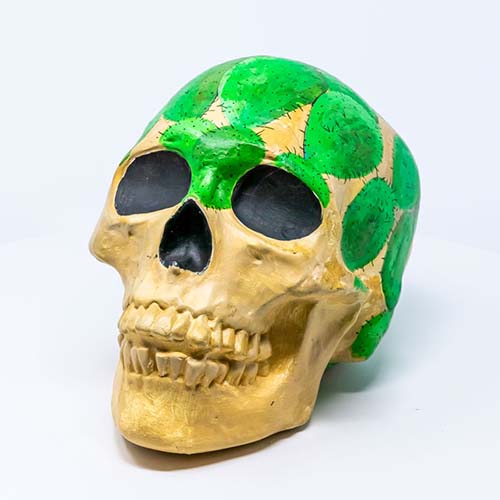 Rudy C. Ramirez
Calavera del Nopal
I designed my calavera with nopales (cactus) in mind. This plant is very common in the southwest. It is used as a food in Latino culture. It can be prepared as a salad, breakfast with scrambled eggs, or chile Verde. El nopal goes way back to the time of the Aztecs. You will find this dish in your local Mexican restaurant.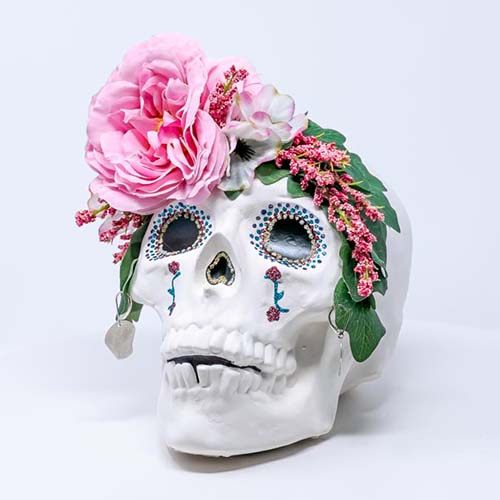 Sabrina Molinar
Never Without Earrings 
Even in the afterlife, a girl needs her jewelry. The sterling earrings have been hand cut and stamped by me. They can be removed and worn by the owner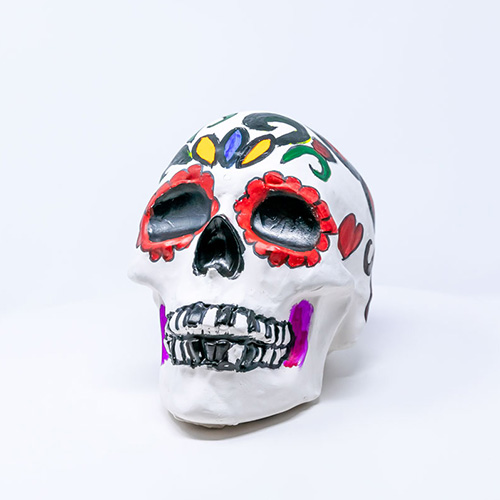 Sara Aguirre 
La calavera 
Traditional calavera with red flower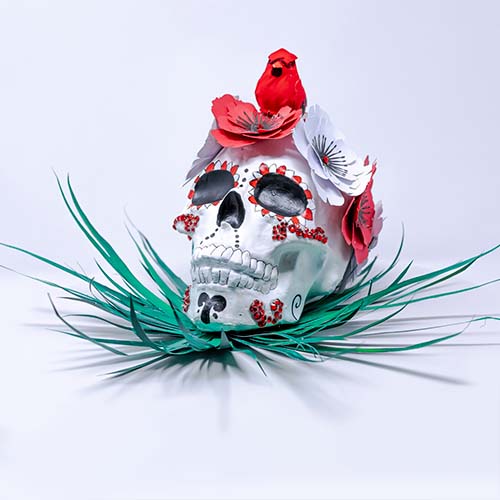 SBHS Art Club facilitated by alumni Tira Bunn
In Love And Remembrance
Red poppies and a Cardinal in remembrance for those we've lost. Our school has a rich tradition which spans over 130 years. The cardinal is also our school mascot; the colors black, white and red are our school colors. However, these colors have other symbolic meanings; red for love, black for death and mourning, and white for purity and eternal life.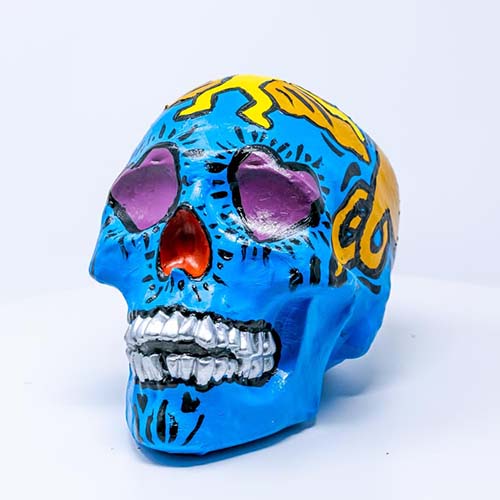 Sebastian Rivera 
Celebrate Life 
This is a calavera that pays homage to Keith Harring's work, it is a celebration of life - the meaning of Dia de los Muertos is the celebration of life.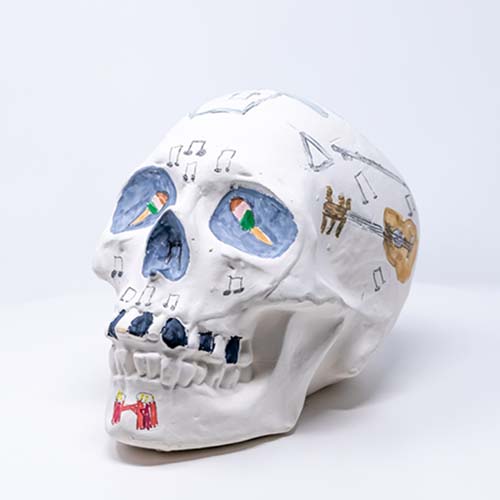 Sibyl Kraemer 
Musical Sounds 
Music is in his head. Musical instruments make beautiful sounds.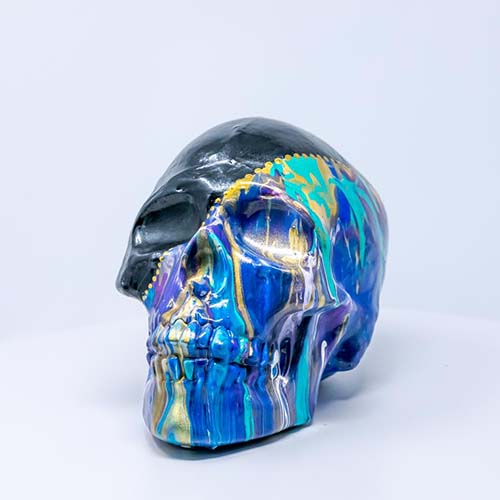 Sophia Beltran
Encantada 
Half acrylic poured and hard solid metallic black accented with a string of gold.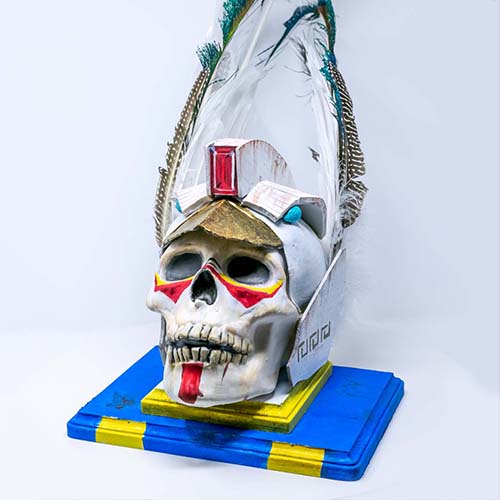 Stevan Moreno
Águila RX-78-2
Acrylic, ceramic, paper mache, beads, and feathers. Inspired by Aztec Eagles and Gundam Anime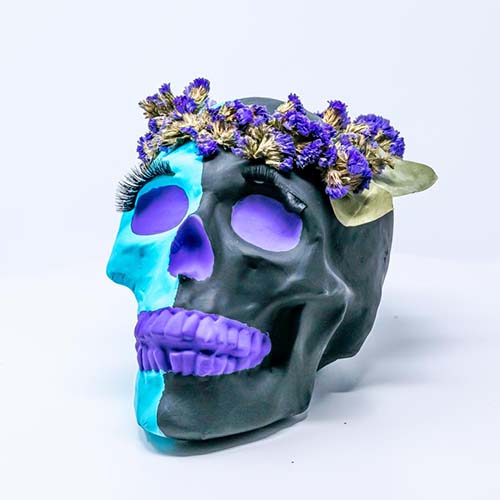 Suany Echevarria
Corona de la Naturaleza (Nature's Crown)
Acrylic black and teal paint, dried eucalyptus leaves and purple statice with a pair of eyelashes.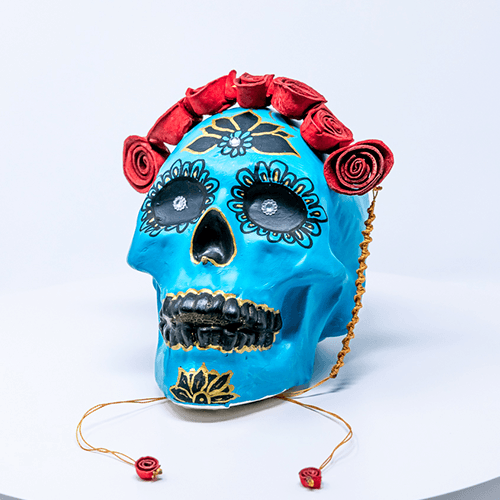 Tania Pantoja
Love in the time of COVID 
My calavera represents the love, patience, and grace we must all have for one another during these hard times.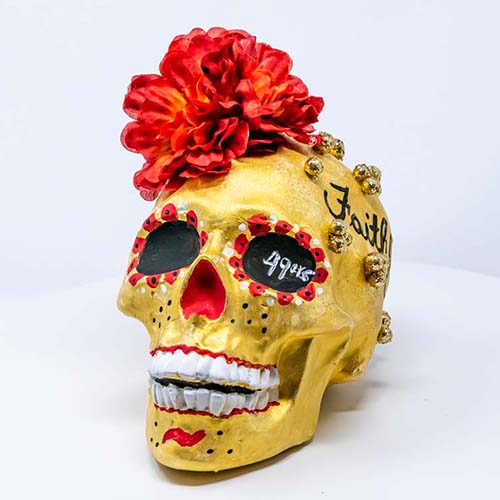 Tiffany Bookman
Forever Faithful
5 time SuperBowl Champion 49ers. Who's got it better than us? NOBODY!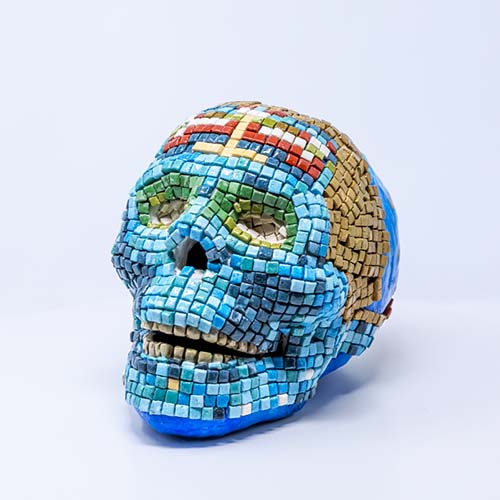 Tom Fontanes
Cacique
Mixed media customized original skull. Mosaic tiled and glazed clay, plaster bandaging, chill and sanding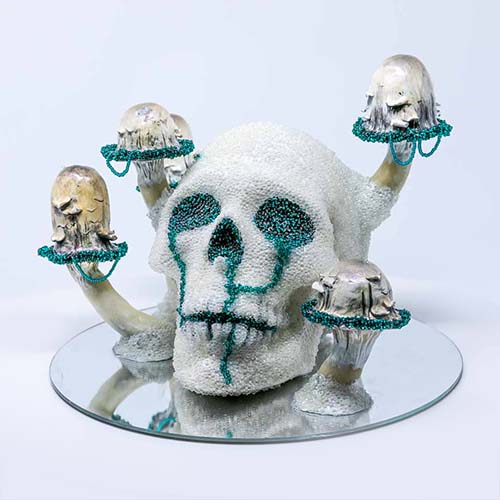 Valeria Vargas
Ode to the Inkcap
The inkcap is most appreciated in a state of decay. Materials: Glass beads, plaster, polymer clay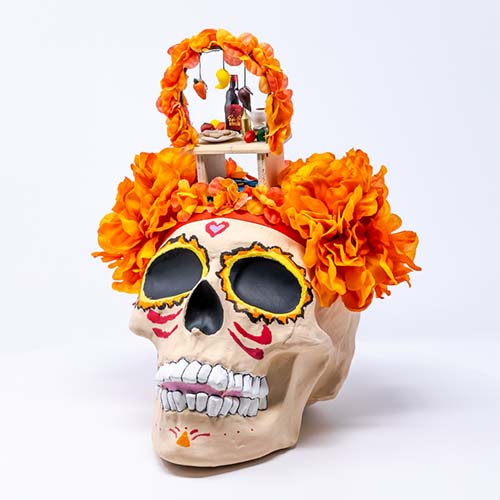 Yasmin Colores
Recuérdame 
The calavera represents the celebration of Dia de Los Muertos (Day of the Dead). A day to celebrate and remember loved ones who we have lost. Marigolds surround the top of the skull along with an alter towards the center. The alter has foods, beverages, and candies. Butterflies on the back of the skull make their way to the altar.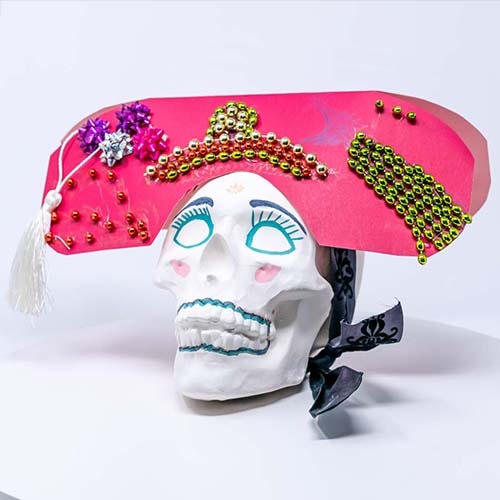 Yawen Li
Zhen Huan
Zhen Huan is the mother of the emperor Qianlong, the longest-serving emperor in China's history. She fought in court politics and experienced ups and downs in her life. In the end, she won and ensured her son's throne and ushered in the prosperous period in China's history using her beauty and wisdom. I imagine how she would evaluate her life in the afterlife. Are all the fights, sacrifice worth it? Between personal enjoyment and comfort and the larger good of serving the country, how to make the choice? at what cost?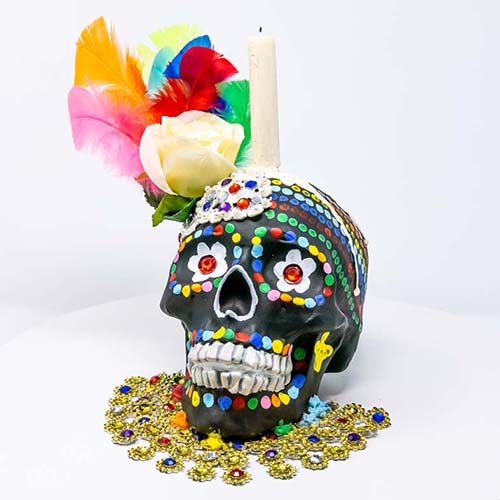 Jonathan Lopez-Arciniega
Color de Los Dioses
My calavera represents the colors used by all the indigenous tribes of Mexico. The different ceremonies colors represent the colors they use during ritual ceremonies to the Gods. The candle represents the light to ward off evil spirits.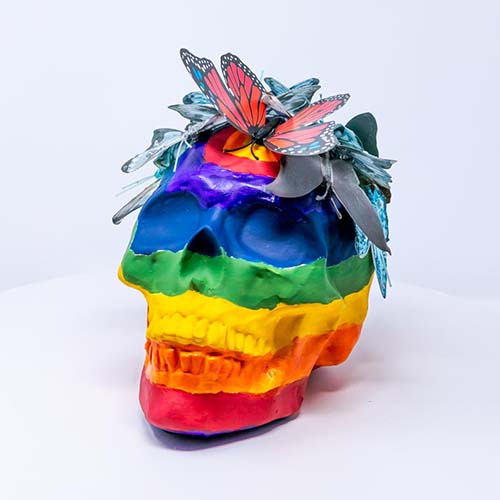 Christian Gabriel Espinoza
I Exist, Yo Existo
Calavera represents undocumented and queer folks. The monarch butterfly is a symbol of the DREAMers movement. The rest of the butterflies represent undocu/LGBTQ+ allies