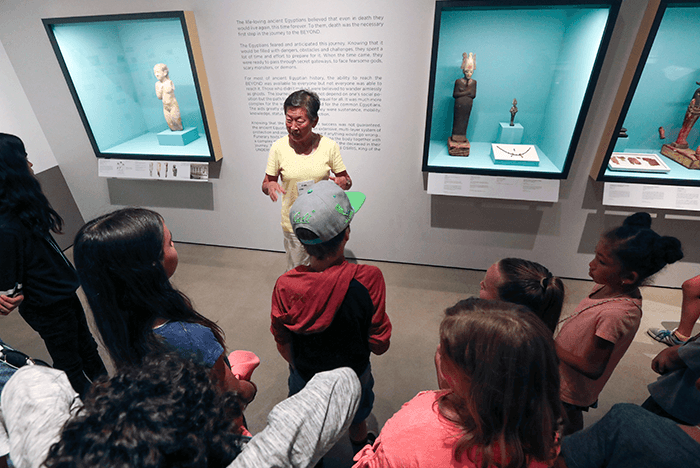 Guided Tours
RAFFMA offers docent-guided tours for all ages, free of charge, by appointment only. Docent-guided tours are available for groups up to 30. Groups larger than 30 will need special accommodations. Please complete the request tour form and you will be contacted regarding your tours scheduling.
Tours are available:
Monday-Wednesday: 10 a.m.- 5 p.m.
Please note that tours will not be available during periods of exhibition installation and deinstallation. Please check the museums main page regarding the museum's current hours.
*Tours may be scheduled outside of general museum hours if scheduled in advance with the approval of the Education and Collection Coordinator. 
School and Group Tours
RAFFMA educates, inspires, and engages students and visitors by providing dynamic resources that create value and appreciation of art and culture.
RAFFMA offers a docent-led museum experience for any age or grade level. This experience may include your choice of a tour of the Ancient Egyptian exhibition, a tour of the temporary exhibition, and a guided art-making activity. Museum experiences typically last 45-minutes to one hour. Please note that some temporary exhibitions may not be appropriate for all ages.
Reservations are required at least 4 weeks in advance for docent-guided tours. To request a tour, please fill out and submit the tour request form. You will be contacted by RAFFMA's Education and Collections Coordinator to confirm, or gather more details regarding your tour request
Terms
Chaperones And Their Responsibilities:
One adult chaperone per ten students is required at all times. Chaperones are responsible for students' conduct and adherence to the rules for appropriate behavior in the galleries.
Museum Etiquette:
Visitors are not permitted to touch artifacts, artwork, frames, pedestals, or cases. Many artifacts and artworks are very fragile, and even gentle touches can damage an object overtime. Help us preserve these important art objects now and for the future.
Please use low, indoor, voices when inside the museum.
In many cases there will be other people visiting the museum at the same time and we ask that all our visitors be respectful to one another so that all visitors enjoy their experience at RAFFMA.
Still photography is permitted at RAFFMA for private, noncommercial use. Photographs may not be published, sold, reproduced, transferred, distributed, or used commercially in any manner.
The use of flash photography and/or tripods is prohibited at all times.
Food, drinks, backpacks, large purses, and briefcases are not permitted in the galleries.
All food, drinks, and large bags must stay in the front lobby.
Lunch:
Picnicking is permitted on the lawns in front of RAFFMA. Lunches may also be purchased at the food court in the San Manuel Student Union and the Commons.
School Bus Parking:
School buses do not require any parking permits. Bus drivers may drop off students in Lot M, in front of the museum, and proceed to Lot H, which is designated for school bus parking. Campus map.
Special Needs:
We will do our best to accommodate any special needs our visitors may have. Please contact the museum via email.
We look forward to your visit at RAFFMA!