Grace Baldwin is a retired mathematics teacher and graduate from Pomona College. She has been a docent with RAFFMA since the beginning of the program and proudly carries the distinction of RAFFMA's first docent. When she is not giving tours, Grace is an active member of the San Bernardino Symphony and the Symphony Guild Council and a volunteer at the Guthrie Music Library. She is also a member of the San Gorgonio/San Bernardino branch of the American Association of University Women.

Bert Cassan is a retired counselor and business teacher at Eisenhower High School in Rialto. Bert enjoys traveling and has visited all 50 states in the U.S. and over 100 countries. Bert says that being a docent at RAFFMA has added to his knowledge of ancient Egypt and gives him something fun to do in his retirement. Sharing his knowledge about  the museum's ancient Egyptian collection with others helps keep his mind active.

Scott Klemm is a retired high school history teacher. He received his BA from San Diego State and a MAT from the University of Redlands. It was while at the University of Redlands he took a class on the Ancient Near East that led to a lifelong fascination with Egypt's history and culture. Scott's other interests are in photographing wildlife and wildflowers. He also has a hobby of collecting antique locks and keys. This interest led him to publish in 2008 a book entitled Ancient Locks: The Evolutionary Development of the Lock and Key. The book covers Egypt as well as Greece, Rome, Ancient Israel and China.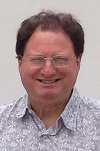 Allan Gluck is a semi-retired real estate appraiser who became fascinated with Egyptology after a one-month trip to Egypt in December 2011. In addition to pursuing his interest in Egyptology as a docent at RAFFMA, he is also a member of the Southern California chapter of the Egyptian Exploration Organization (EEO). Allan's interest in Egyptology is coupled with an interest in photography, which he purses through photography classes at Santa Monica College. For Allan, being a RAFFMA docent helps bring alive ancient Egypt's 6,000 years of culture that is so integral to Western thought.

Les Kong is the Coordinator for Media Services at the John M. Pfau Library, at CSUSB.  He has had a long-time interest in Egyptian art and artifacts and has visited numerous collections around the world.  Les became a docent for RAFFMA as a way to deepen his knowledge of ancient Egypt and share the knowledge with others.  Originally from the San Francisco Bay area, he is also a lifelong and avid San Francisco Giants fan.

Pam Lue recently graduated from CSUSB with an emphasis in Art History. Currently she works at a local accounting firm as an accountant. For Pam, museums are amazing and fascinating places where one can connect the past and the present, and sometimes the future. Whenever she travels, museum visits are always part of her itinerary. Pam became a RAFFMA docent as a way to better understand the operations of a museum and the conservation of ancient objects. Pam enjoys leading museum tours where she has the opportunity to work with kids and engage them through storytelling. When she has the time, Pam also enjoys running, swimming and hiking.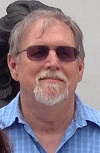 Mark Moon is a graduate of CSUSB with majors in Studio Art with an emphasis on painting and Art Education. He recognizes the importance of museums as repositories of the "Memory of Mankind" and their unique value in engaging the public with the Beautiful, the Historical, and the Educational through art. Mark became a RAFFMA docent as a way to contribute to the art education of RAFFMA's many visitors.